Calling out to all brides and brides-to-be!
Have you been working out with close to no effect on your body? Having trouble getting rid of cellulite and stubborn fat that just won't go away no matter how many times you've hit the gym? Sometimes your workout doesn't really work out and you need to try something new.
We've got a great solution for you to try out. Be Urban Wellness provides professional treatment that utilizes state-of-the-art technology in medical aesthetics. That means that there is a way for you to get rid of unsightly cellulite and stubborn fat, pushing you closer to your slimming goals!
Save BIG with our exclusive Be Urban Wellness deals!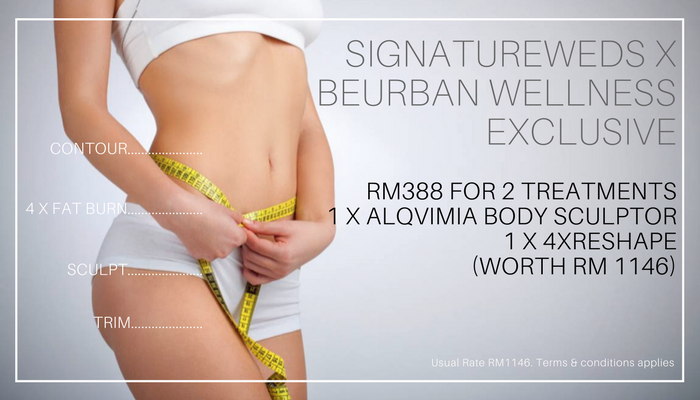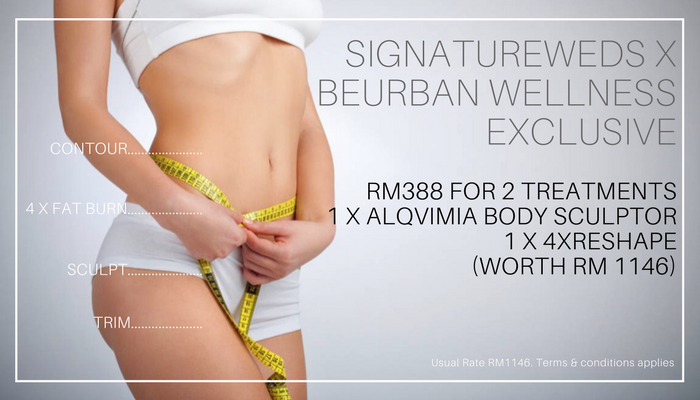 Alqivimia Body Sculptor (x1)
A slimming massage that helps you unwind, and that works hard at slimming and contouring your body. The Alqivimia Body Sculptor uses an award-winning natural product range from Spain, and utilizes lipo-reducing ingredients which penetrate the subcutaneous tissues in just minutes! The massage technique ensures that you burn off those stubborn fats and detoxifies your body, leading to a trimmed and toned body.
4 X Reshape (x1)
This is a revolutionary fat buster; it uses vacuum technology to manipulate your skin, while infrared light (IR) and bi-polar radio frequency (RF) energies gently heat fat cells and the surrounding tissue. Over the course of your treatments, you will notice a reduction in inches, and the appearance of cellulite in the treated areas will diminish.
Both treatments are originally worth RM1,146. However, exclusively for our Signature Weddings readers, you can now get both treatments for only RM388.
Be a Fit-Bride. Sign up below, or call +603-2095 1999 / Whatsapp to +6017-295 4599 to book your slot. Don't forget to quote "FITBRIDE"