As the old saying goes..
A wedding ring is a symbol of commitment; a promise, a pledge, and a vow.
The promise is to forsake all others, to stay devoted and true; the pledge is to honor that promise selflessly, to see the whole thing through; and the vow is to keep that pledge unwaveringly, until the days are few.
It is a mutual agreement to become one instead of two.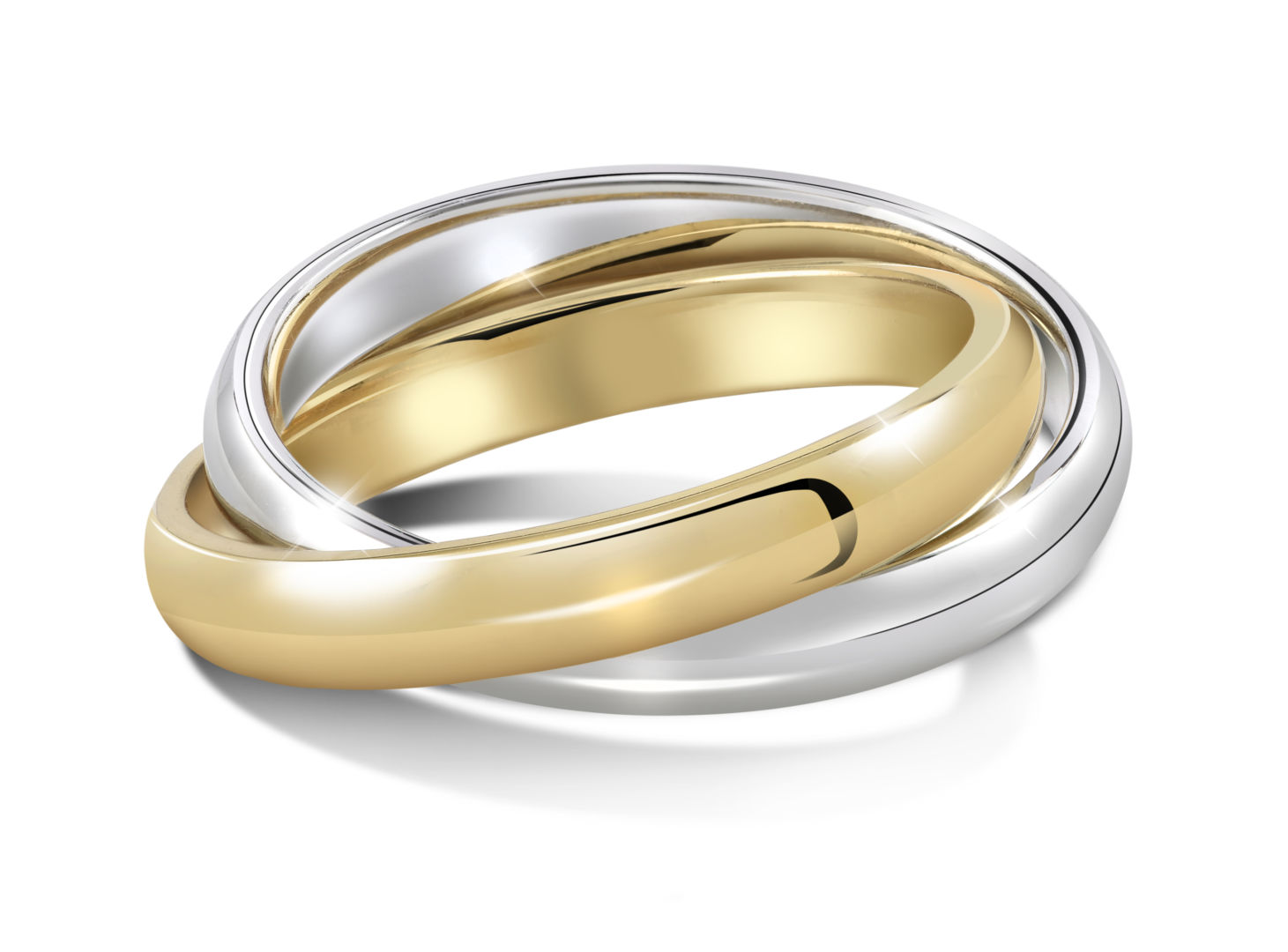 In picture is Amee Philips "Eternal Love" wedding band collection. The rings feature two interlocking rings in yellow and white gold representing the union of two lives. An introduction video is available at the end of article
Because the wedding rings hold so much significance, it represents the symbol of Eternal Love, it is only wise to know how to choose these rings of a lifetime when you shop for them with your partner.
Here are some of the most frequent considerations that may ease your shopping time and mind when you pick the perfect wedding bands.
1. What's your style?
Begin with understanding you and your partner's style – are you one who likes more embellishments or the type that prefers a simple down-to-earth ring? Perhaps you would like something that distinguishes you from other friends who are also getting married at the same time?
Whether it's with diamonds, or just an elegant platinum or gold, nail down your style before you go shopping around. It is an ultimate question as you will be wearing this for the 'rest of your life'.
Also, a little extra tip on shopping – BOTH bride and groom must go shopping together.
2. T-3 months before Wedding Date
Uh huh… you may have an impromptu wedding in Las Vegas. But for those who have time as luxury, it is good to give yourselves at least 2-3 months before the wedding date to get your rings ready.
The wedding rings are as important as the gowns and suit, as you need time to search and get your budget and then narrow down to your favourites before you choose the Special One.
Plus, you would need time to get them customised with your Special Date or Initials you'd like to engrave on them. This could take up to 1 month.
3. Mix to Match to your Eternal Love
How often do you and your partner have different tastes? Very?
That's absolutely fine as no two humans are alike. Don't worry about getting the same or having just one type. There's no hard and fast rule that both the bride and groom should hae the same style. However, you should still seek the designer's advice to mix and match these wedding bands which mirrors both your styles yet speaks of your eternal love.
4. The Price
Always the key consideration for most. What's the golden thumb rule?
Well, the normal assumption is about 3 percent of your total wedding budget on rings.
Consider whether you would need simple white gold, platinum with engravings to personalise your eternal bands. The add-ons like diamond or gem embellishments are secondary if you've already reach your budget.
5. Your Lifestyle (Different from 'Style')
You can be getting married, but you would also need to continue your normal lifestyle together with your partner of course.
We're talking about things you do normally, whether you're the outdoor type of couple or couples who just like a quiet time having Sunday coffees.
The advice is if you're doing more sports, trekking and such, go for platinum and a simple and slender rings. This would suit best as you won't need to care about maintenance so much. Additionally, if you are into gardening or any artsy hobby that requires alot of work with hands and dirt, then getting embellishments would not be too wise as dirt gets trap within those diamonds. So this is an additional reminder : Consider the maintenance too.

6. When to Size Your Ring Matters
Except for one you get pregnant and every hormone in your body is bloated, you wear your wedding bands every day!
Consider whether you're in summer all the time or moving to a continent with 4 different seasons, keep this in mind : size your wedding rings when you're calm with normal body temperature. As your fingers will swell or contract from the weather (and also your body temperature), it is essential to do so when you're both strolling to get the final ring fitting done.
7. Final Checks
One final reminder : Check for the quality. Ensure you get platinum rings if you ordered platinum. Check your certificates. Check your engravings and any other requests you made to the jeweller.
Ready to shop yet? Let's give you a teaser video by ABC Studio – You and your partner will find the newly launched 'Eternal Love' wedding bands by Amee Philips at a really considerable price from RM1,500. (Budget sorted!)