"Not everyone gets to say they actually grew up with the love of their life. Mark and I met at summer camp when we were 11 years old and we began dating when we were 17. After staying together through college across the country from one another, moving back to Los Angeles, living together in an adorable bungalow, rescuing a puppy, and enjoying life together, we got engaged 11 years after we first started dating. Having been together for so long, we wanted to make our wedding celebration as personal and full of joy as possible.
Mark and I still live within 15 minutes of where we both grew up and wanted to showcase the beauty and laid-back quality of our lives in Southern California. We chose to have the reception in my parent's garden where we had our first kiss, and the ceremony was across the street in our dear neighbors' backyard. My mom, a landscape architect, had designed the gardens at both homes, not knowing they would later make the perfect venue for our wedding celebration.
As a floral designer, I was focused on the ambiance and beauty of the wedding. We chose a cheerful wedding palette, combining coral, peach, and a range of greens and yellows with dove grey. We selected Memorial Day weekend for our wedding not only because we would be able to have a multi-day celebration with our guests, but also because of the abundance of Coral Charm Peonies, my favorite flower, during the month of May. My floral assistants from Lark Farnum Design worked their tails off creating the gorgeous tables of lush garlands and abundant flowers I had designed. I asked my close friends who were not formally bridesmaids to come over to my parents' house while I was getting ready in the morning to make themselves flower crowns for the wedding. I made the boutonnieres and bouquets the morning of the wedding, tying lace handmade by my great, great, great grandmother into both my bouquet and the bouquet of my maid-of honor, my cousin. I put two other family heirlooms onto my bouquet, a pin loaned to me by my 92-year-old grandmother and another loaned to me by Mark's family that had belonged to his late-grandmother.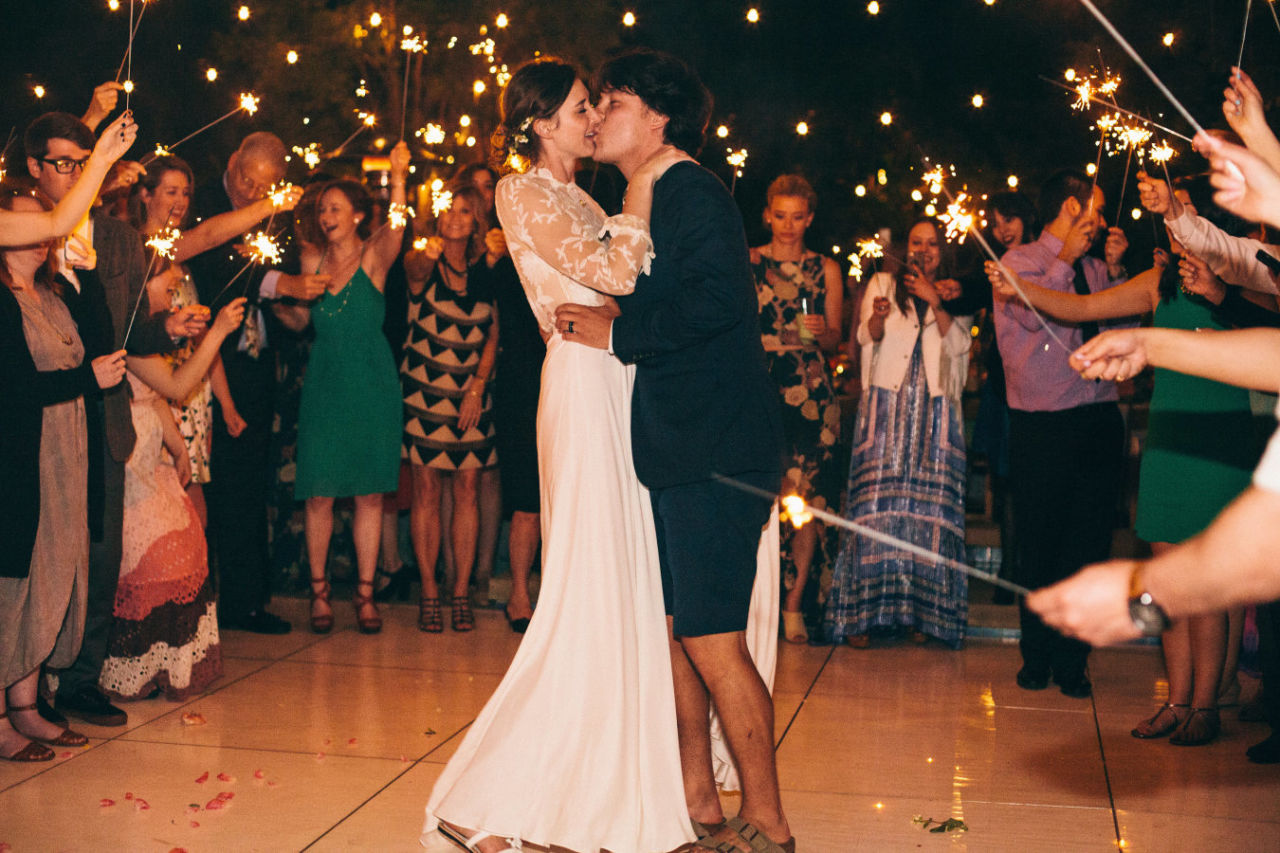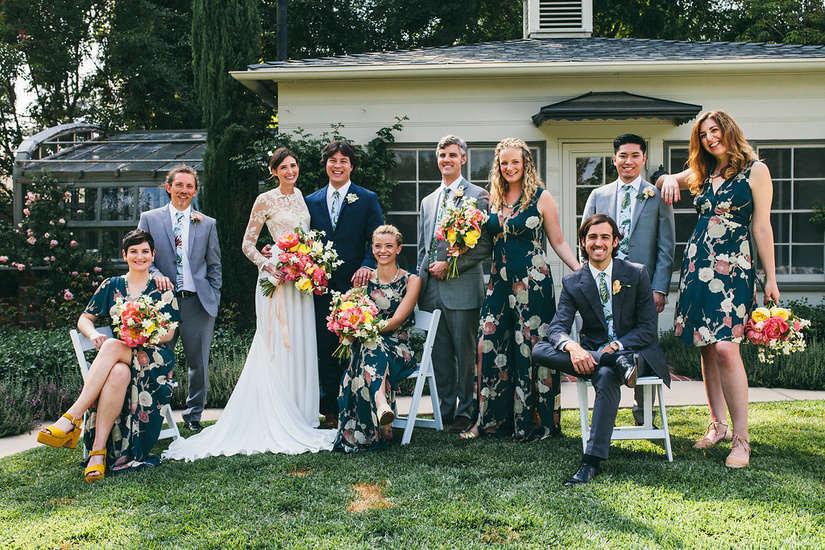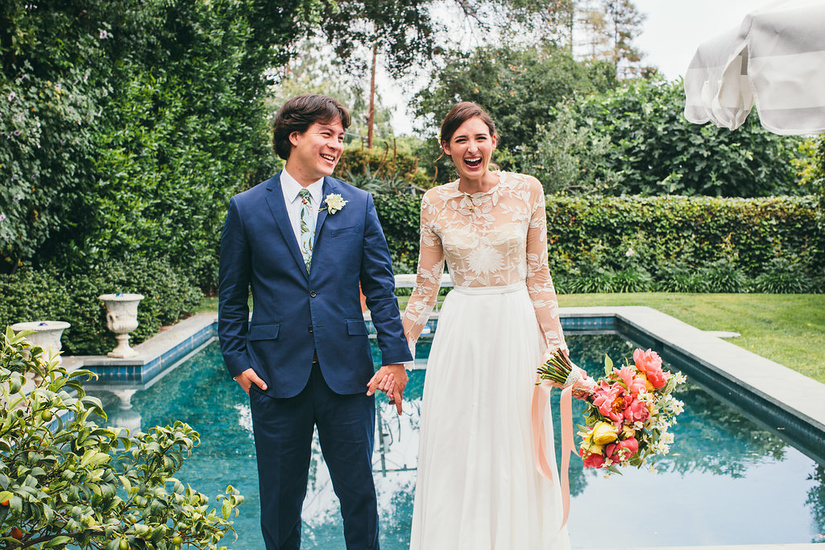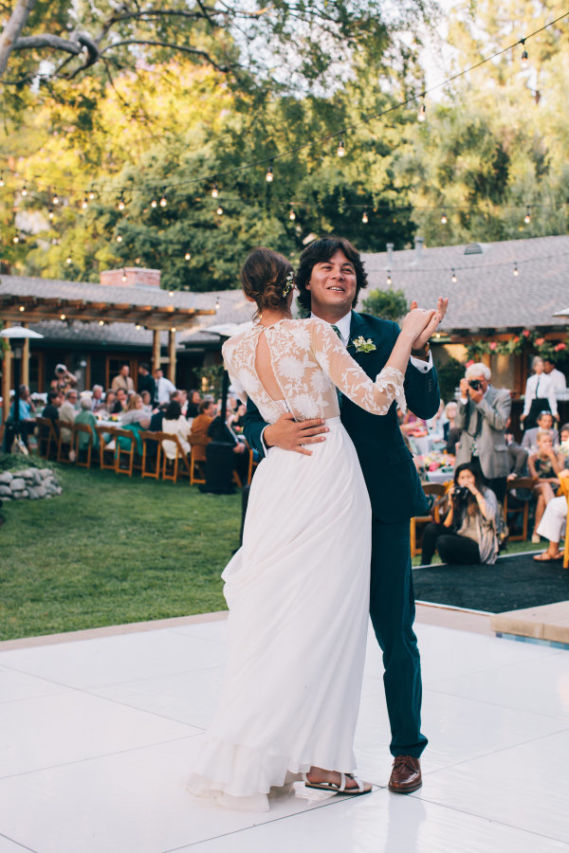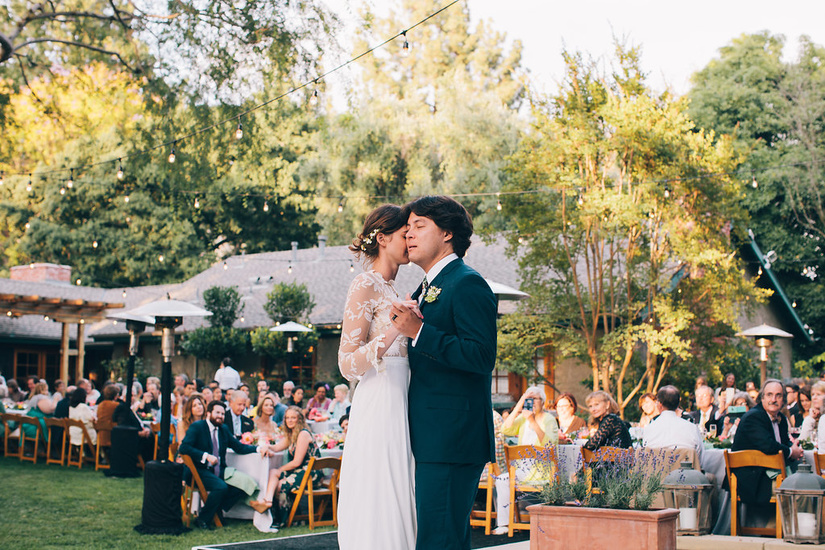 6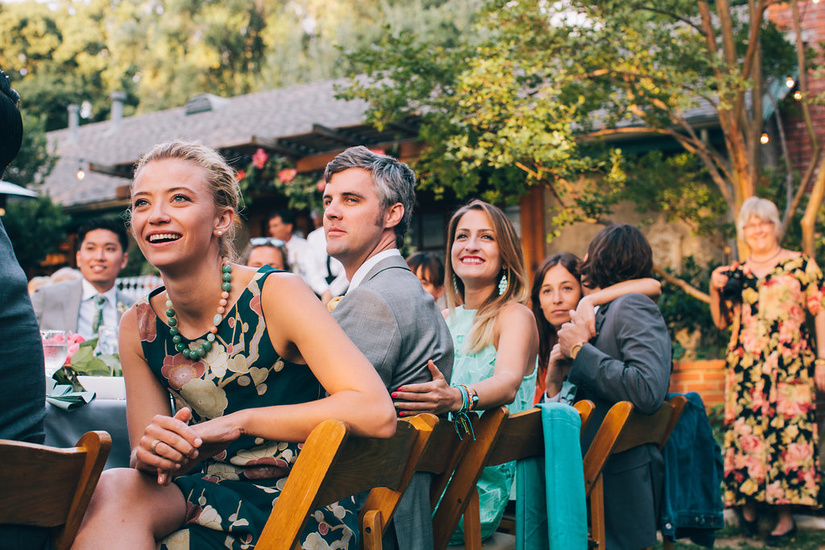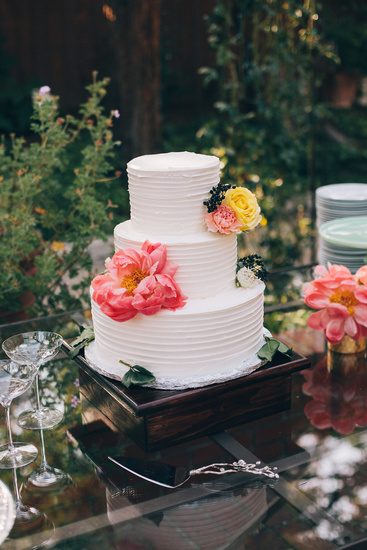 91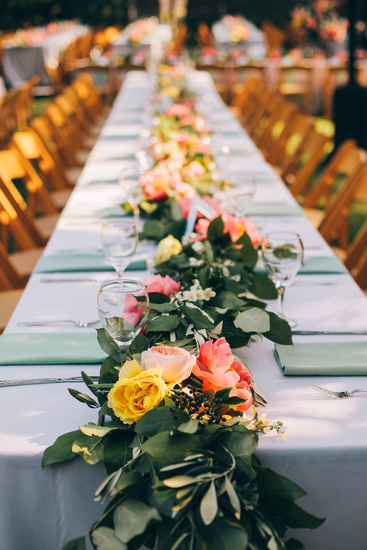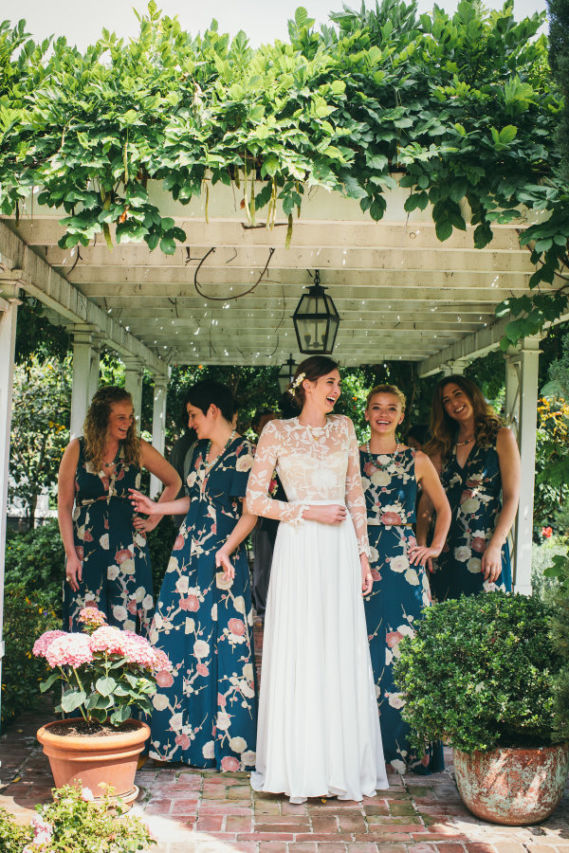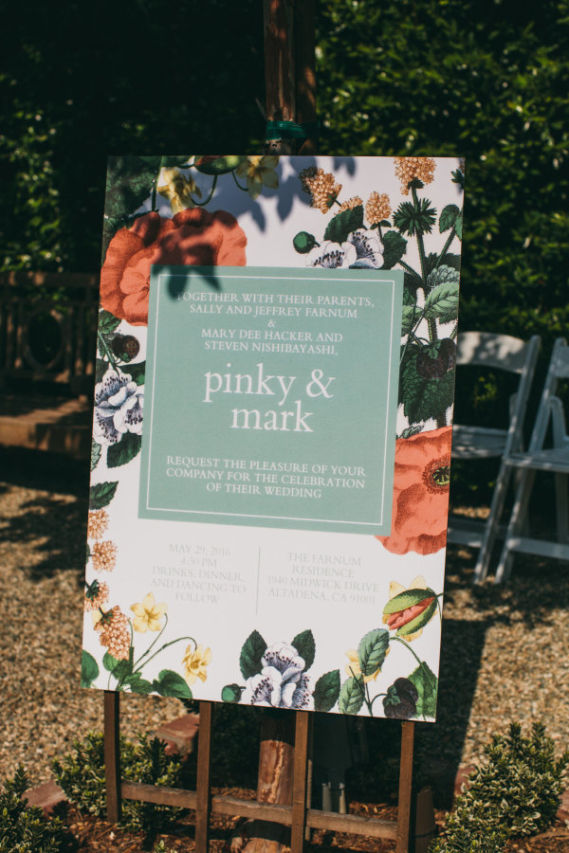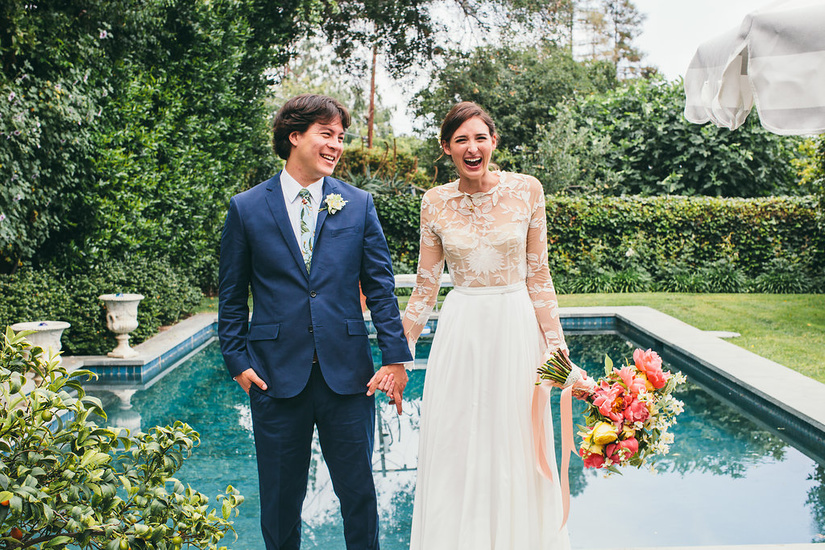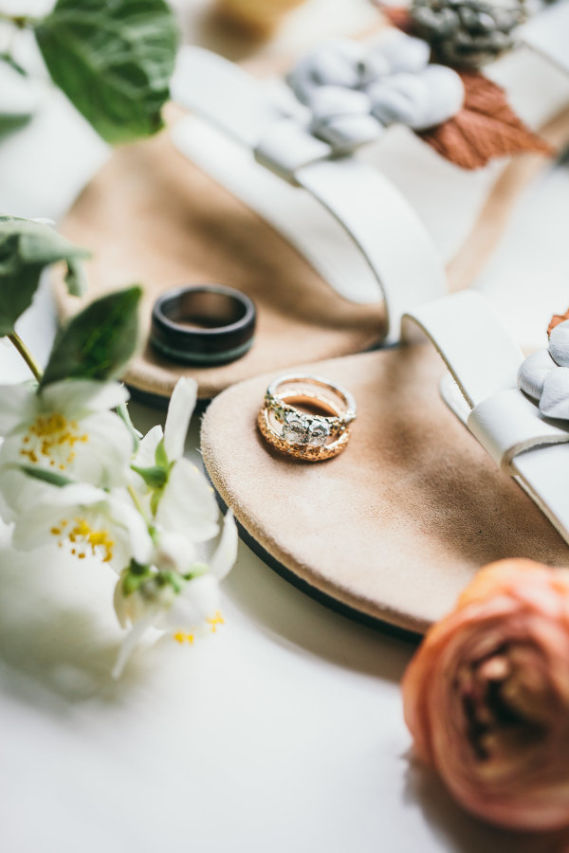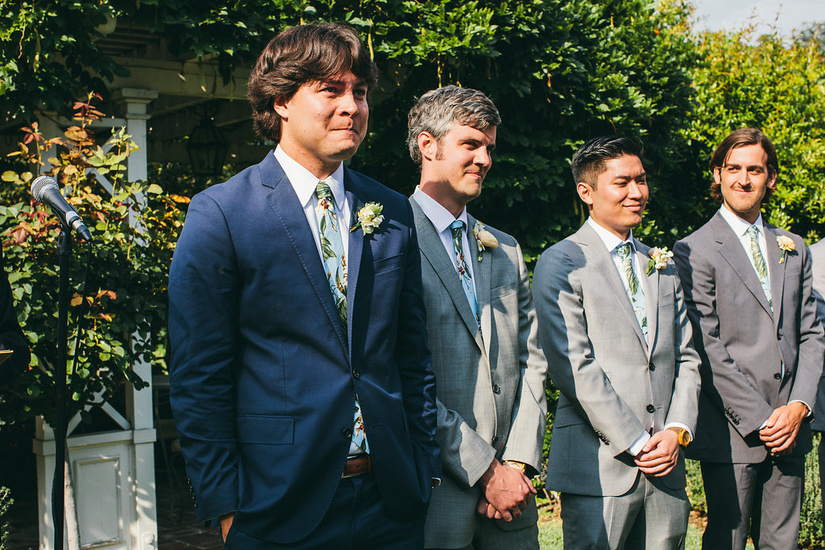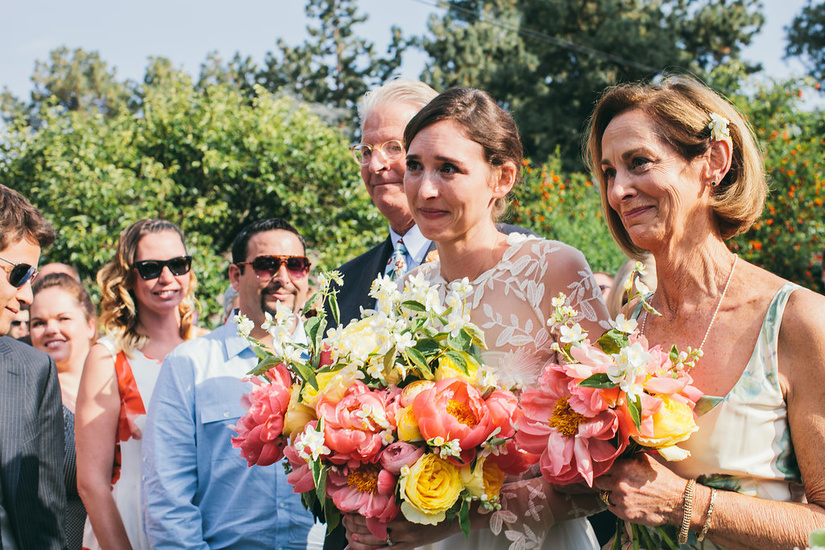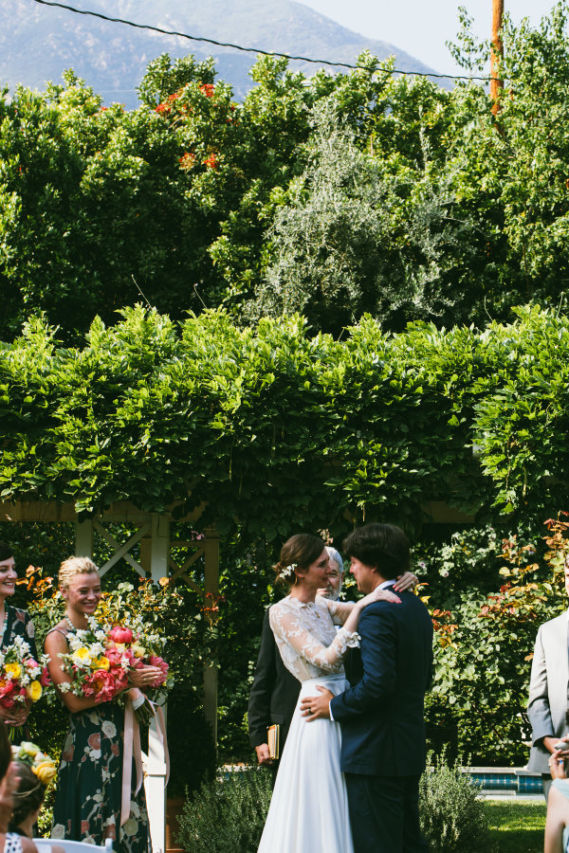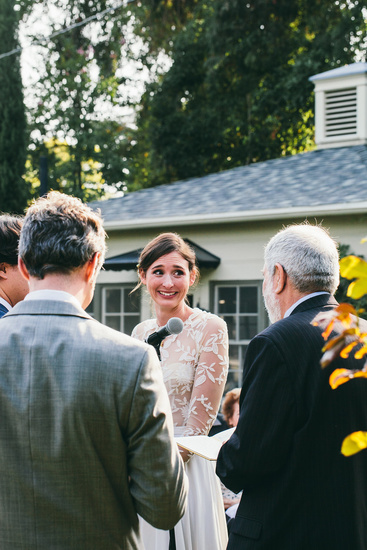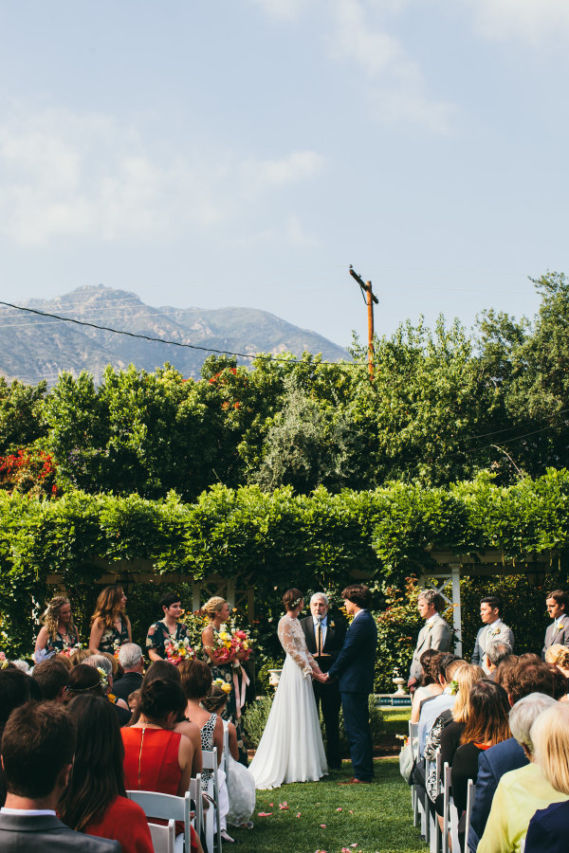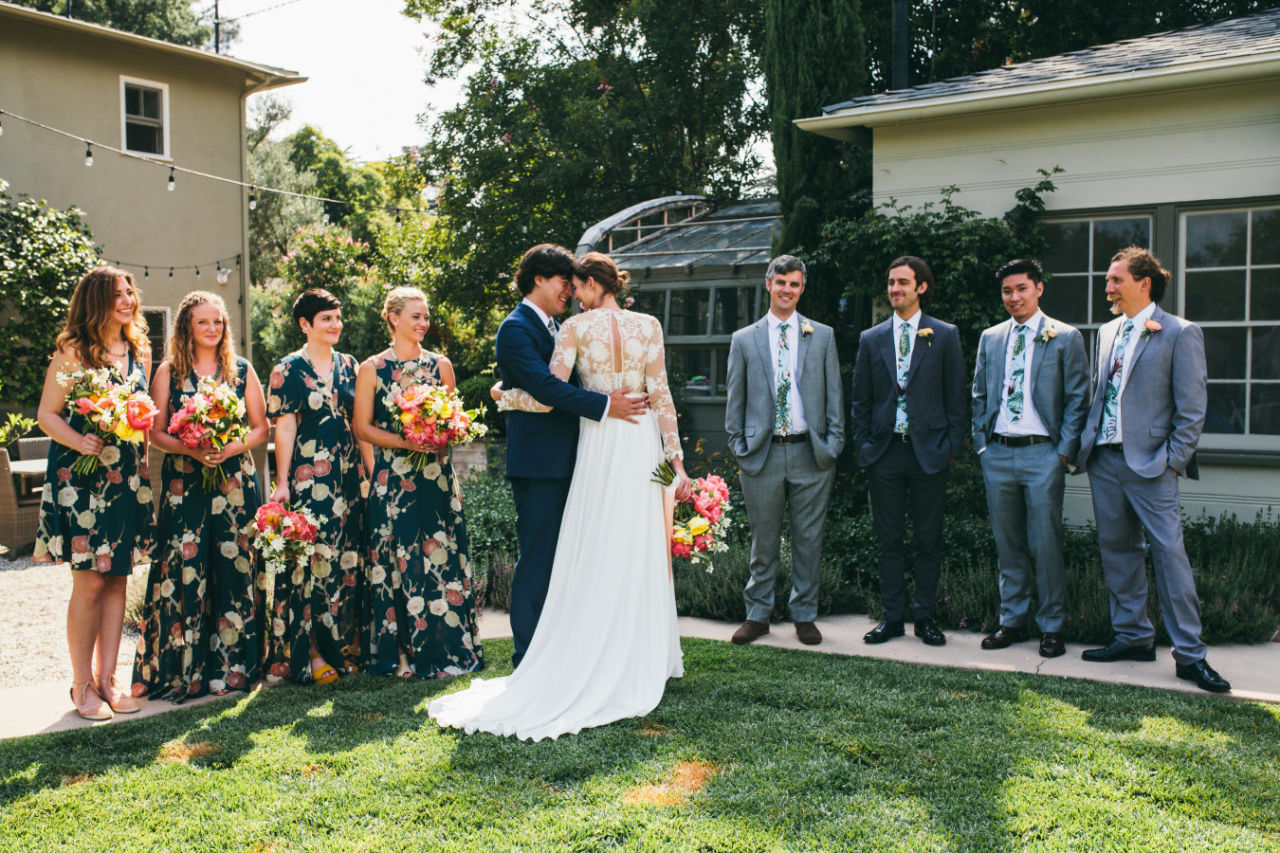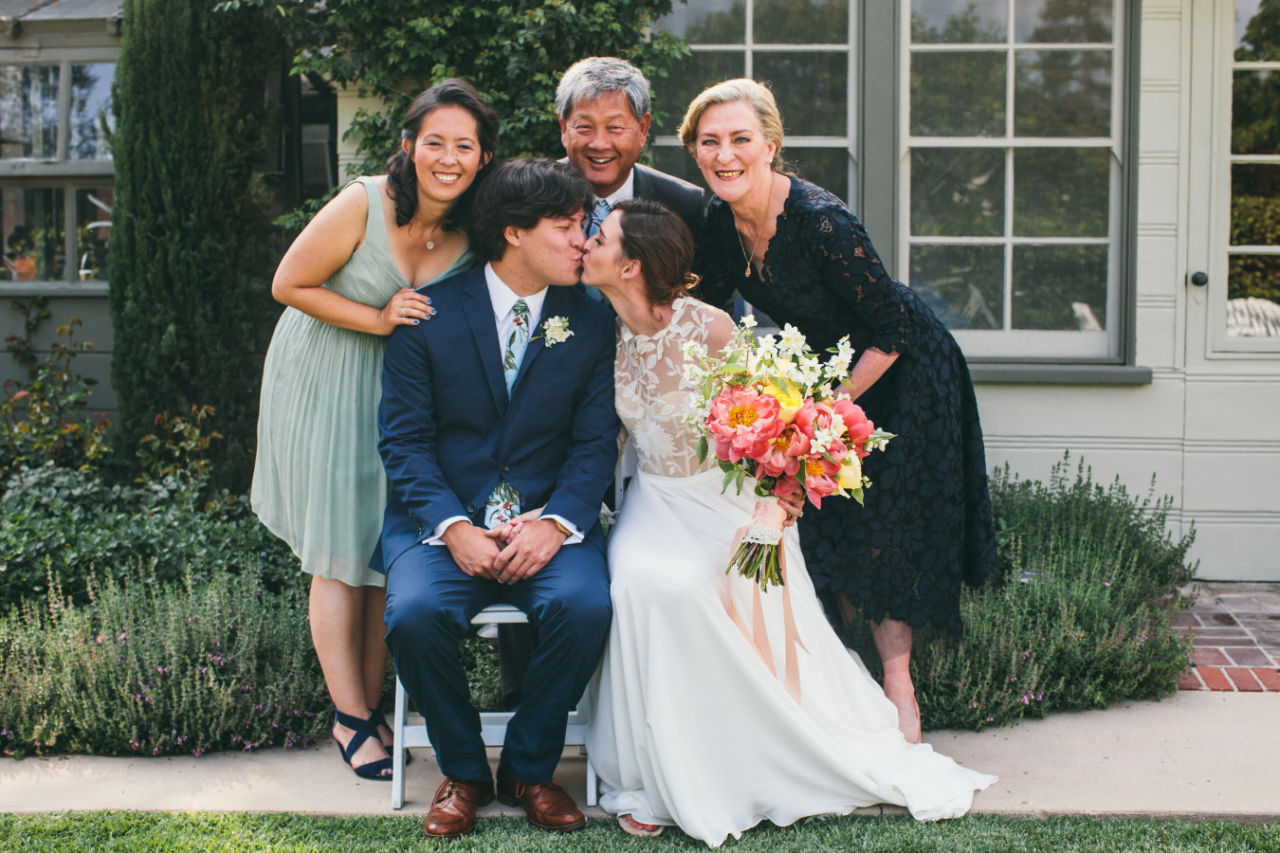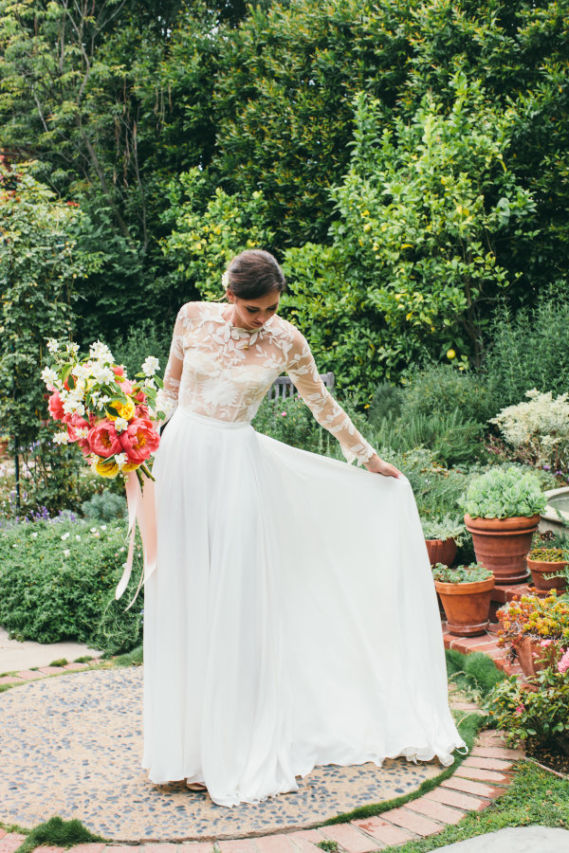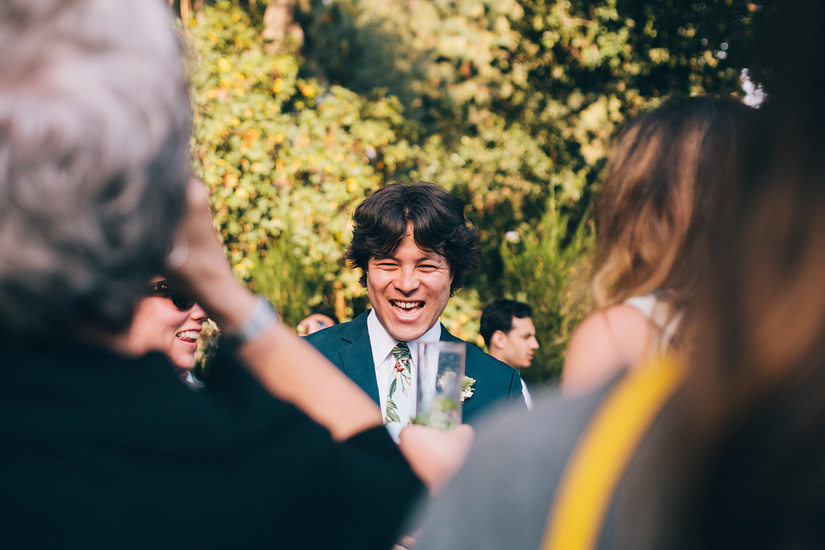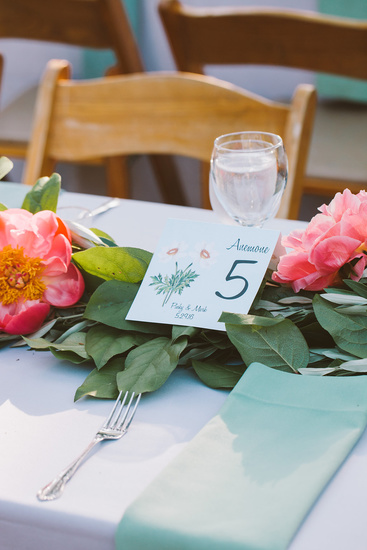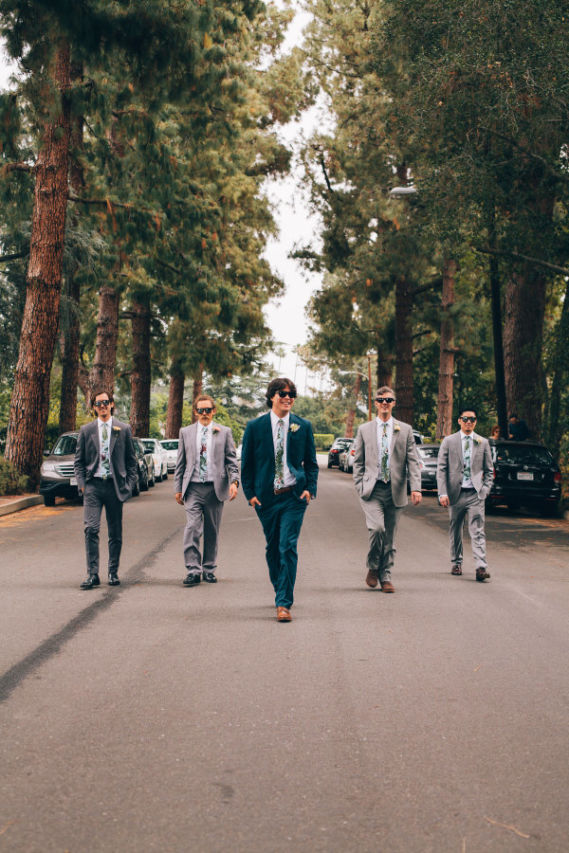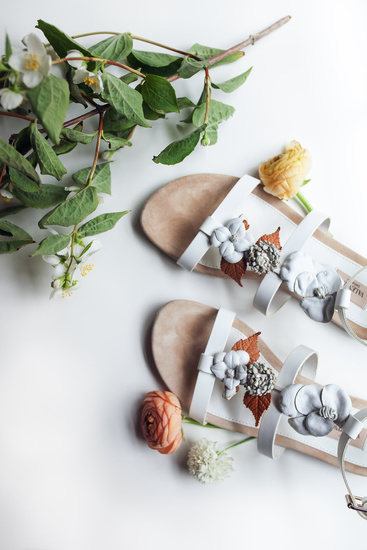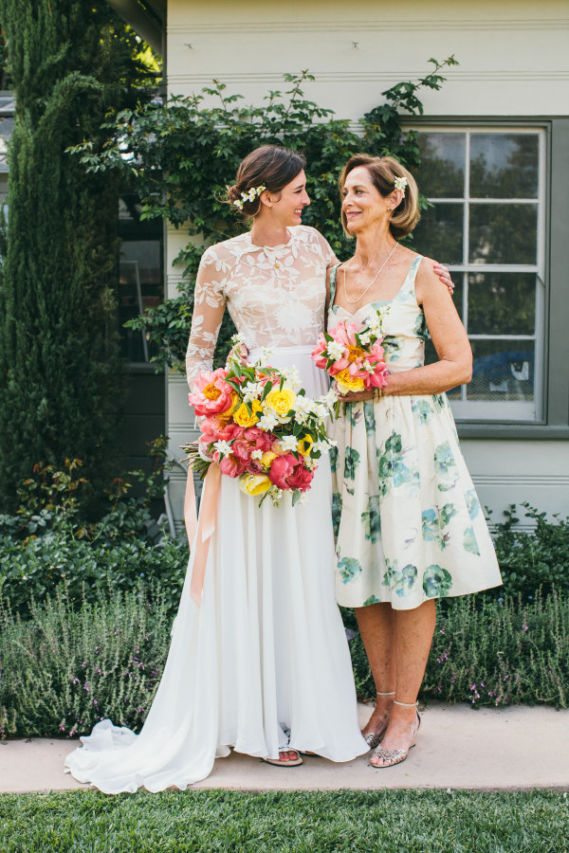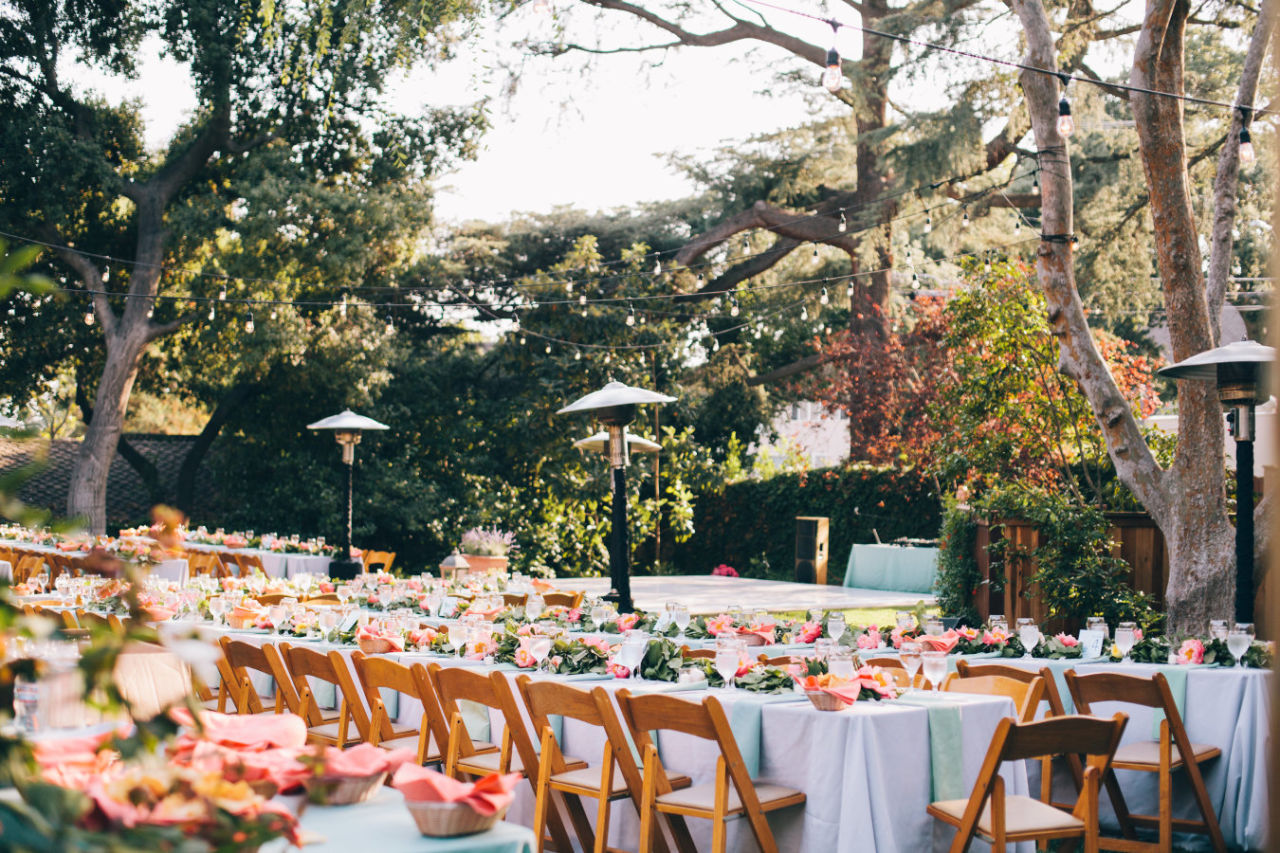 Having been in the wedding industry for a number of years, I was so happy to have chosen incredible vendors to pull off the big day so that I could relax and enjoy the day. The amazing Jennifer and Susan of HoneyFitz Events put all my plans into action and pulled off a day that felt effortless and welcoming for all of our guests. Jessica Castro beautifully captured the emotions and splendor of the day in her photos. We chose to have our favorite Mexican restaurant, La Cabinita, cater the dinner so we could eat our favorite meal on our favorite day. Someone was even making fresh tortillas on site! Along with delicious cake from Crust and Crumble, my amazing aunt made 200 mini fruit pies (my favorite dessert) that guests could eat while dropping it low on the dance floor. Petey of Queue DJ set the tone of our wedding perfectly with a playlist that kept our guests dancing until we shut the party down.
One of the most unforgettable moments of the wedding was when my dad and our best man sang a few songs together. I think most everyone was tearing up when my dad played "Sweet Baby James" which he used to play for me when I was little." – Bride, Pinky.
Photographer: Jessica Castro