Edwin Siu and Priscilla Wong Wedding At Six Senses Bali
For an absolutely romantic outdoor wedding ceremony, see some of the love-filled wedding moments of the newly-wed TVB stars Edwin Siu and Priscilla Wong captured at the luxurious Six Senses Bali, a romantic and intimate wedding destination with a majestic view of the Indian Ocean as their wedding backdrop.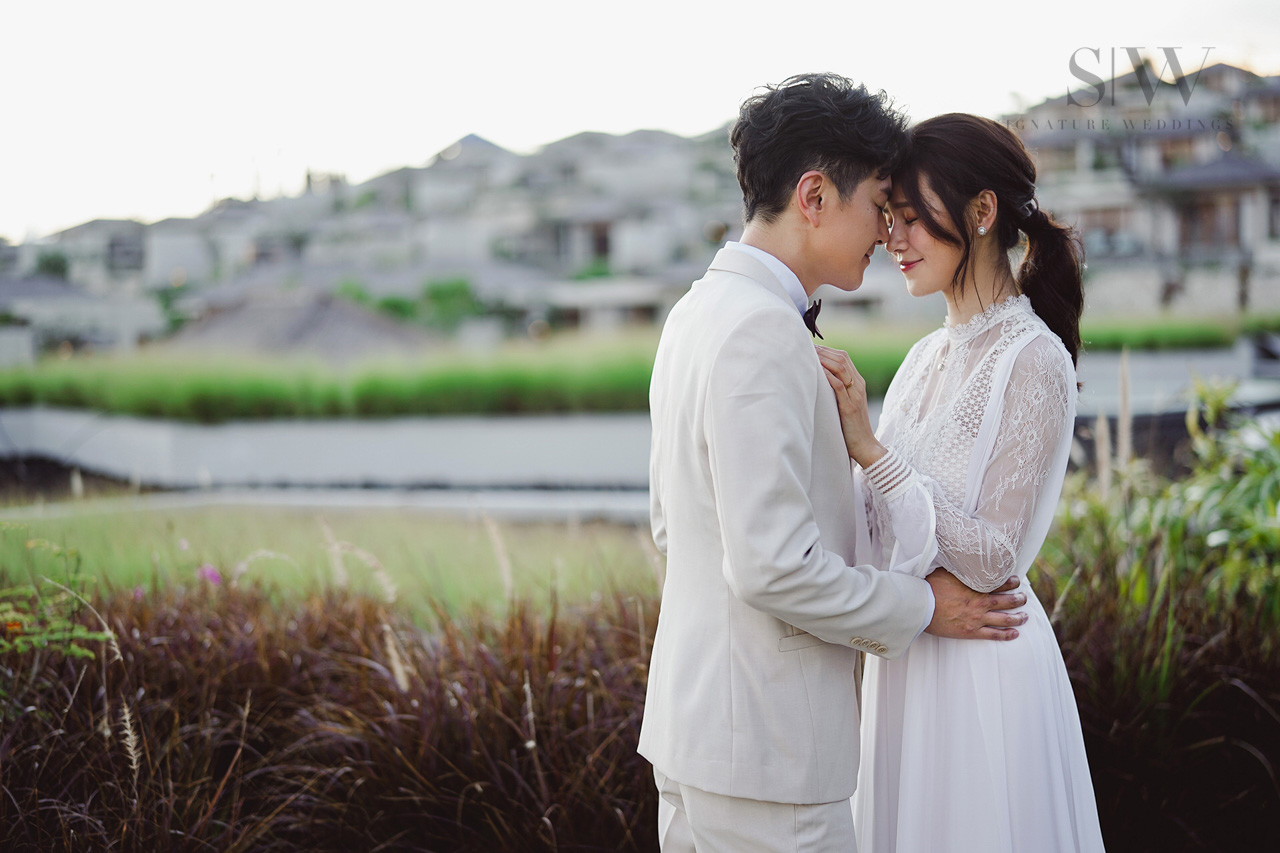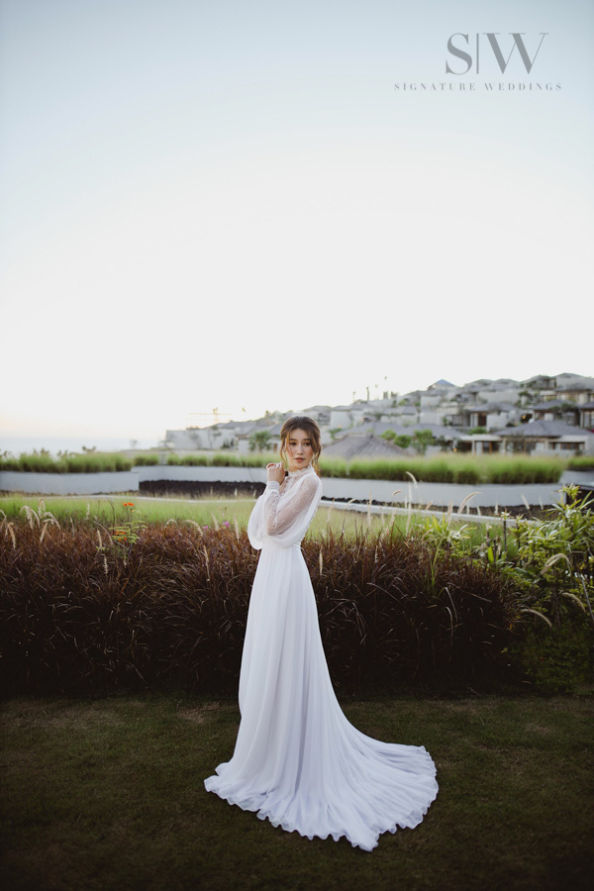 Natural Elegance Wedding Ceremony at Six Senses
The lovely ceremony was a based on Natural Elegance theme, combining neutral colours and materials that blends in gorgeously with the surrounding villa and ocean view. Tea Rose Wedding created a beautiful balance between natural elements surrounding the Villa and unique decor elements brought for the wedding.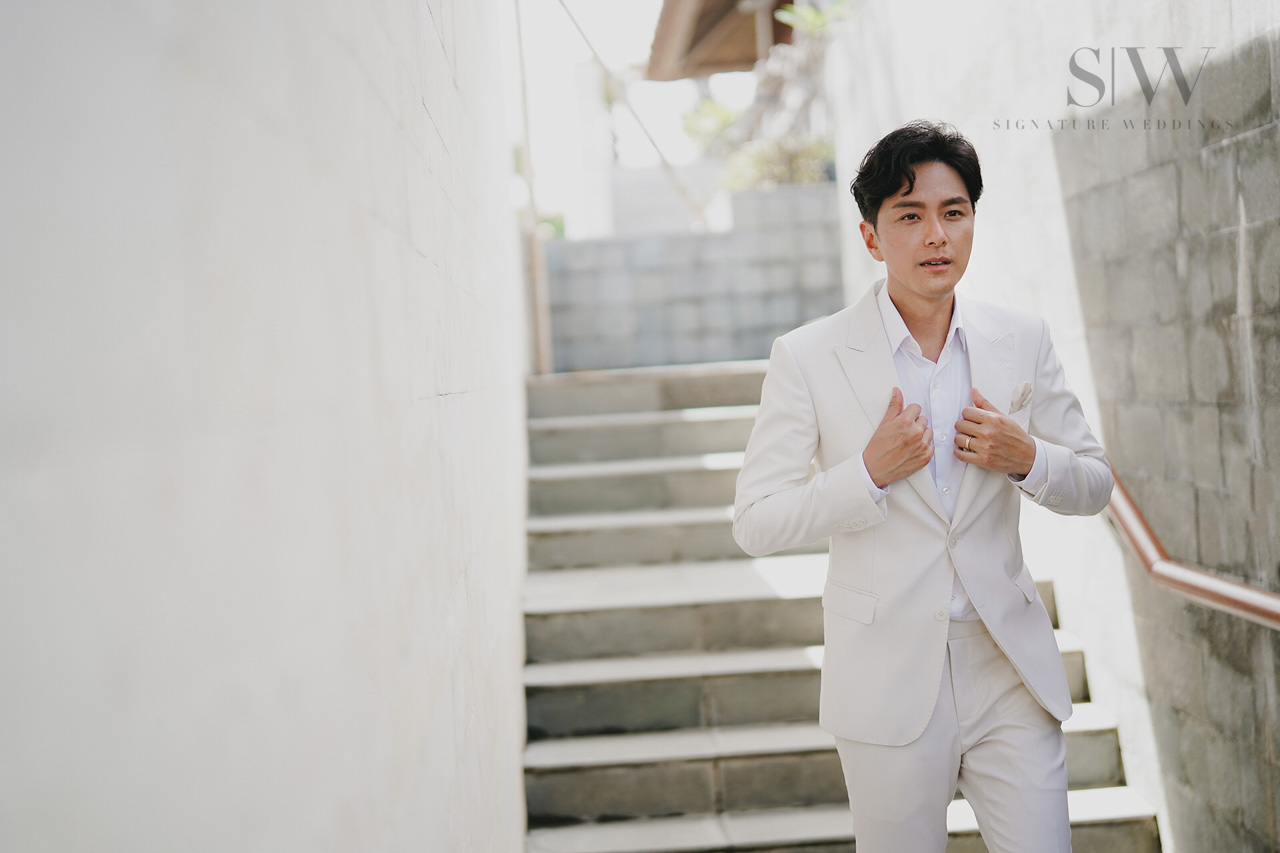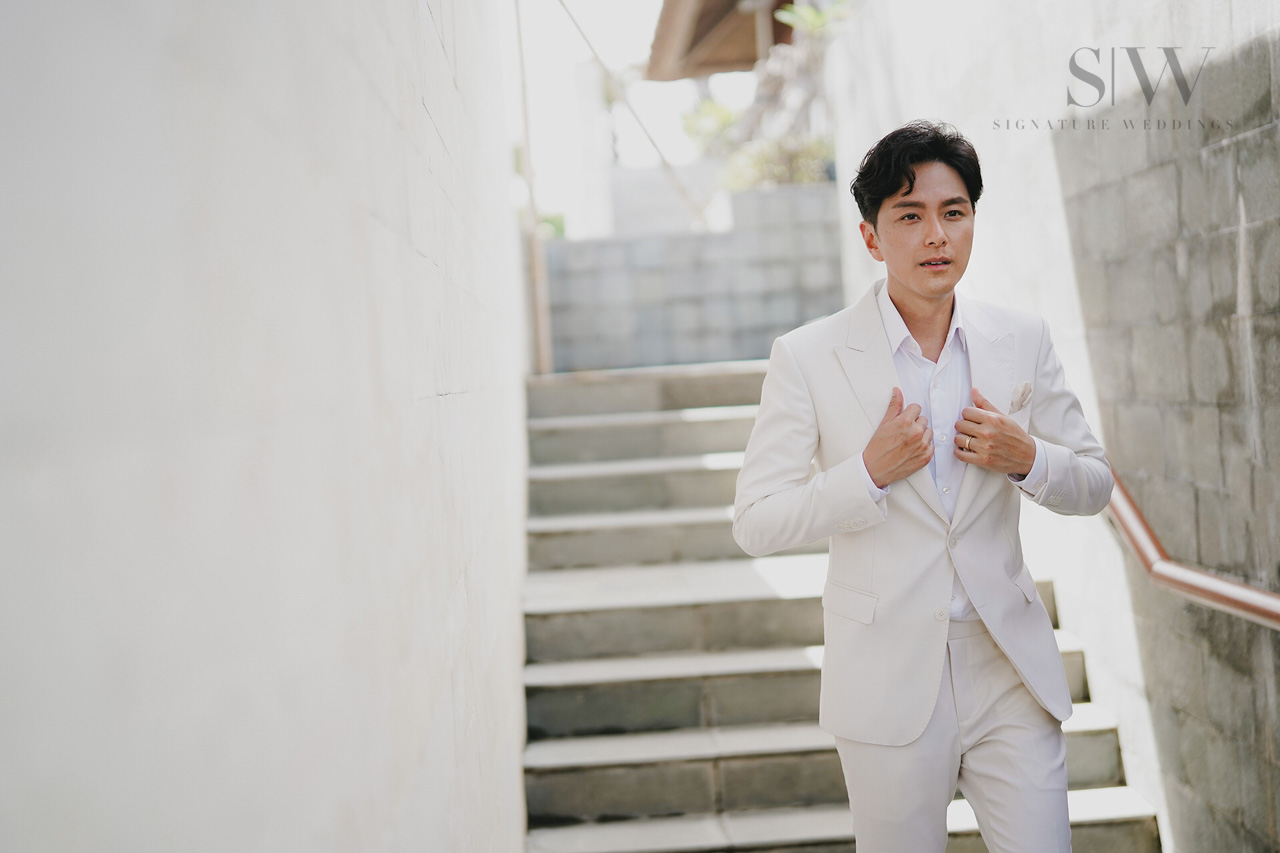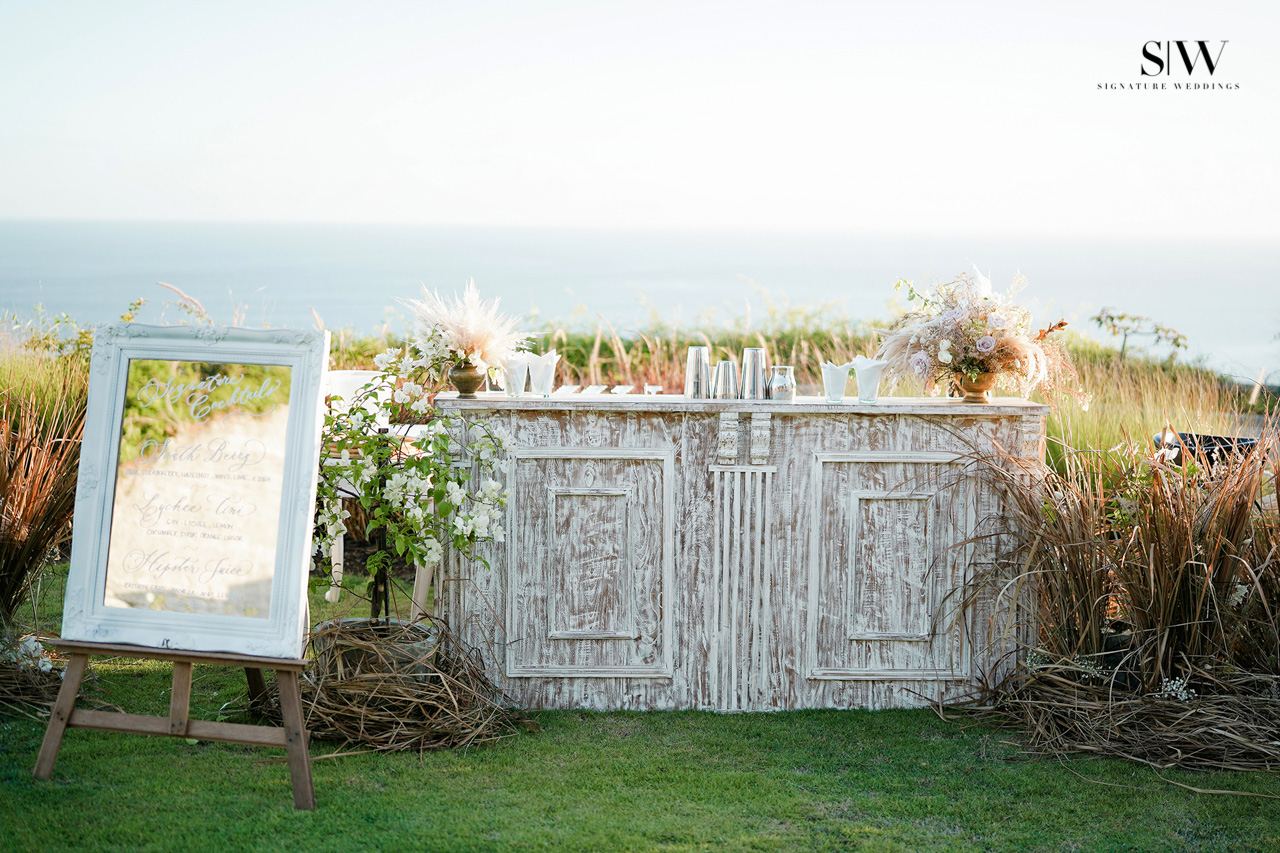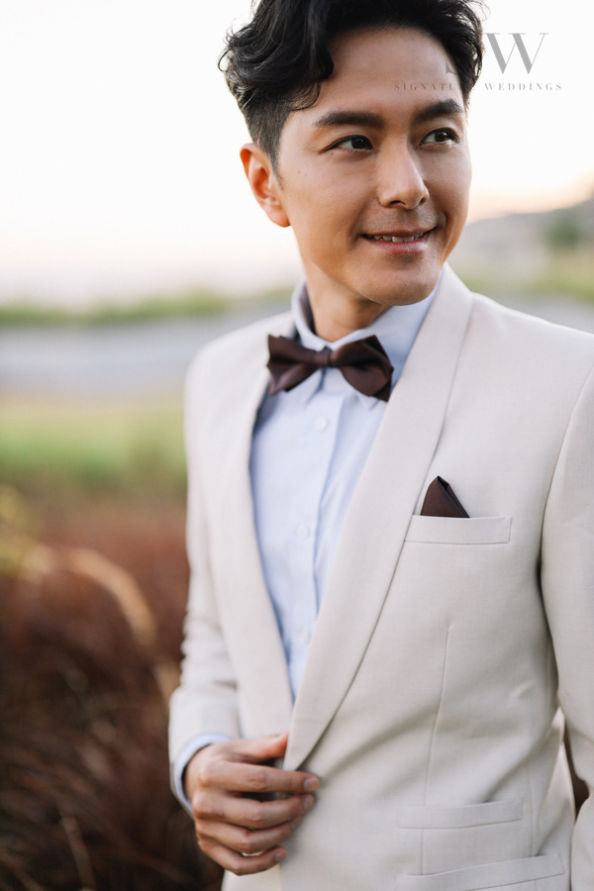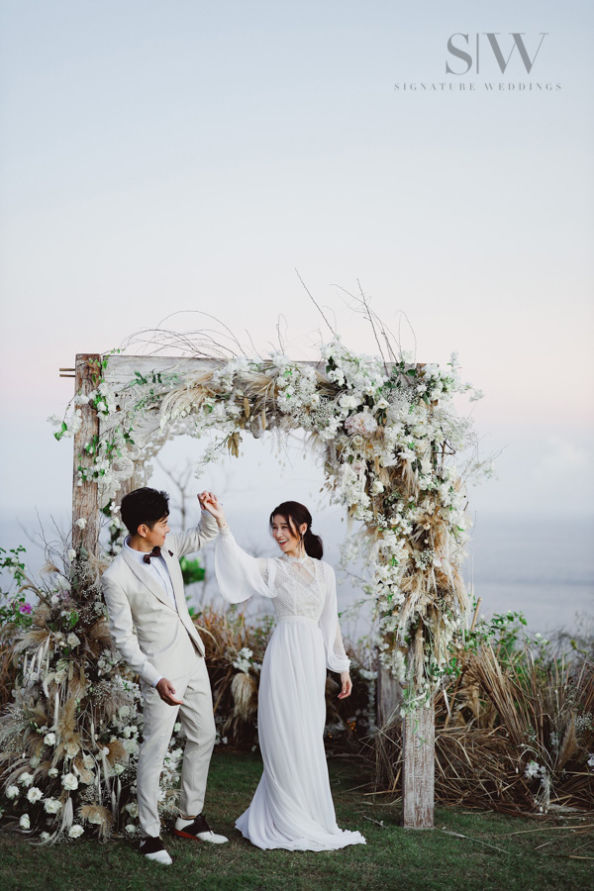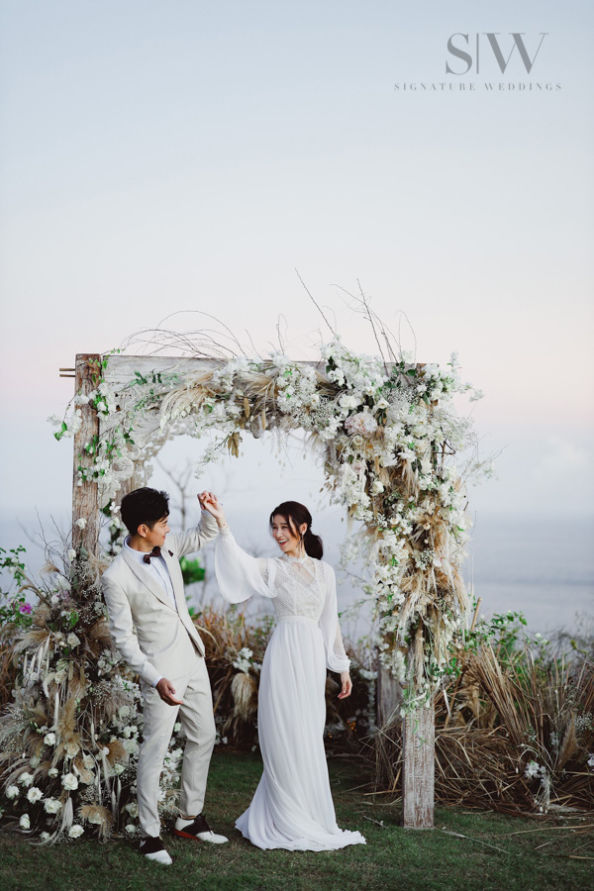 They incorporated a variety of rustic-lush romantic blooms and autumn-inspired foliages that is native to the setting to bring the intimate ceremony closer to nature. Located at the private lawn of the Retreat Villa of Six Senses Bali, the manicured garden was surrounded by rugged wild grass evoking an exotic feel. The design was centered at pairing the rustic setting with romantic fairy lights tunnel – a stylish twist to the rustic feel, and absolutely timeless bridal colour palettes of white, soft cream and faintest blush.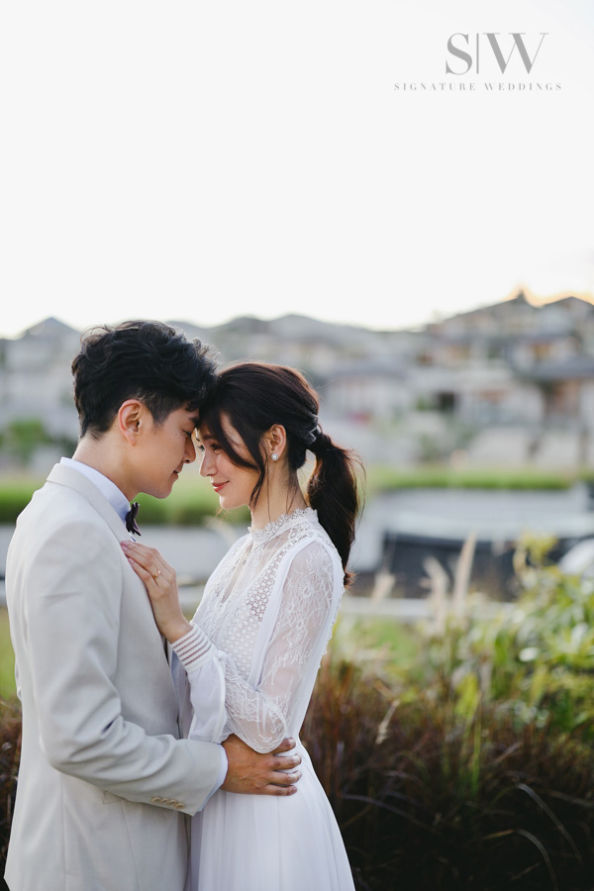 Adding to the rustic-lush ambience, the wedding aisle is also decorated with combination of rugged wild grass and neutral colour blooms which creates another layer to the garden. This additional landscape was made to look lush and opulent against the grass and muted dessert shades of the resort. Tea Rose Wedding used ilalang cortaderia (intentionally dried green pampas grass), cortaderia selloana, dried lunaria, lagurus, stypha penatta, and other expertly dried flowers, along with carefully preserved butterflies alighted on garden-inspired florals.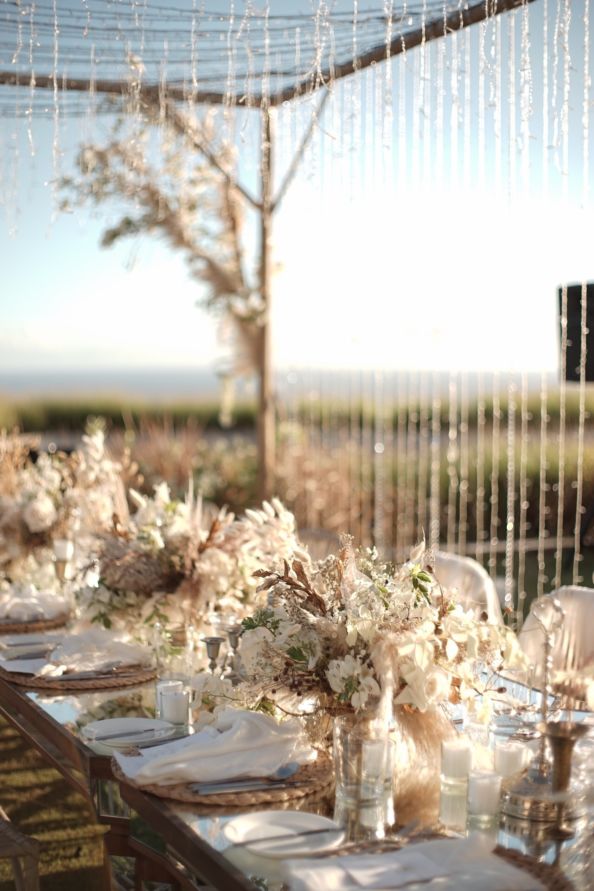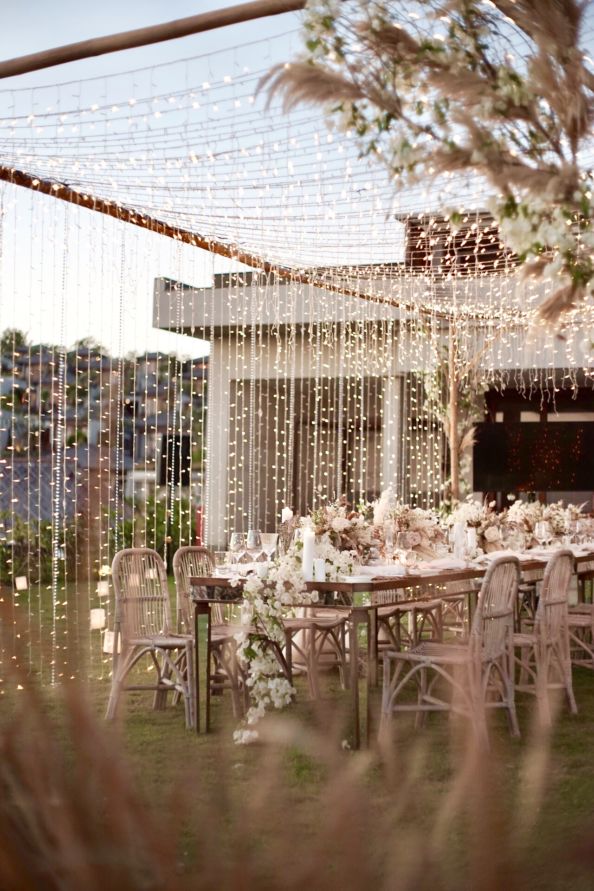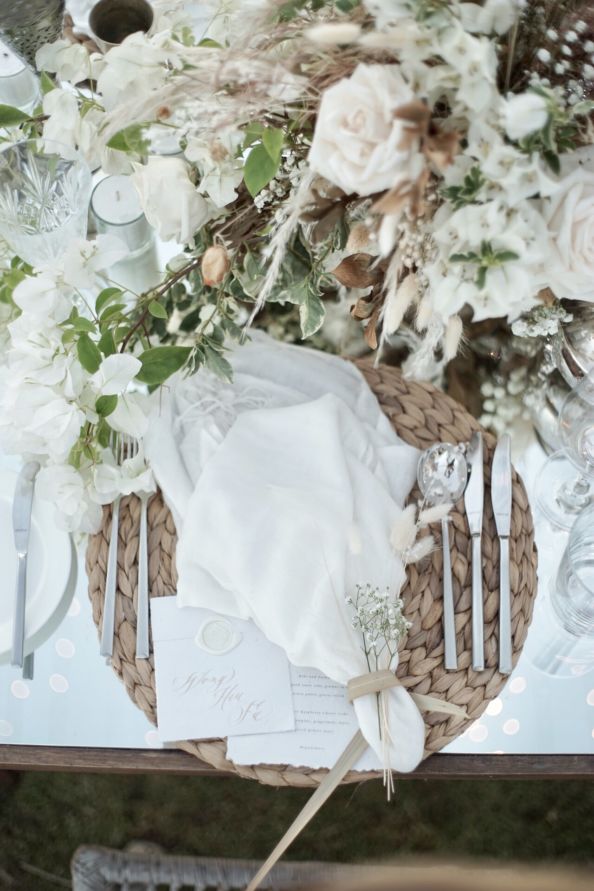 The tablescape was decorated with votive candles placed in a range of uniquely rustic candle holders casting a warm glow and intimate ambience. Decorated with weaved table mats, rustic vases, and twinkling fairy lights as the perfect backdrop for the dinner setting, the place was exactly how the couple envisioned evening to be… an elegant romantic setting.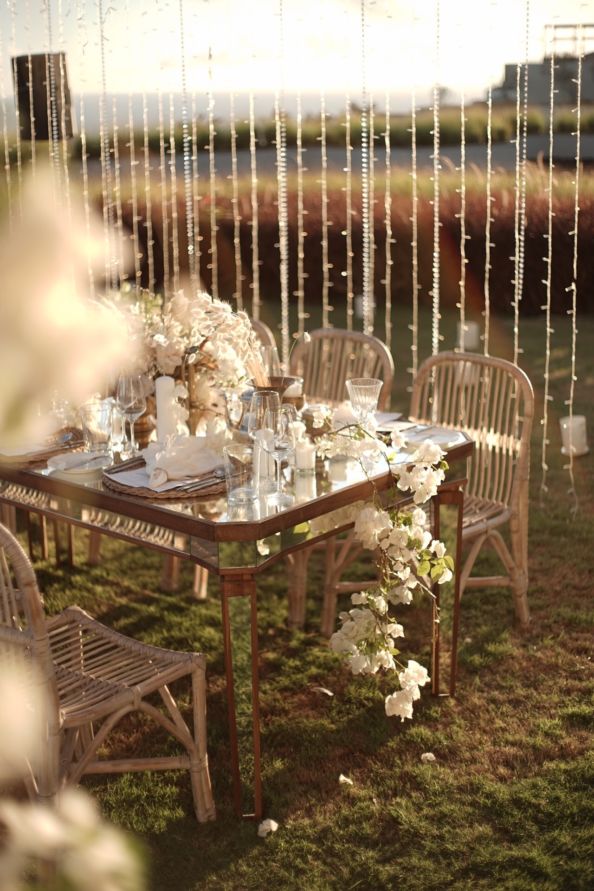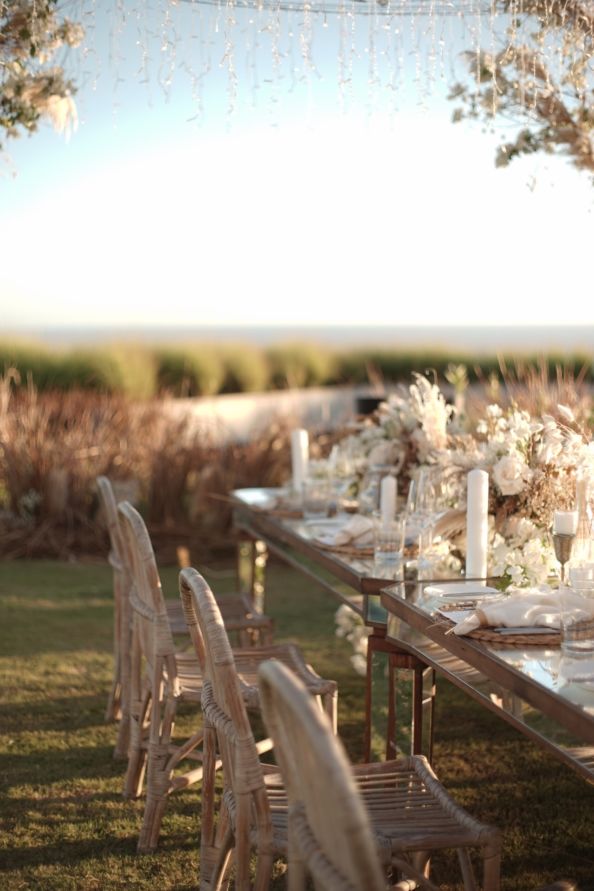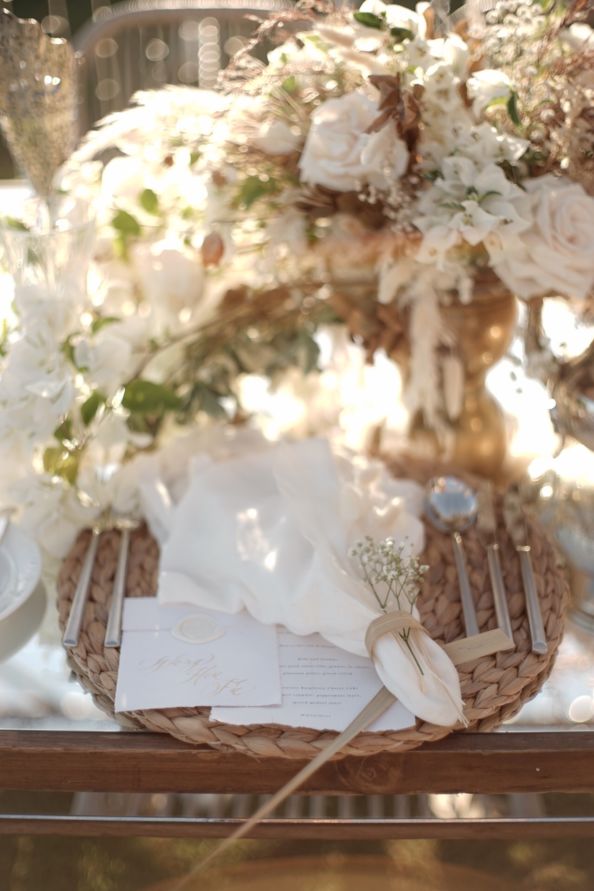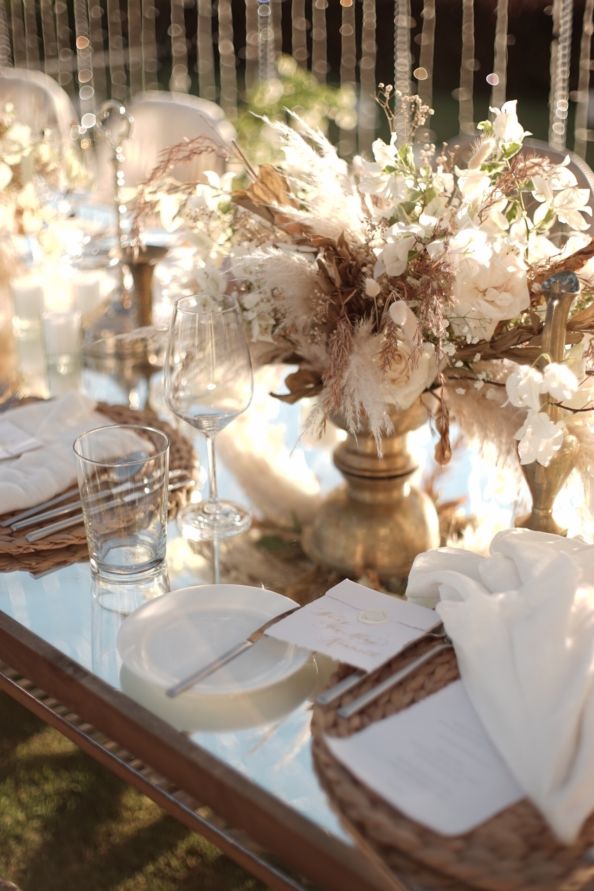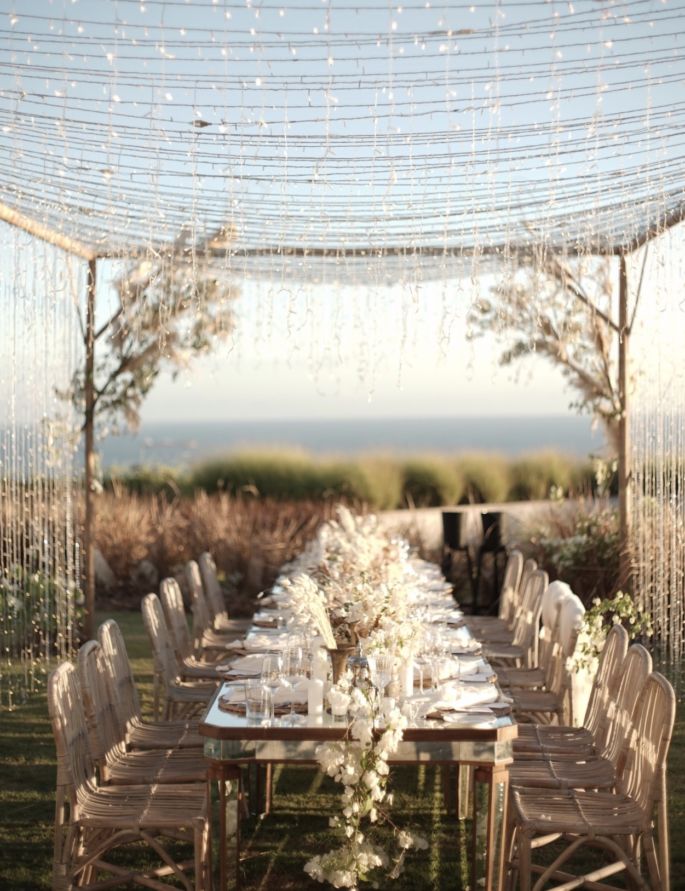 Romantic & Intimate Wedding Evening
In close company of family and friends, Priscilla wears Zahavit Tshuba for the evening celebration. The bride exudes an ethereal beauty with her sexy yet sophisticated wedding dress, elegantly embellished with pearls. To match Priscilla's timeless beauty, a dashing Edwin wears a sleek black Tuxedo by award-winning Lord's Tailor, endorsed by elites in Asia.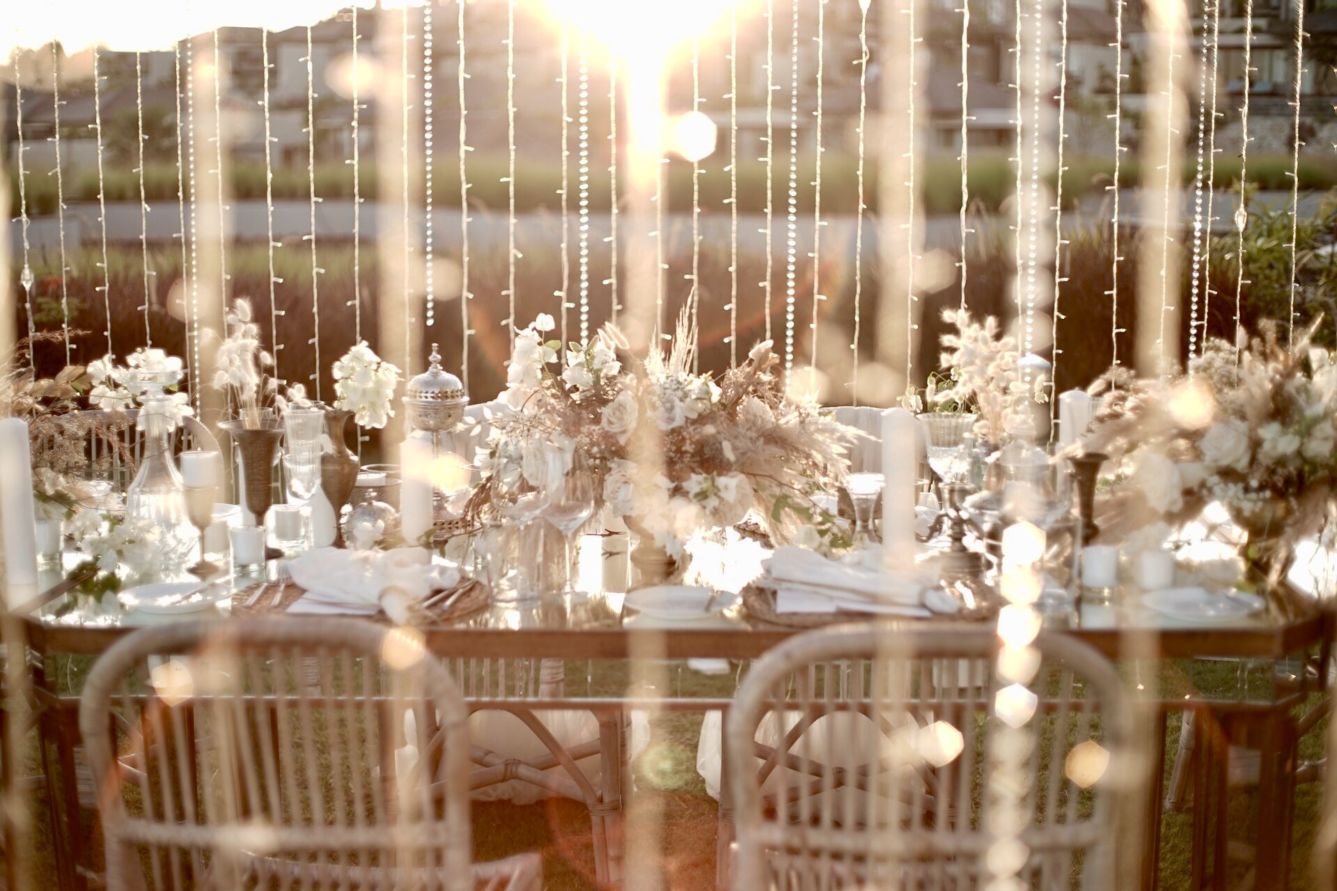 The romantic evening proceeded with Edwin and Priscilla's charming speeches with apparent affection with one another, a traditional toast to guests and a customary cake cutting ceremony. The 2-tier ivory fondant cake by Le Novelle was elegantly designed, using geometric lines patter detailed with organic wafer flowers and intricately preserved butterflies. The base of the cake was an Indonesian traditional 'Lapis' lemon cake with honey.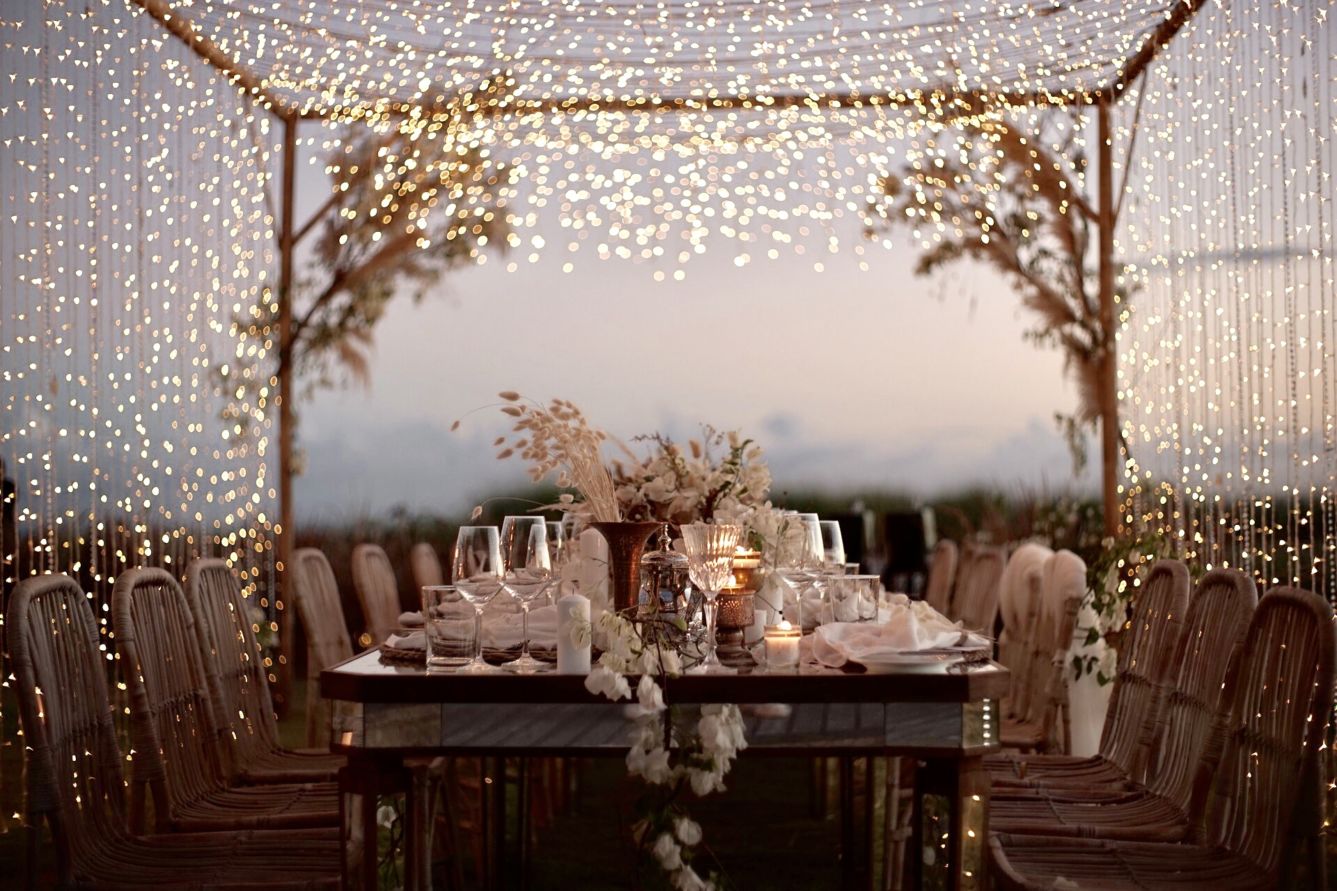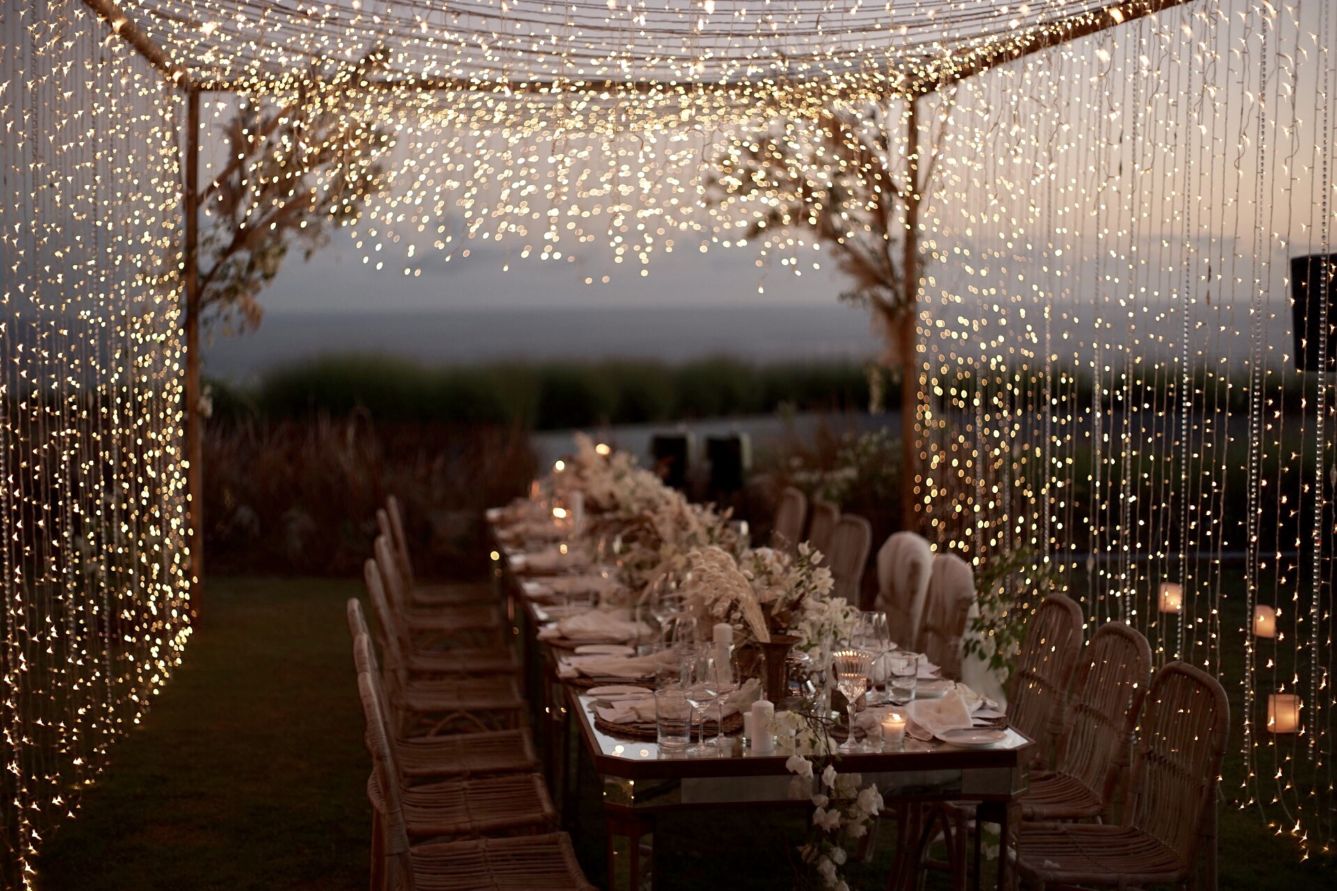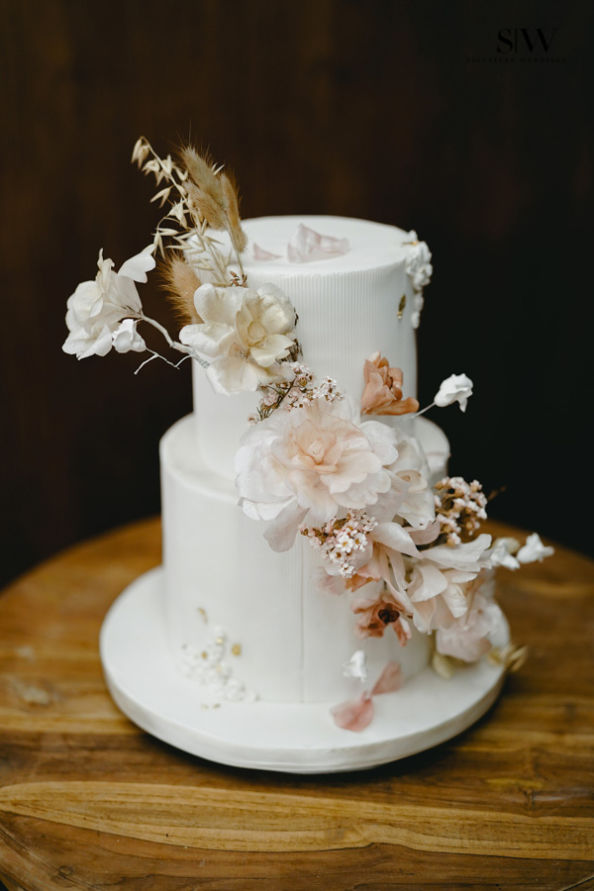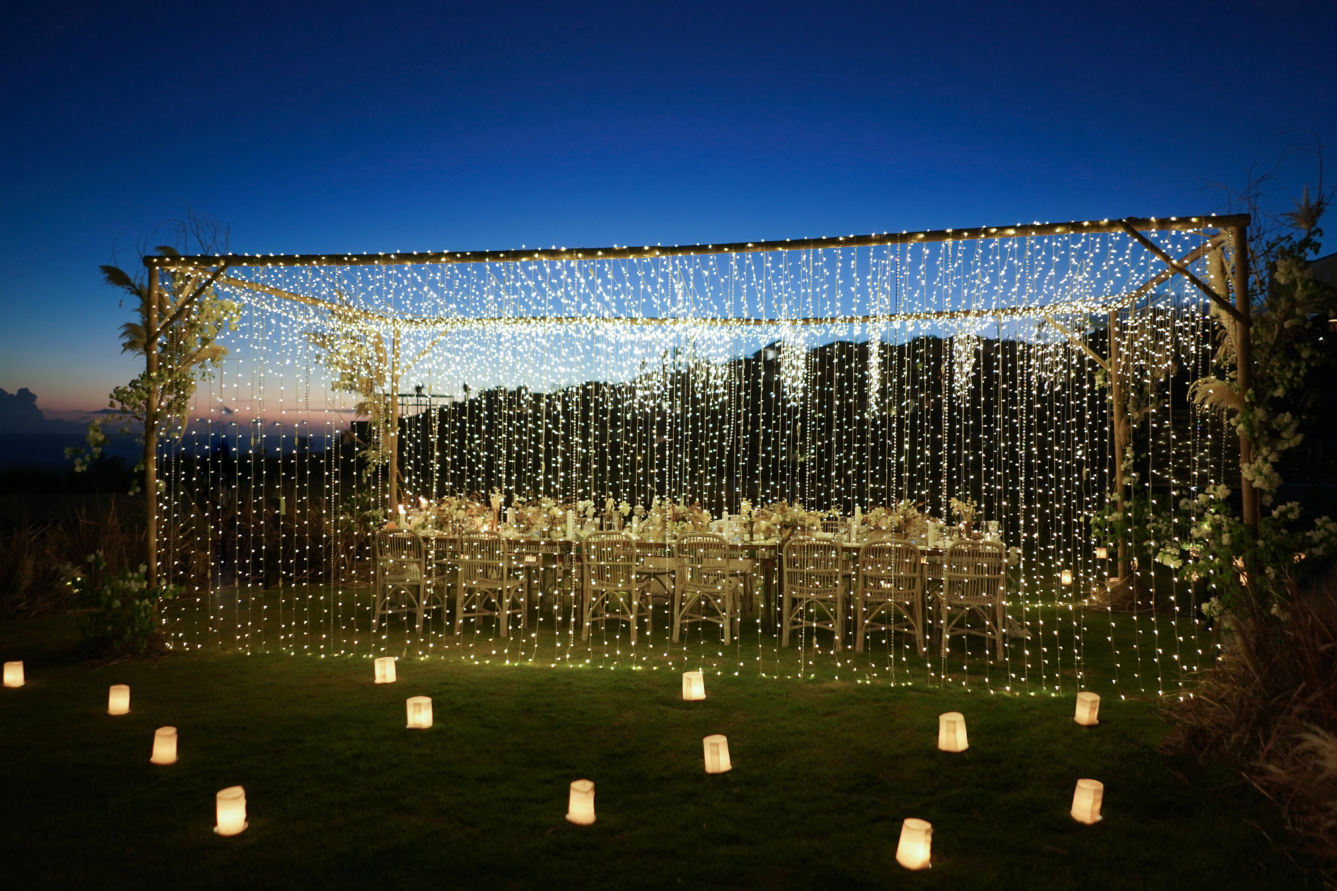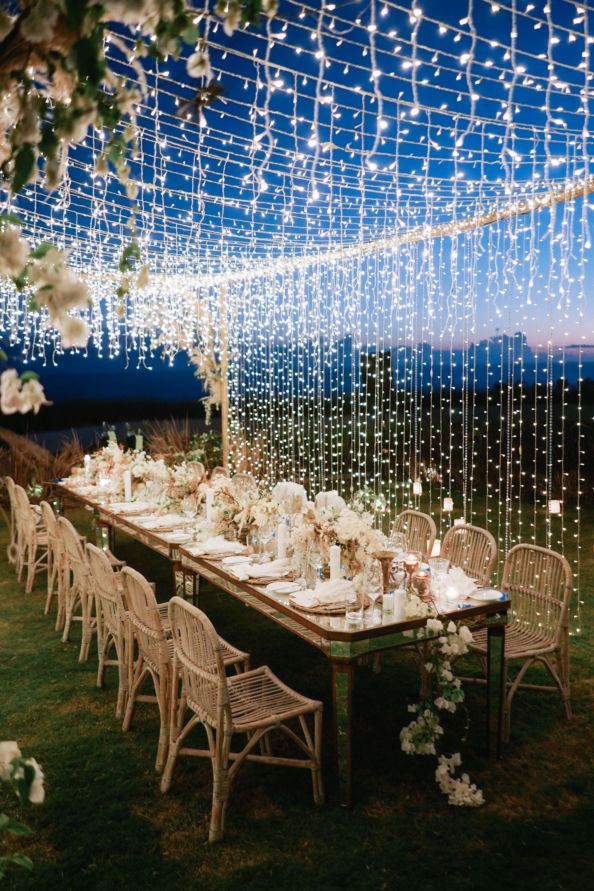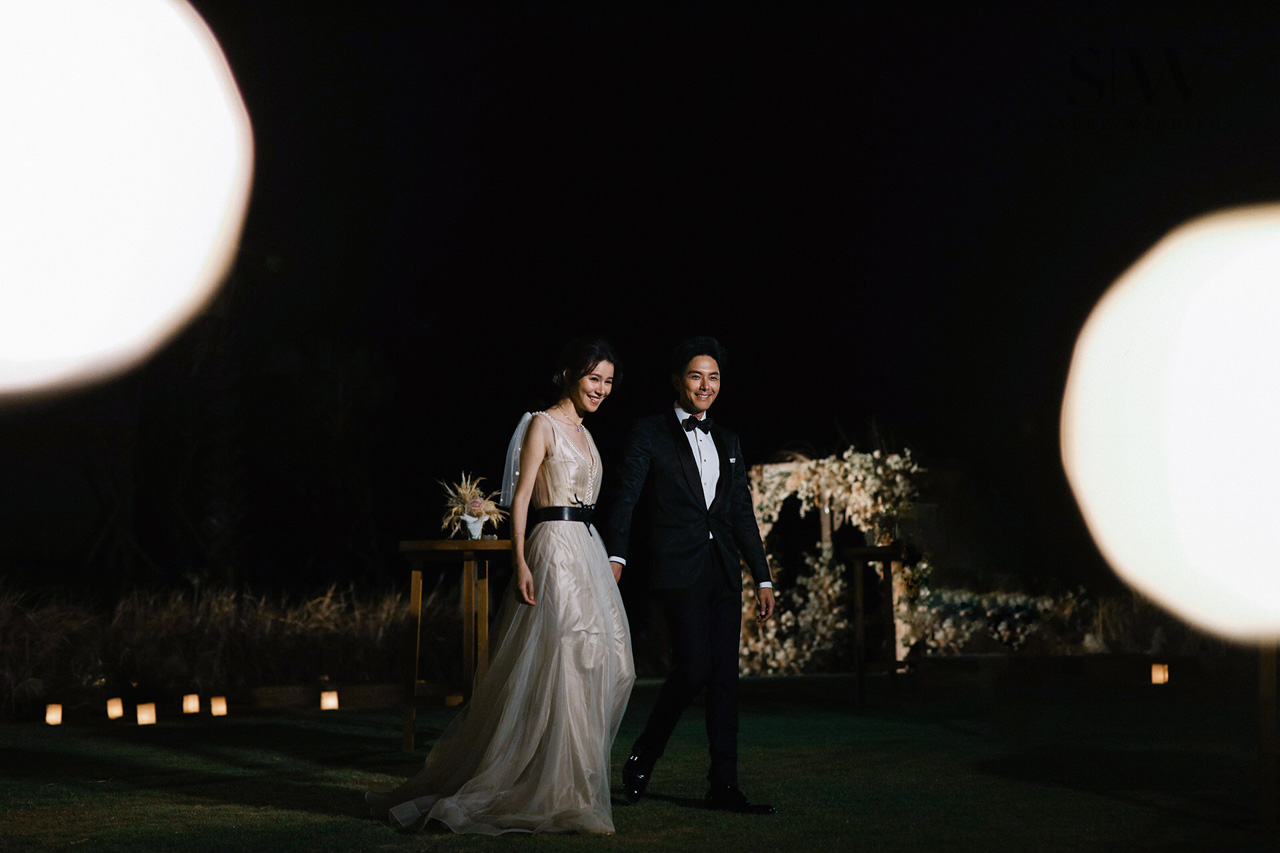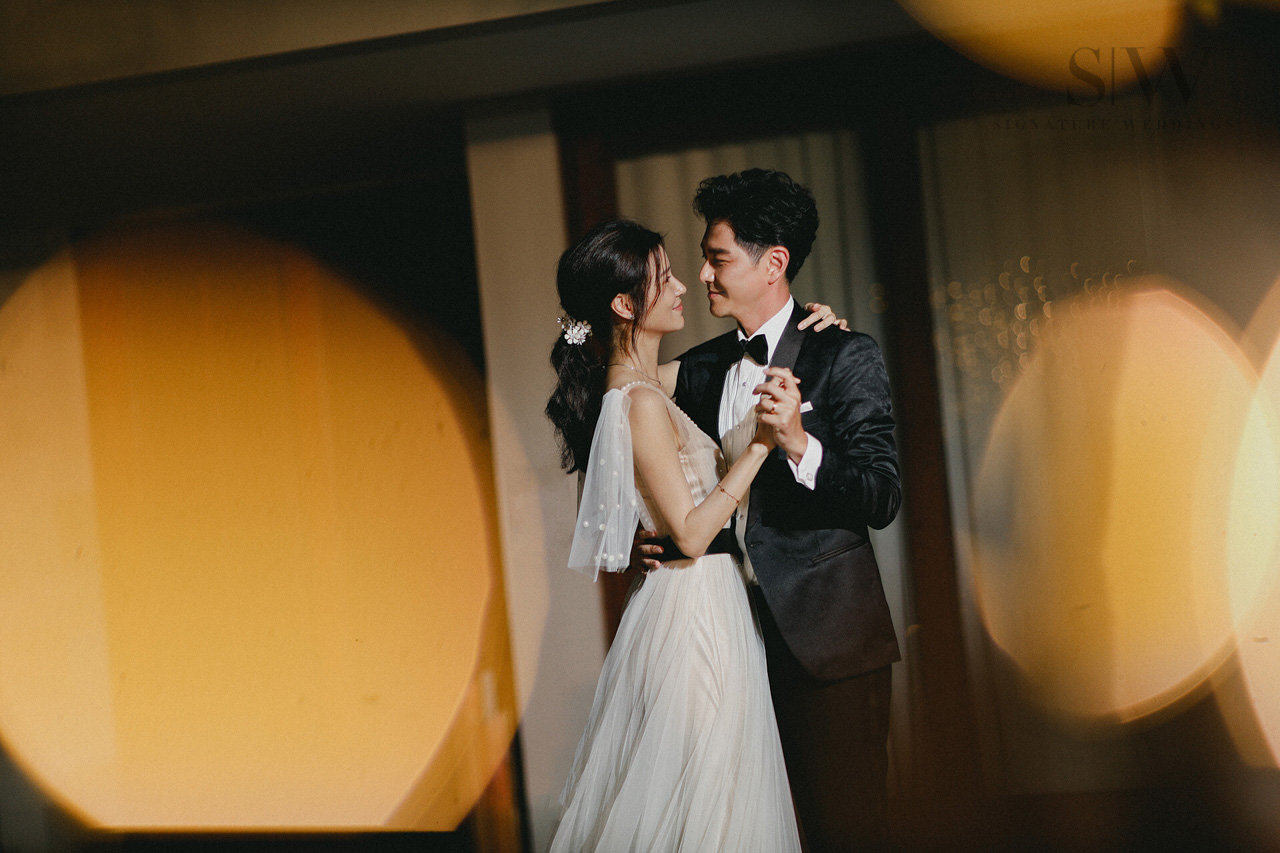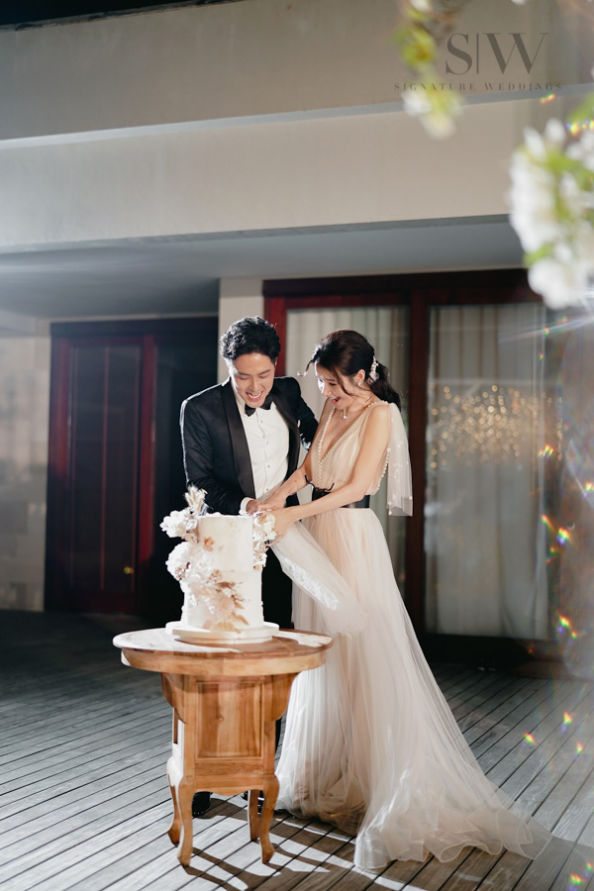 The romantic evening proceeded with Edwin and Priscilla's charming speeches with apparent affection with one another, a traditional toast to guests and a customary cake cutting ceremony. Love was definitely in the air as Edwin serenaded Priscilla with Leslie Cheung's (張國榮) classic song "For Your Heart Only" 為你鍾情. Everyone present were touched by his heartwarming performance. "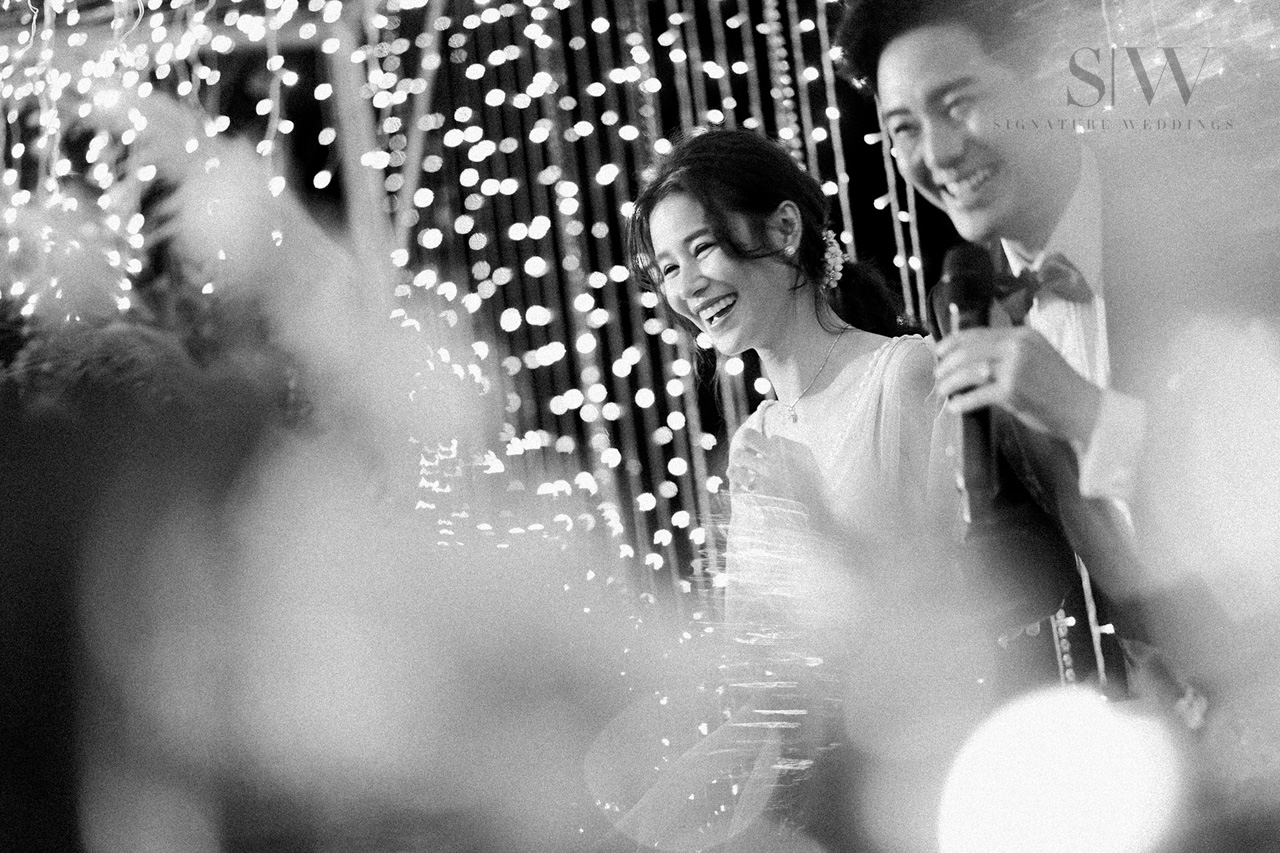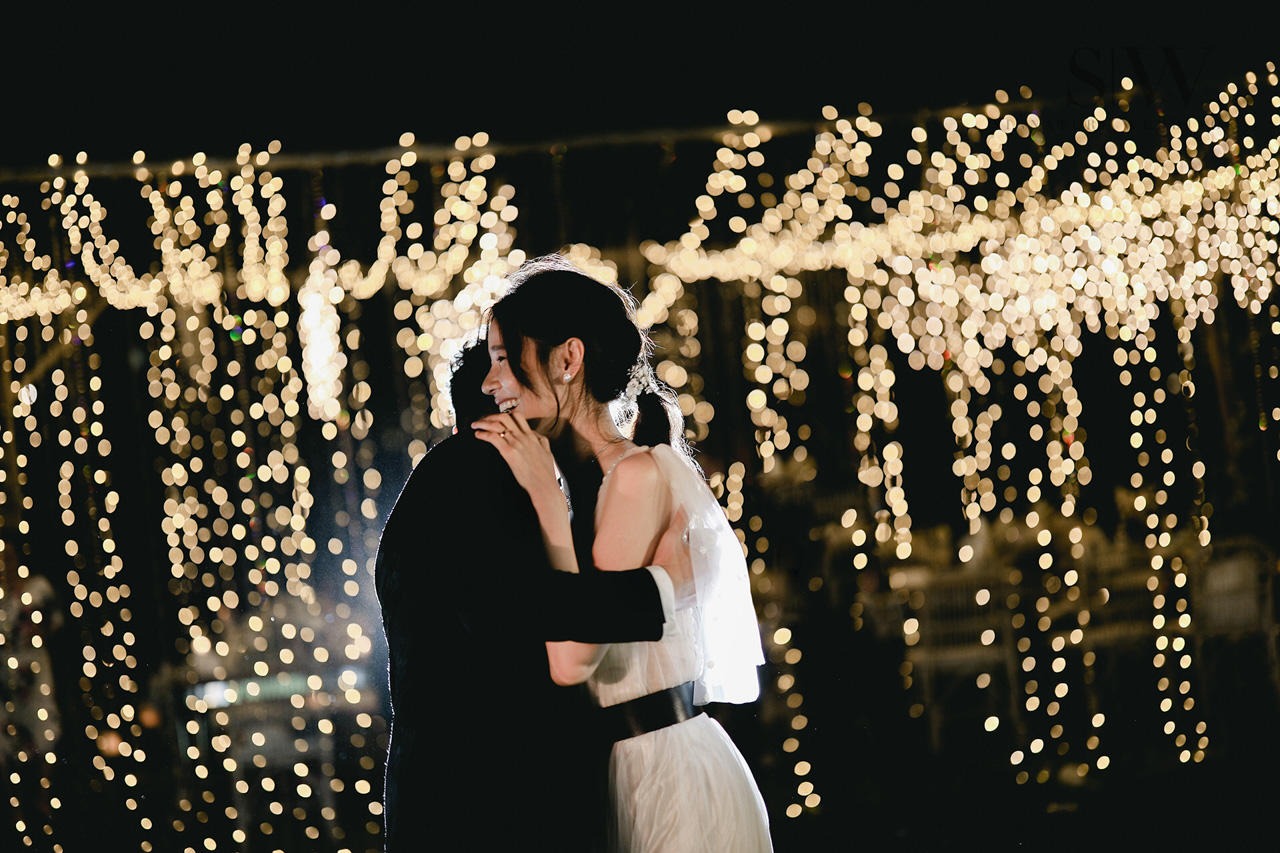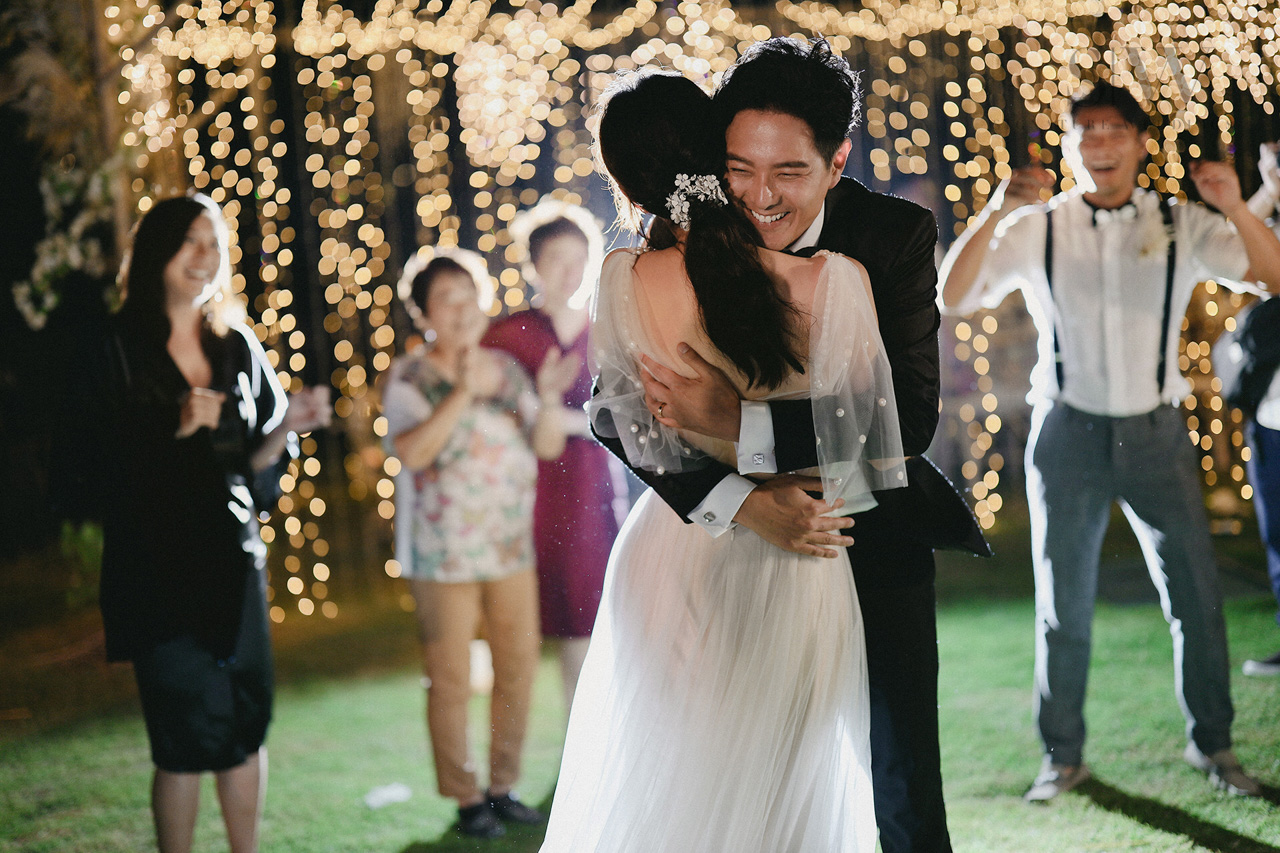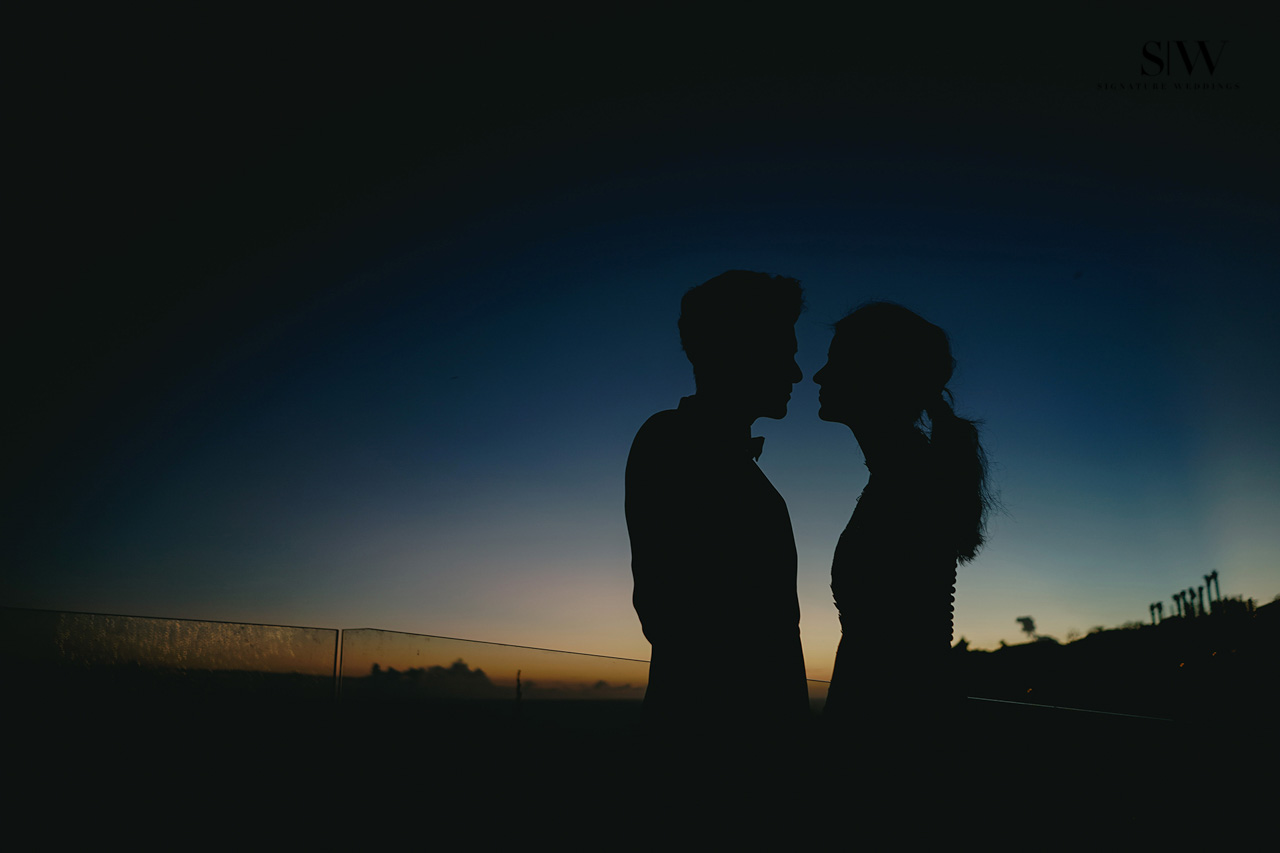 Produced by Signature Weddings
Photo and Video: Axioo
Wedding photographer: William Lie
Wedding video director: Ray Kho
窥探香港明星黄翠如和萧正楠的婚礼细节!这场婚礼以大自然为主,用大地色系搭配白及淡淡蜜桃色。Tea Rose Wedding设计师巧妙的运用金黄色蒲苇茅草、干枯金钱花等,营造出有层次感的大自然美。 新娘当晚穿上Zahavit Tshuba礼服配上典雅珍珠首饰,漂亮又得体。新郎也穿上由得奖无数Lord's Tailor所设计的黑色燕尾服,俩人的服装搭配简直是婚礼的重头戏。值得一提,新娘妆发是由Shawn Culter及Geraldine Loy包办,两名设计师皆来自马来西亚。 此外,Le Novelle特别为新人制作双层圆形结婚蛋糕,并加上有机糯米纸花束及真蝴蝶作为点缀,充满复古美