Dearest brides (and grooms) to-be, instead of expensive skin cares and facial therapy, the most effective (in-expensive) skin remedy and ways to beautiful clear skin could be found in your kitchen. We think there is absolutely no harm trying. Hope you love these 10 amazeballs DIY natural remedy for beautiful crystal clear skin.
Follow The Indian Spot for more DIY natural treatments while we head to our kitchen for a much need TLC for our skins….
1# Overnight Tomato mask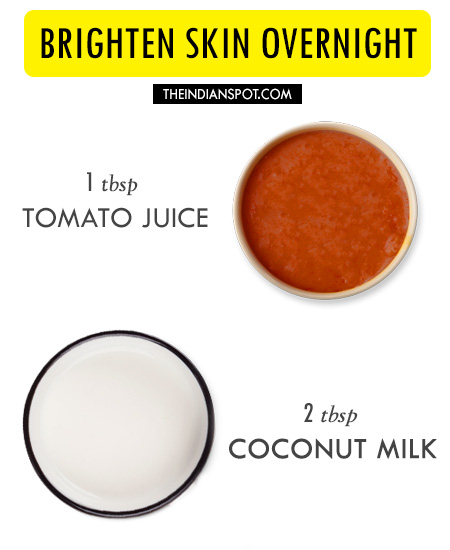 Tomato contains fruit acid while raw milk contains lactic acid so this "high acid" overnight mask is very beneficial for clear and even looking skin tone. Take a small tomato, cut it into two halves and take 2 tablespoons of raw milk in a bowl.
Dip the tomato into the bowl of milk and then apply it all over your face. Once the layer is dried up, repeat it again and apply the second layer. Let it dry and if you want you can even layer it thrice. or simply blend the tomato along with the milk to make a thick paste and apply it using a cotton ball. Leave it on overnight and rinse off with cold water in the morning. It will shrink big/open pores, hydrate your skin, reduce dark spots and will add radiance to your face. Use the mask once or twice a week. DIY tomato toner to deep clean skin and shrink pores naturally >> >>
2# Egg-white Mask to Clear Blackheads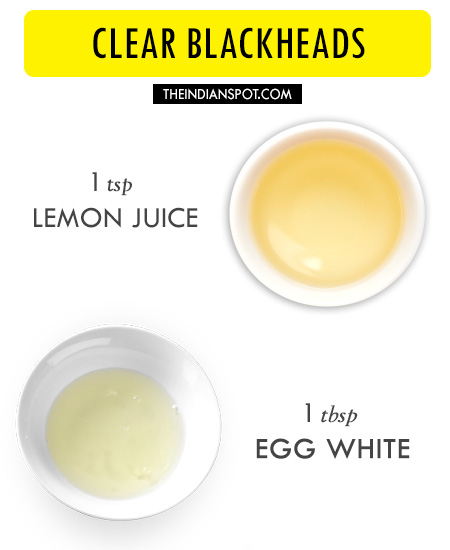 Get clear skin with homemade beauty recipes, they are inexpensive and all natural to keep your skin healthy and perfect. This natural peel off mask helps to clear skin from excess oil, dirt, blackheads and also tighten pores.
1 Egg white
1 tsp Lemon juice
Tissue
How to:
Beat the egg white mixture while adding in 1 tsp. of lemon juice. Mix until it is well-blended.
Use a face brush and apply the mask all over your face avoiding the eyes and mouth area.
Take a thin tissue and cut out holes for your mouth, eyes and nose. Place it gently over your face and pat gently. You could also tear the tissue into small pieces and place on your face one by one to cover the entire face.
Now gently apply another layer of the mask over tissue with a face brush and leave it on to dry.
Let the mask sit for 15-20 min or until it's dry.
Gentle peel off the tissue in an upward direction.
After the mask is off, rinse the face off with lukewarm water
This egg white mask can be used for all skin types however it is an amazing mask for my acne-prone skin. It helps to even out blemishes, clear blackheads and reduced the size of pores naturally.
3# Tumeric Mask for Oily Skin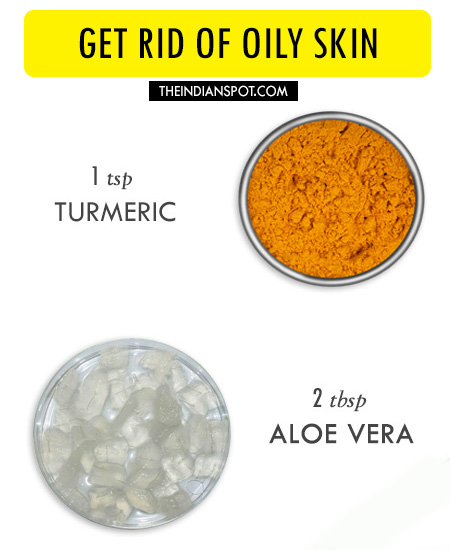 Ingredients required:
1 teaspoon turmeric powder
2 table spoon of aloe vera gel
How to:
Mix the ingredients well to form a smooth paste. Apply the paste and give a gentle massage, leave it for about 10min and then rinse with warm water.
Tips: After applying turmeric if your skin stains, then just use an exfoliating cleanser or if you want to go naturally then you can also use sugar and lemon juice to scrub your face free of the yellow stain.
4# Coconut Oil and Tumeric mask for healthy skin.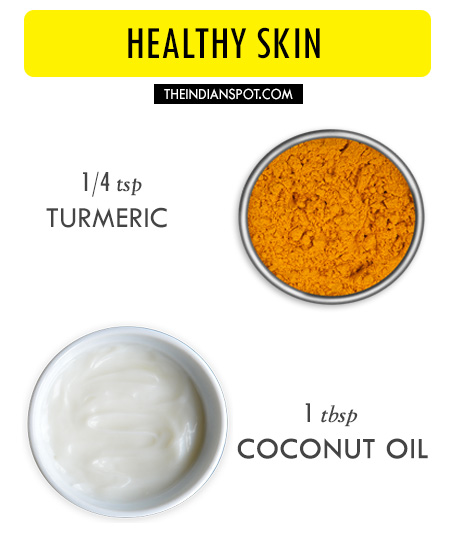 This face pack is very good for lightening your skin tones by moisturizing and hydrating it. It helps to reduce your blemish and acne; it fights with fine lines and wrinkles. This face pack is very good skin discolouration as it evens your skin.
Coconut oil – 1 tbsp
Turmeric – a pinch
How to:
Mix coconut oil and turmeric together
On your clean face apply this face mask for 15 minutes.
With cold water rinse your face and then pat dry your face.
5# Honey and Lemon Mask for clear skin and getting rid of blackheads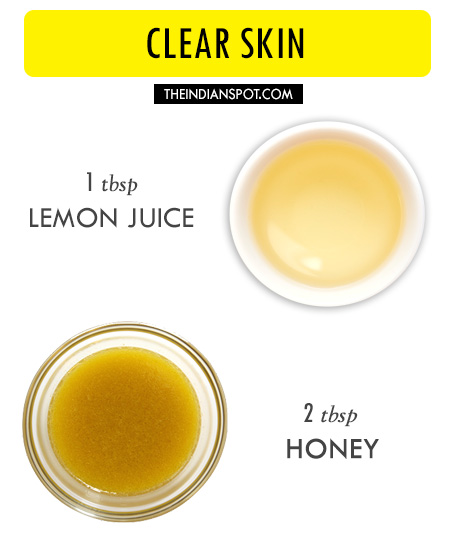 Detox and deep clean the skin a couple of times a week to tighten the skin and shrink pores, with this mask using one teaspoon of lemon juice, and one tablespoon of honey. Apply the mixture to clean skin and let it sit for 10 minutes, then rinse it off well. While the lemon juice is a great cleaning compound, which works well for pores which are enlarged by the cause of oily skin and blackhead and the honey nourishes and balances the skin's pH.
6# Skin Firming Mask with Coffee Scrub and Honey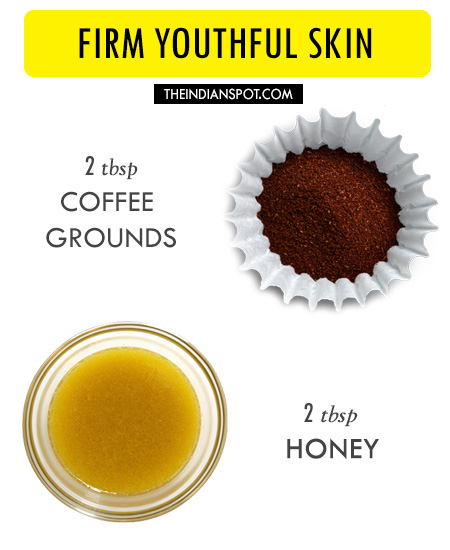 How to:
Combine equal amounts of coffee and warm honey.
Mix it together and apply to your face for about 10-15 minutes
Use a damp cloth or paper towel to loosen the mask and rinse off with warm water.
7# Lightening with Yogurts and Lemon Juice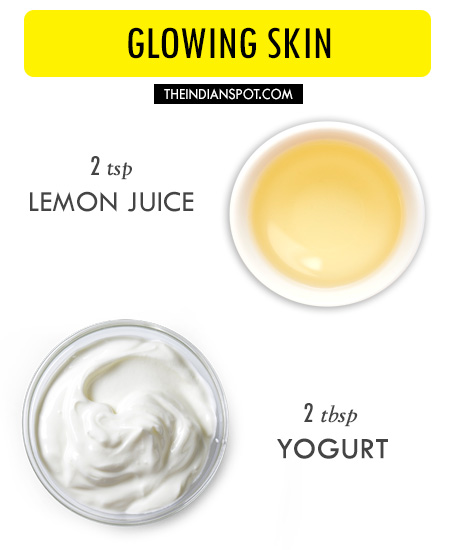 Yogurt is a delicious and healthy food and is also rich in multi-vitamins. It is a wonderful beauty product that can be for both skin and hair. It is blessed with Zinc and lactic acid which promotes healthy skin and shiny hair. It helps in removing dead cells, hydrate dry patches, tighten pores, glowing skin, reduces fine lines, removes dandruff, itchy scalp and nourishes the hair. There are various flavours of yogurt available in the market. One should be choosy with it. It is advisable to go with plain yogurt or the ones which possess high levels of fats .
Skin lightening: Feeling low due to your dark complexion? Yogurt can help you with skin lightening. Take little yogurt in a bowl, add some drops of fresh lemon juice in it. Stir it. Apply it on your face and let it be there for 30 minutes. Wash it with cold water. Continue this procedure till you are get that glowing light skin. Lemon juice has citric acid and hence it is used as a skin lightener.
Minimize Pores: The large pores on the skin gives a dull look. Apply the plain Yogurt on your face. Let it be there for 15-20 minutes for the skin to absorb it. Wash it with cold water. Remember to apply a natural moisturizer after the wash as your skin might become little stiff and tight.
8# Anti-aging Aloe Vera mask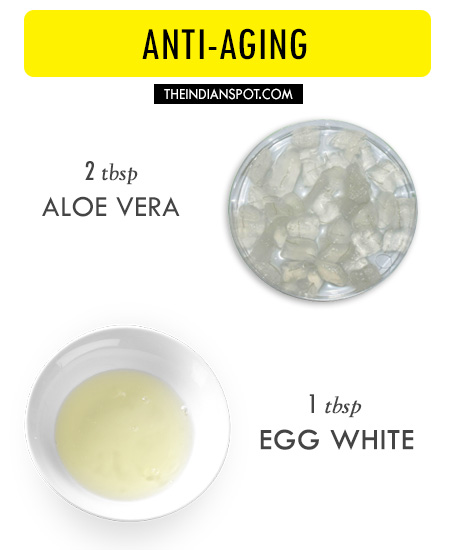 Aloe hydrates the skin and retains its elasticity. The egg gives the dose of protein essential for collagen synthesis. The mixture eliminates the free radicals from the skin, keeping it younger.
You'll need…
Egg – 1
Aloe gel – 2 tbsp
How to
Crack the egg and add the egg white to a small mixing bowl.
Mix in 2 tbsp aloe gel and mix until the mixture turns smooth and fluffy.
Using your fingertips, apply the mask on your cleansed face in upward strokes.
Wash off after 15 minutes or until the mask turns dry.
Remove the dried mask and then wash the face with cold water.
9# Deep Clean Mask with Oatmeal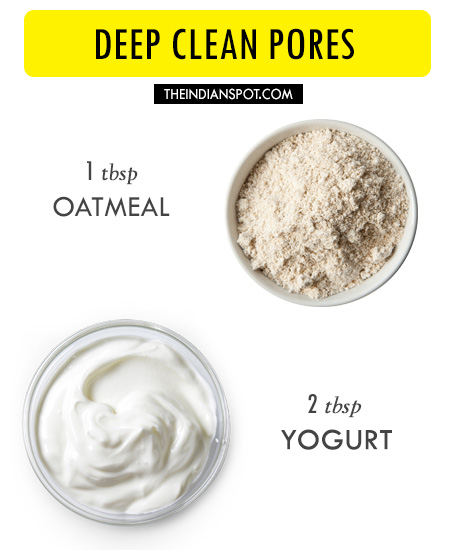 No matter how well you take care of your face, large pores can always pop up, which make the appearance of blemishes even bigger. The problem of large skin pores is caused by over-secretion of oil by the oil glands. Thankfully, a number of treatments can help reduce the size of pores, thus making your skin appear firm and healthy. If larger pores and unsightly blemishes are bothering you, here are some good ways to shrink them and reduce their appearance:
How to
Mix 1 tablespoon of oatmeal with 2 tablespoons of yogurt and place it in the refrigerator for a few hours. Then apply this paste to your skin for 30 minutes and wash off with lukewarm water. You can also make a paste of ground oatmeal, lemon juice, gram flower and rose water. Apply the paste on your face and rinse off when dry.
10# Clear Up Acne with Cinnamon and Honey Mask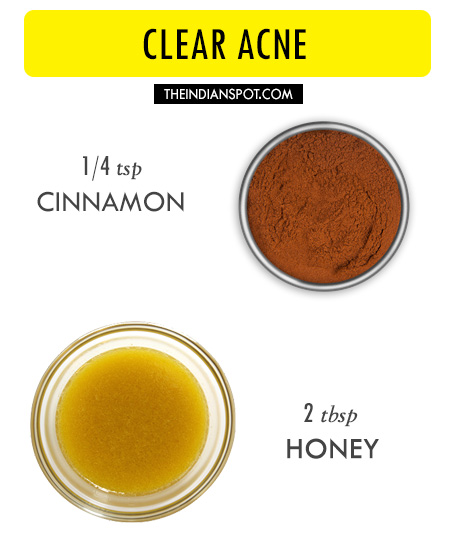 Honey and cinnamon are two such products lying in your kitchen cabinet which forms a powerful anti acne face mask. Both are sources of anti bacterial properties that combat against acne.
You will need….
Honey
Cinnamon powder
A clean container
How to
In a clean container pour 2 or 3 tablespoons of honey. To this add a spoonful of cinnamon powder and stir them evenly to blend together.
It forms a medium consistent paste appearing like chocolate. The paste is sticky to touch also drips while applying.
Apply the paste uniformly over face with your fingertips, keep away from eye contact as the cinnamon may burn your eyes. The mask will sting for few mins which is why it is called the "burning mask" and also leave your skin red for few mins. Let the mask stay till drying (10 to 15 minutes) and rinse away with ice cold water. So smooth and glowing your skin appears that you will love touching every now and then. If you have sensitive skin or if you are allergic to cinnamon or honey then try the turmeric acne clearing masks >>
Apply the face mask once a week for the reduction and prevention of acne. The leftover can be transferred into a clean bottle and refrigerated. Empty it within a week's time. You can even use the same for spot treating the acne by dropping it on the zits overnight.
Benefits of anti-acne mask:
Honey: Honey one of the sweetest syrup is filled with goodness for both skin. It contains natural antibiotics and antiseptics that clear the germ causing acne. It contains hydrogen peroxide which helps in killing the bacteria. The sticky nature of honey helps to remove dirt and grime and adds moisture to both oily and dry skin. In case of oily skin it controls excess oil and for dry it provides essential oils. The rich antioxidants in honey prevent skin from being damaged.
Cinnamon: Cinnamon, a super spice is not just a seasoning agent for desserts. It has hordes of antifungal properties that reduce skin infections and pimple causing germs. The anti-inflammatory properties of the spice reduce redness and swelling of acne, de clogs the pores drying the affected area. The spice improves blood circulation in the skin reducing fine skin lines and rejuvenates skin.
Caution:
Do a patch test as the ingredients supplied are highly powerful.
Excess use of the face mask is not recommended (not more than twice a week) as the spicy nature of cinnamon may turn harsh to your skin.
reduce the quantity of cinnamon for sensitive skin.
For more natural remedy and DIY recipe, follow The Indian Spot