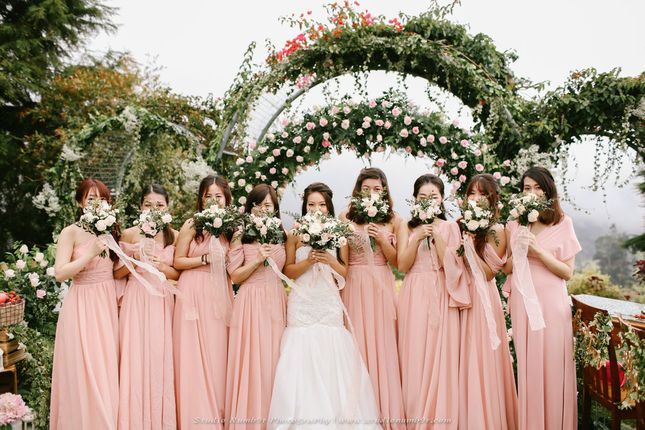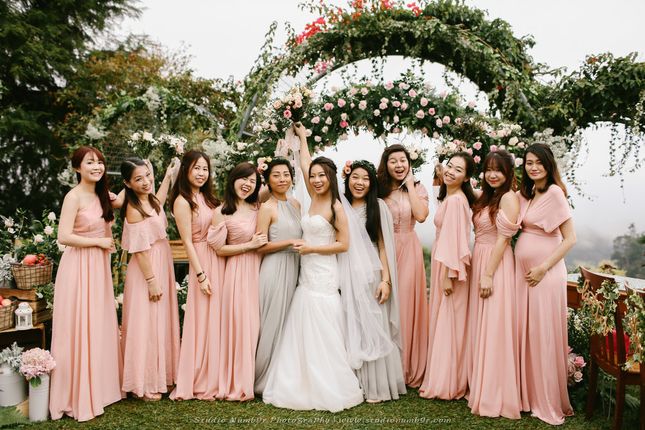 A fruitfully simple rustic garden wedding at the Jim Thompson Cottage, Cameron Highlands, Malaysia was the seeming theme for this couple who had met at work. Having said "yes!" to her then-fiance Kevin Boey, Veronica Chew says she was proposed to during a staycation at their favourite Kuala Lumpur villa, complete with "Will you Marry Me?" balloons and flowers, on 2017 Valentine's weekend.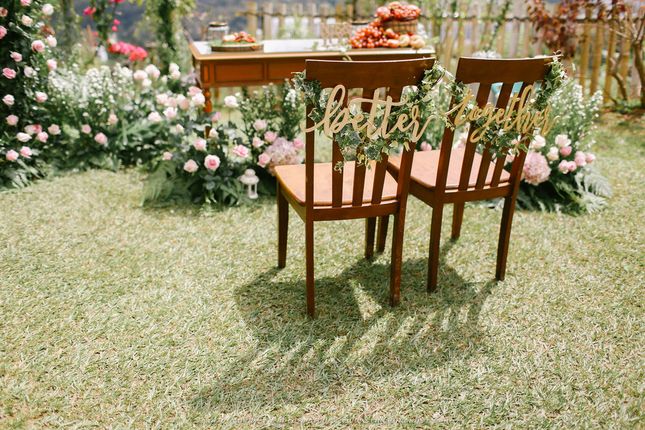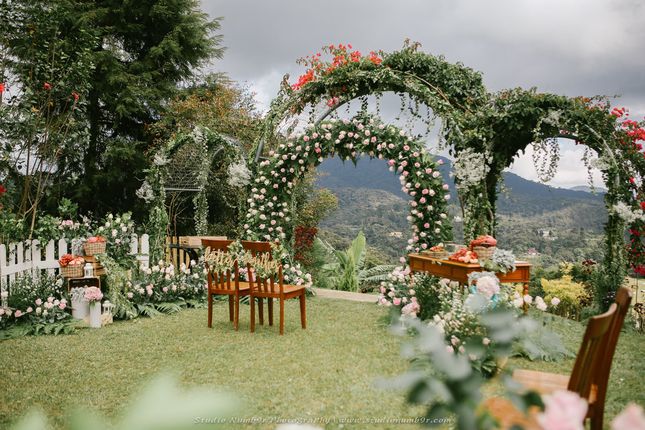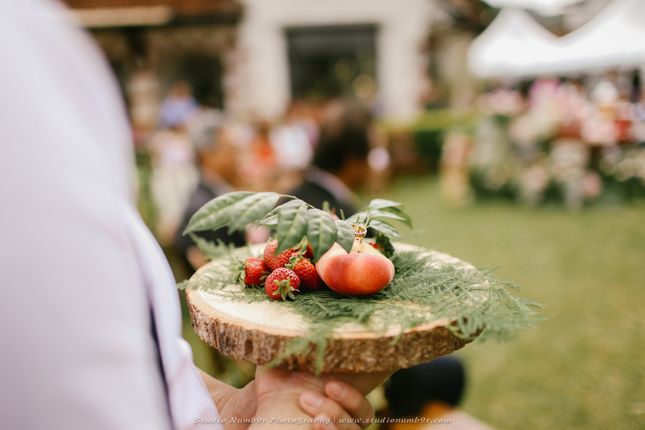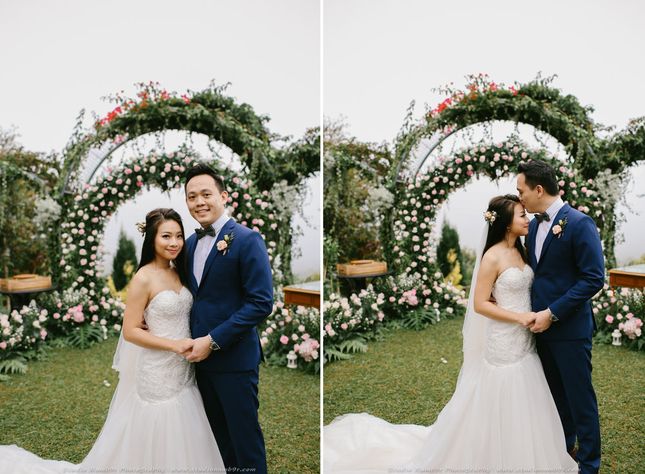 They decided on a 2018 outdoor wedding do and were excited to hear Gary Kuan's – of Red Lantern Studio – idea of edible props, or fruits.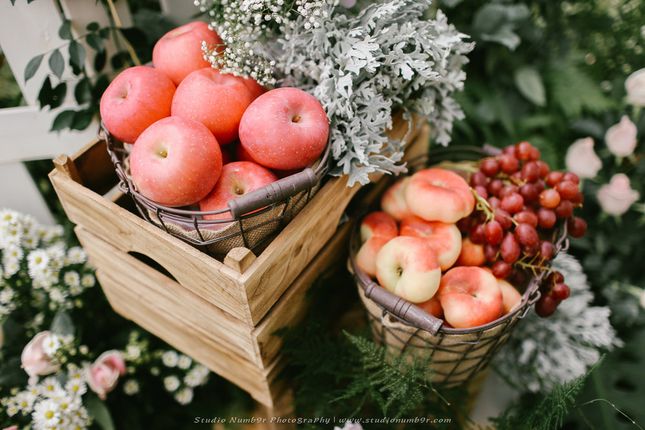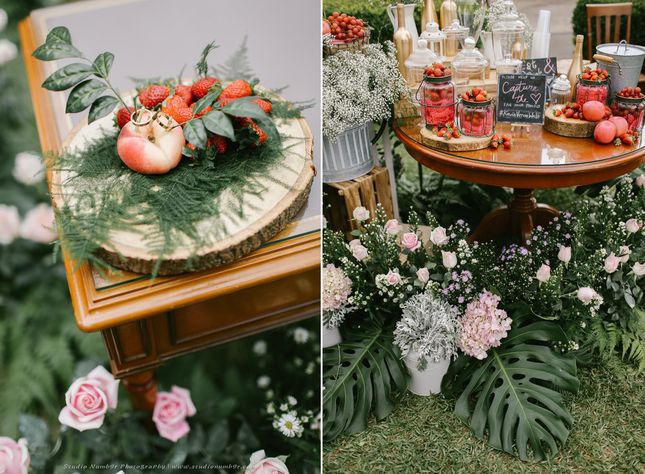 "Our wedding theme was rustic garden in blush pink. We wanted lots of flowers and wild green arrangements," she tells Signature Weddings in an interview.
Since the fruit idea blended in with the venue that the couple settled on – Jim Thompson Cottage on Cameron Highlands which strawberries are in abundance – the wedding setting was filled with apples, doughnut peaches, grapes which complemented the presence of the home-grown fruit.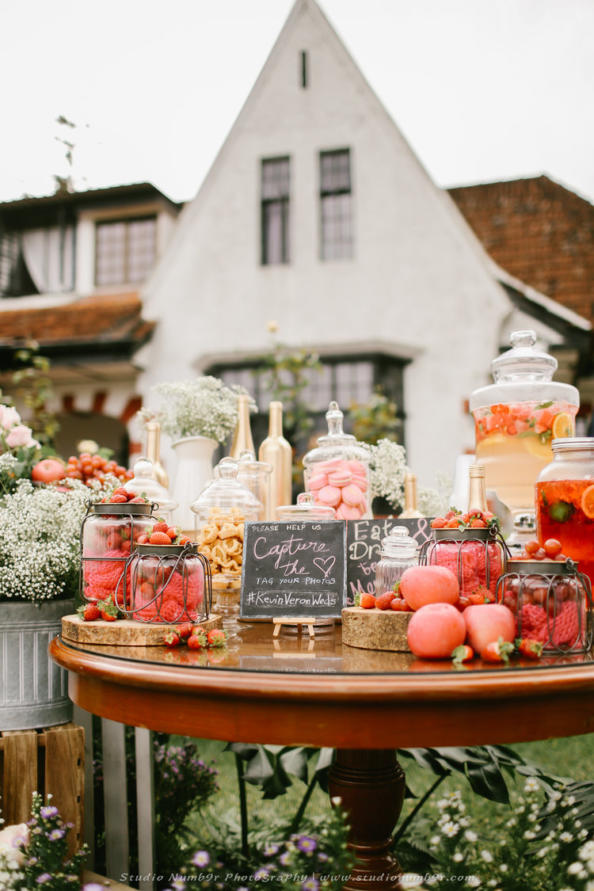 "We also had a special ring holder with fruits, prepared by our decorator," she adds. What's more is that the guests who attended the ceremony and reception were seen enjoying the healthy snack.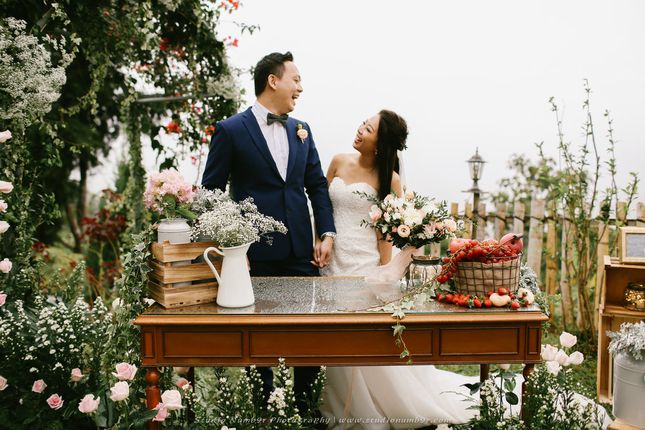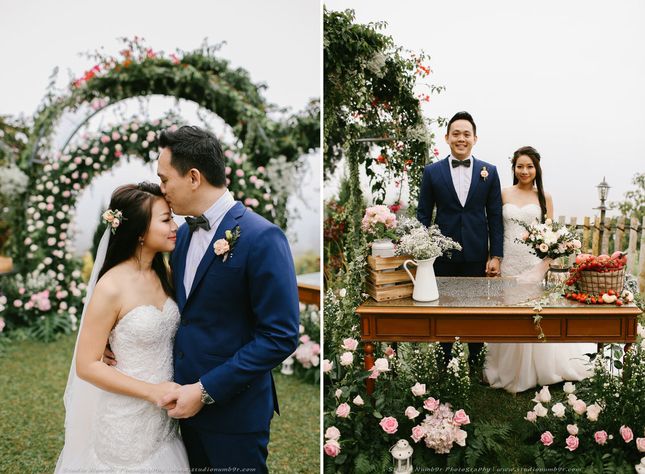 "We were surprised that by the end of the night most of them were gone!" Veronica said, adding that the generosity and talent of family and friends made the wedding a more delightful affair. These were the people who helped bake desserts and pastries for the party, including a cake by RinzBakes, and hand bouquets for the bride and bridesmaids (by Syarina Sheen Flowers).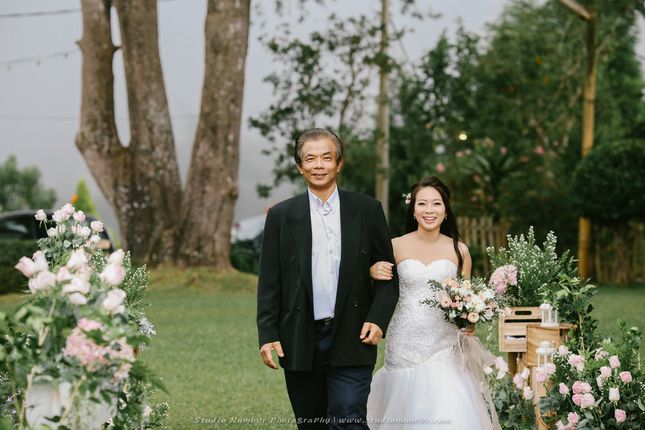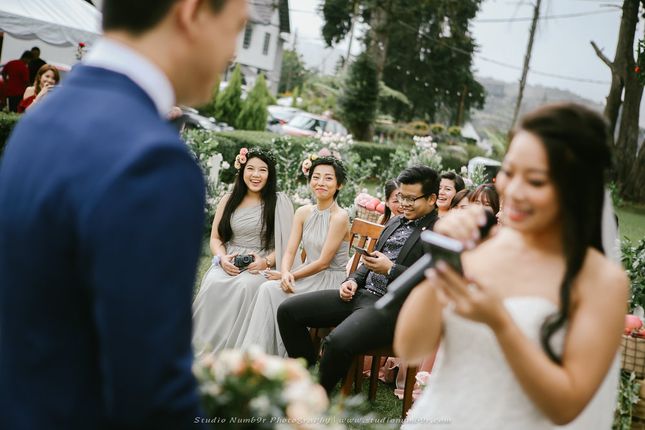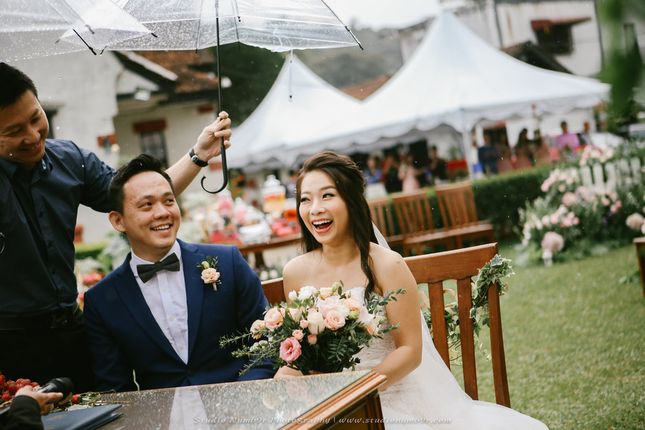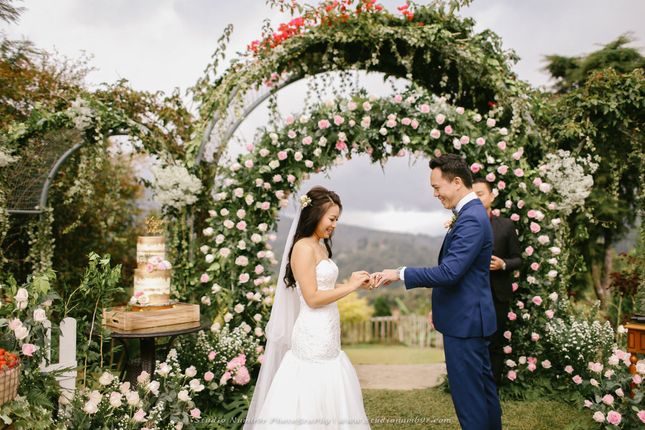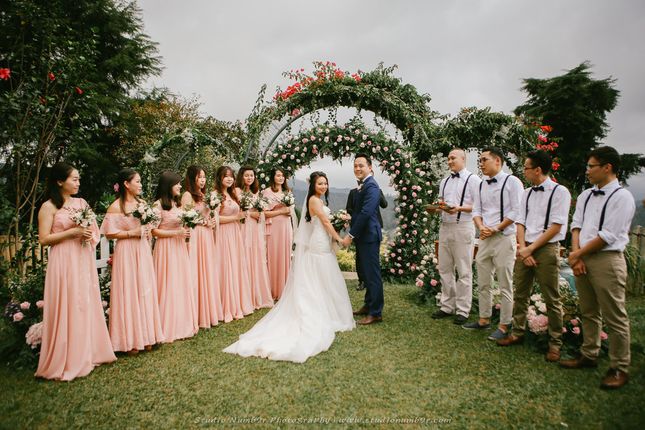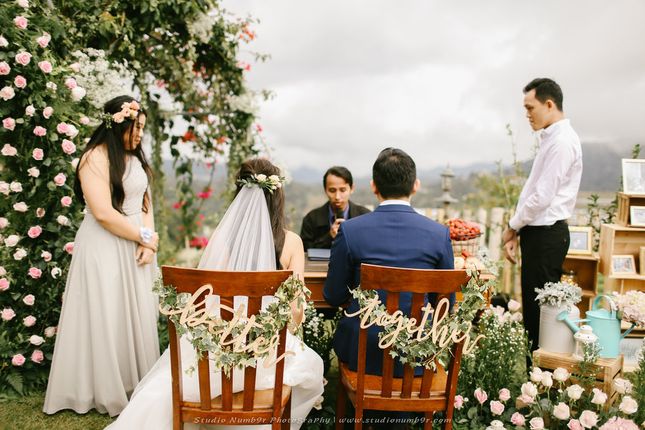 Given the iffy weather situations on the highlands, Veronica said the clouds held up during the ROM ceremony, despite it being gloomy. "My father walk me down the aisle before I took the groom's arm. We exchanged our vows, rings and when we were to sign our official papers (with the National Registration Department officer), it started raining," she shares.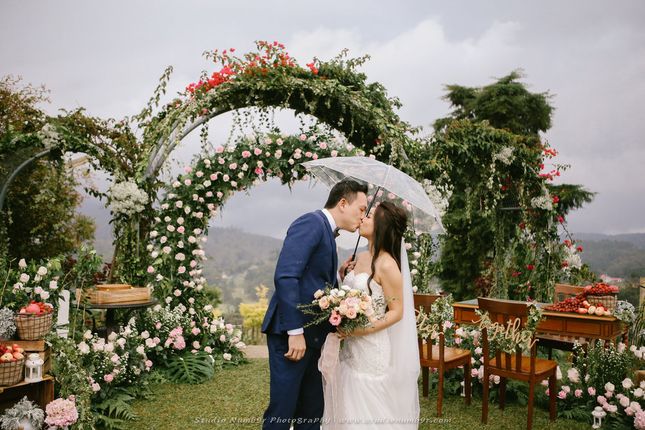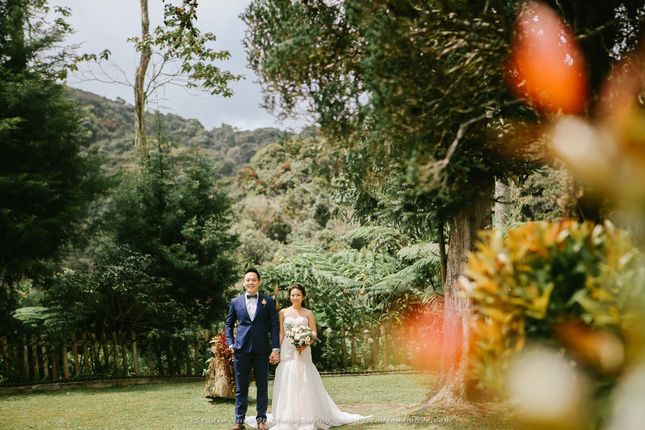 Reminiscing the day, she said it was a fun experience to say their "I do's" in the rain and the transparent umbrella a friend had brought provided the perfect shelter.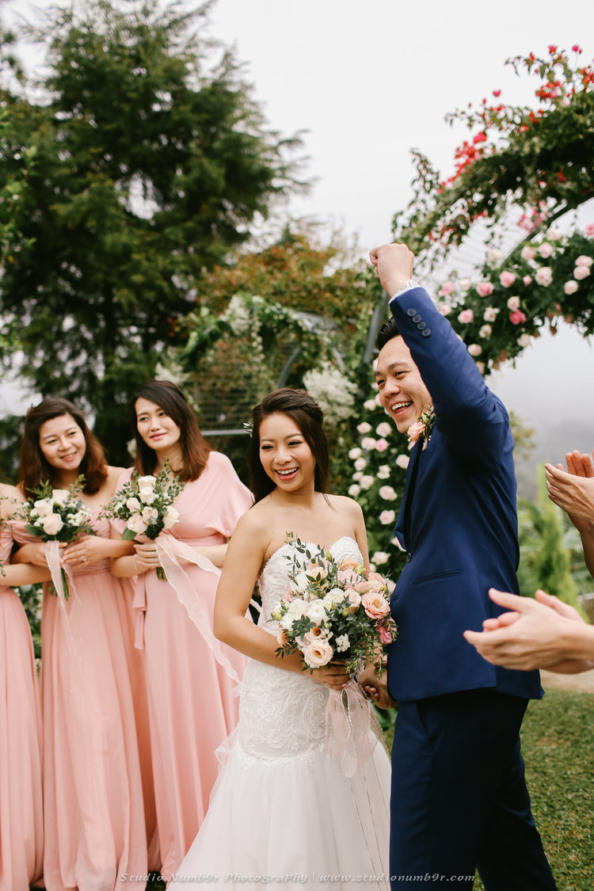 On how she had decided on the cottage, Veronica shares that their online browsing for a venue came to a halt when they stumbled upon the calmness and serene nature surrounding the cottage. The big lawn was an added advantage to host the rustic garden theme wedding. "We were delighted that we could also incorporate our favourite steamboat into dinner (Hometown Steamboat) and everyone could eat hot, steamy food in the cold weather," she adds.
As the dinner progressed, the couple's family and friends gave speeches and the bridesmaids prepared a few games to keep the party going before Kevin and Veronica had their first dance.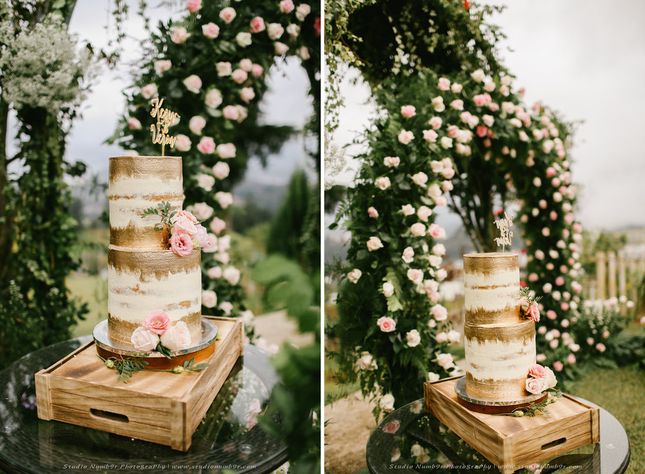 Veronica complimented Kuan on his decorating job for the evening, saying: "The night deco was a surprise to us and we really loved the lightings our decorator added." She adds that the on and off rainy weather did not deter Kevin, nor her, or their guests from having a good time.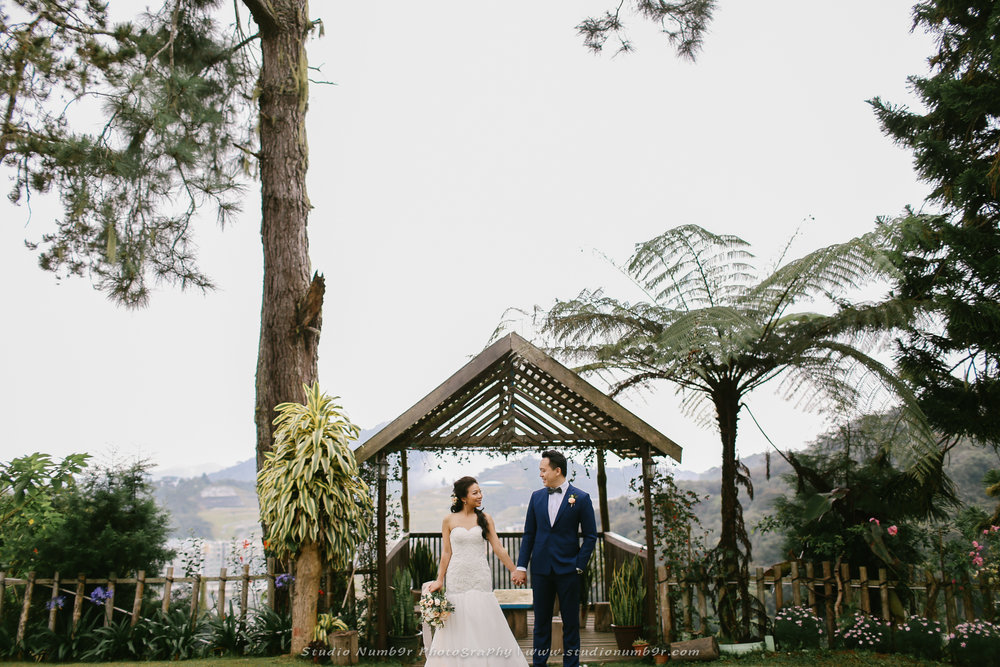 Veronica donned a custom-made trumpet gown, with a long train and back lace details by 7th Heaven Bridal Gallery. Her husband wore a suit that he made in Bangkok, Thailand. Her outfit for the night was a rose-gold sequinned number that helped her keep the limelight on her, as well as the man who had her arm.
Veronica was taken in by Studio Numb9r's photos taken for her friends. Their great outdoor photography, flexibility and friendly approach sealed the deal. In sharing their photo shoot, the bride recollected it as being fun.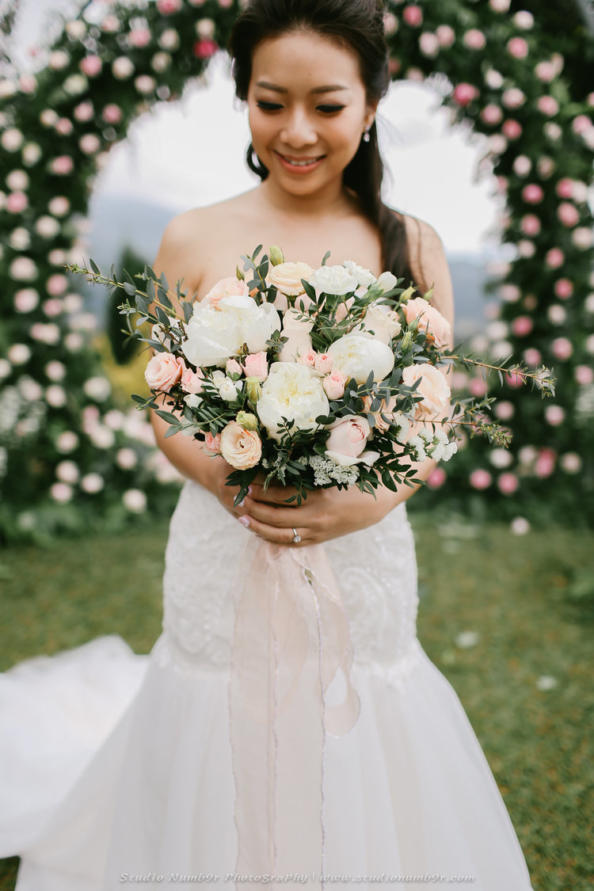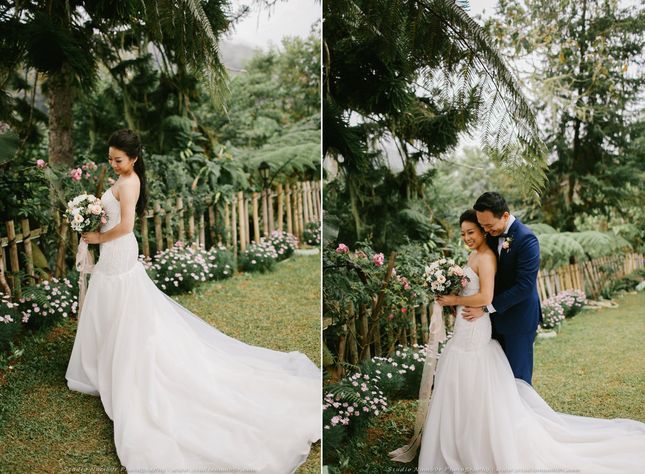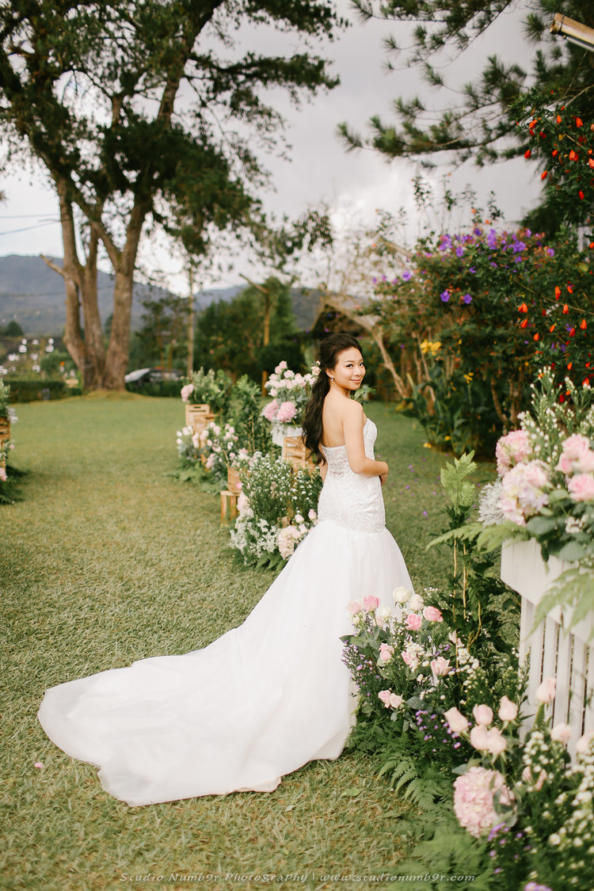 "Studio Numb9r was very professional, nice and flexible. It was raining on and off, so we literally rushed in and out to the garden to take photos when it stopped raining. They also gave us advice on our poses and the session was smooth and easy with their guidance," she adds.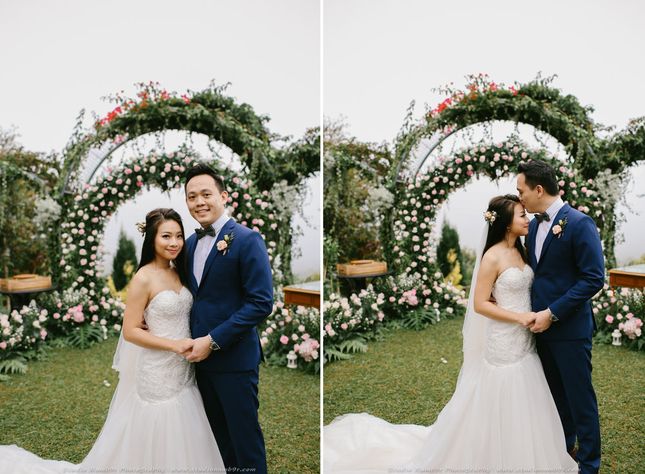 To the brides-to-be, Veronica says plan the details well, plan early and plan them together with your husband-to-be. Doing this will lessen the burden as decisions are made together.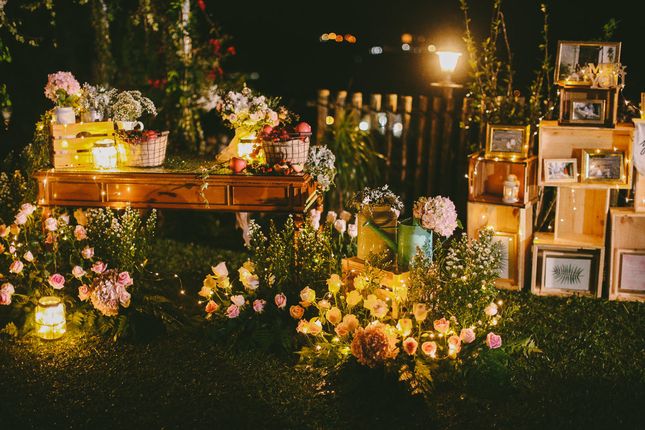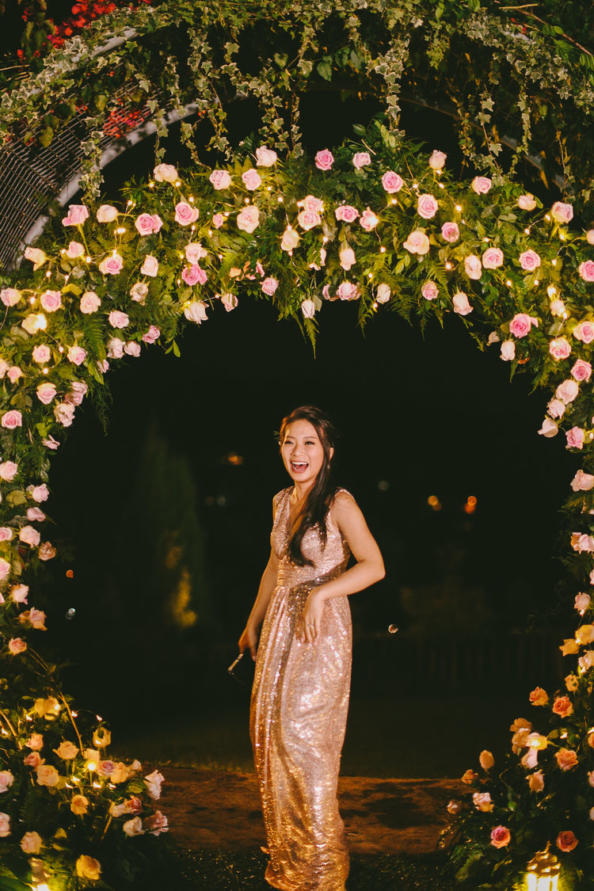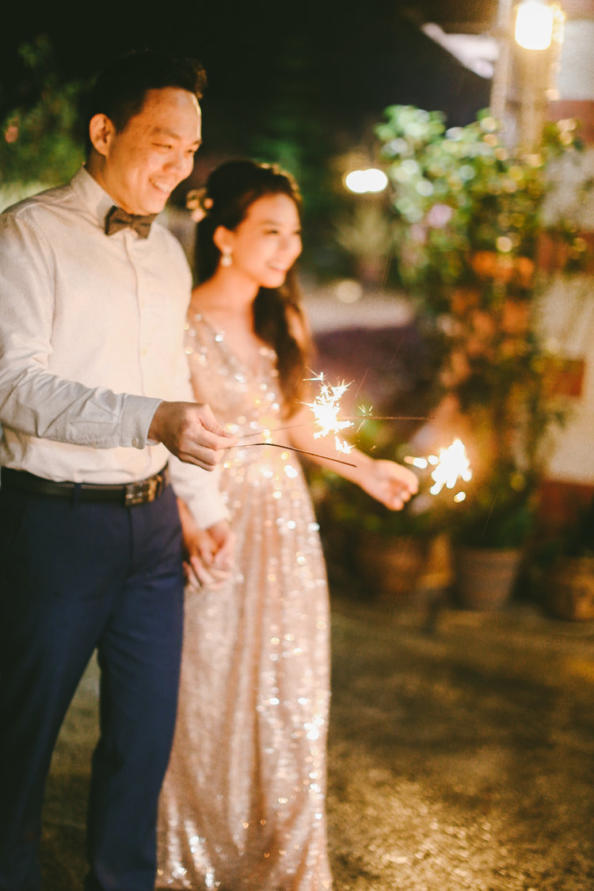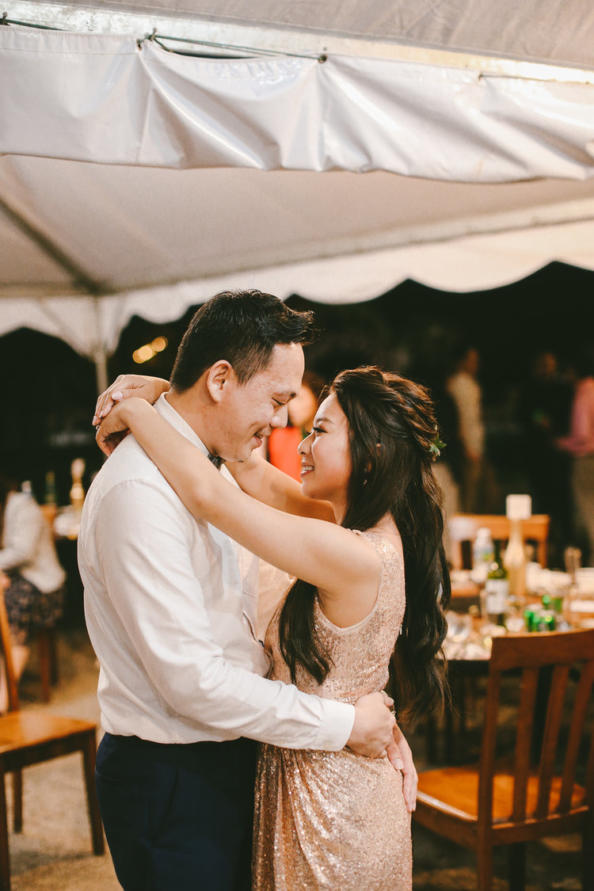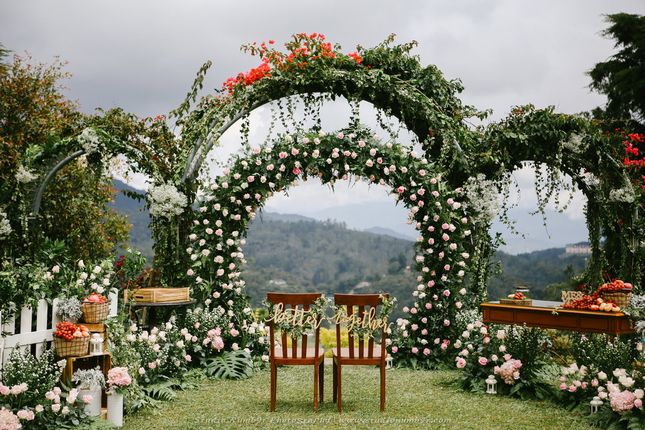 "Stay happy and relaxed. Something will definitely go wrong during your wedding so either get someone to handle it or let it go and enjoy your big day. Besides that, always treat your vendors like how you would want to be treated, and lastly, bring transparent umbrellas for an outdoor wedding as it instantly beautifies the event!" were her parting wise words.
Wedding venue: Jim Thompson Cottage, Cameron Highlands
Photographer: Studio Numb9r
Wedding bands: Cartier
Groom's attire: Custom-made suit from Bangkok.
Hand bouquets: Syarina Sheen Flowers
Makeup Artist: AivyYong
Decor: Gary Kuan of Red Lantern Studio
Cakes: Rinzbakes