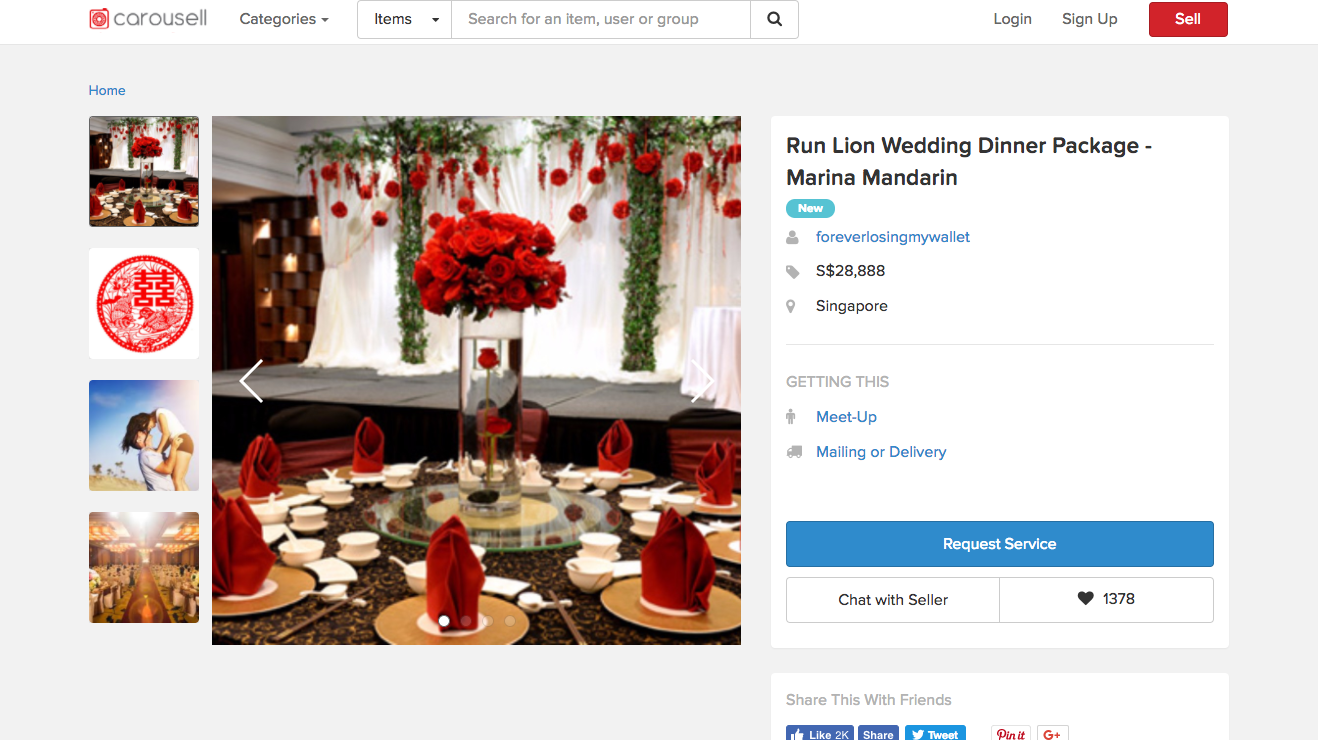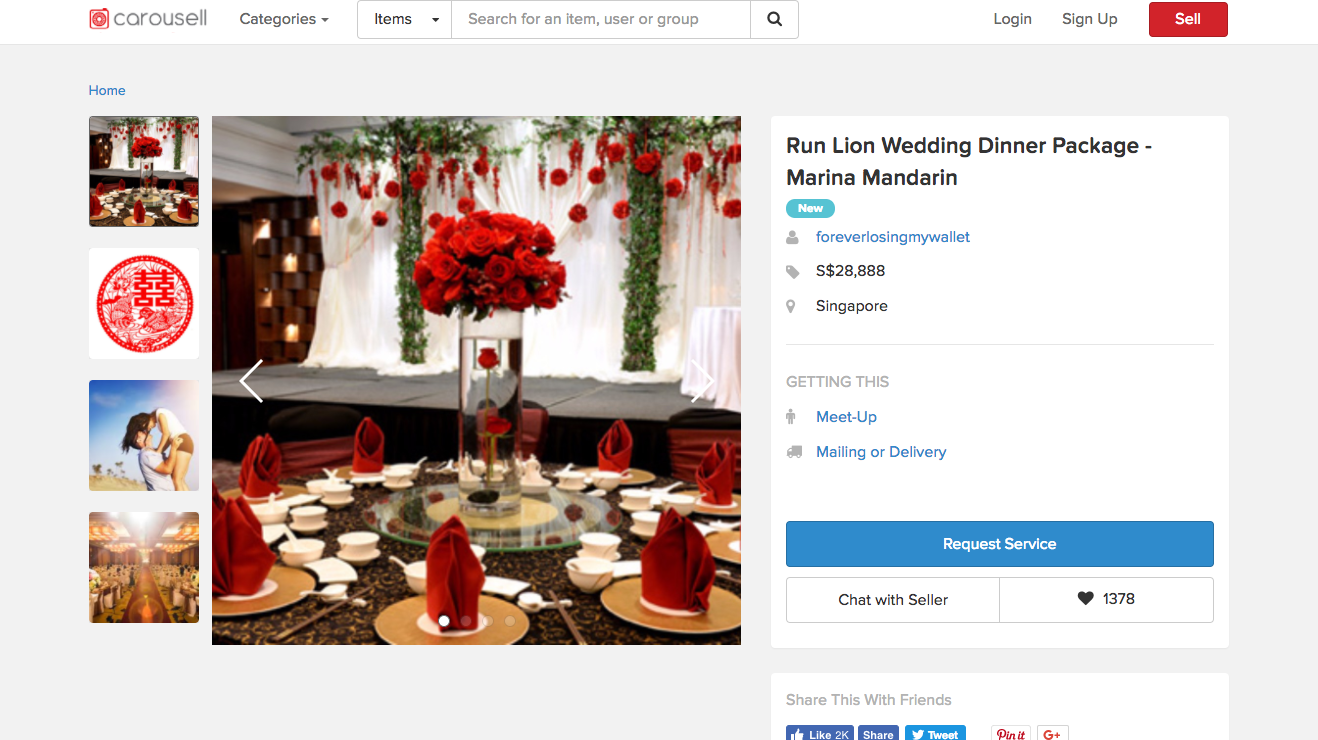 Singapore groom puts up his wedding package for sale at Carousell after his bride to be dumped him when they are at advanced stage of wedding planning.
Well, we assume this from the 'perks' and items included in the wedding package. Check them out below, this groom has got your wedding (and your back) pretty covered in case you needed an all-inclusive wedding deal. Aptly and creatively name 'zhou sai' direct translation as 'runaway lion', the wedding package came with some not-to-be-missed perks too.
The heartbreaking and humorous listing was put on sale by the bridegroom's buddy on 17 August 2017 on the online marketplace. We are pretty impressed with his resourcefulness and humorous take on the wedding breakup. They read:
Dearest Shotgun/YoLo/Urgent/Budget Couples, On behalf of the groom almost-to-be, (I cannot mention his name due to a gag order by the supreme council and bounded by a non disclosure agreement), I am letting go a wedding dinner package at Marina Mandarin on the 13th oct 2017.
The asking price for the package is SGD28,888. It includes 30 tables wedding banquet with the deposit fully paid for Marina Mandarin Hotel Singapore. You'll get free gowns and suits, wedding photography, videography, wedding car and more… Lister's buddy:
"On behalf of the almost-groom-to-be, I want to thank all the support we have received. Please note that whatever I'm doing here is to help my friend to move on. Would like to let everyone know that our group of brothers respect the almost-bride-to-be's decision. We want to move forward and not dig dirt out from the carpet,"
The ad listing reads (in humourous Sing-lish mixed Hokkien language)
FREE Perks if you take up this package:
1. We will sponsor the wedding car on the day itself (Maserati or Mercedes)
1.1 Driver included 2. We will sponsor the wedding gowns and suits for the couple
2.1 Do not worry about size, fitting services are available and FOC
3. We will sponsor the dresses and suits for both the couple's parents
3.1 Do not worry about size, fitting services are available and FOC
4. We will ALSO sponsor the gowns for the sisters!!!
4.1 Do not worry about size, fitting services are available and FOC
4.2 Godzilla also can wear, pang xim
4.3 Sadly, up to 6 sisters only
4.3.1 BUT NEVERMIND!!! If you got more than 6 sisters, I steady bom bi bi TOP UP FOC FOR YOU!!!
5. We will sponsor the photographer AS WELL AS the videographer for the gate crash AND the wedding dinner itself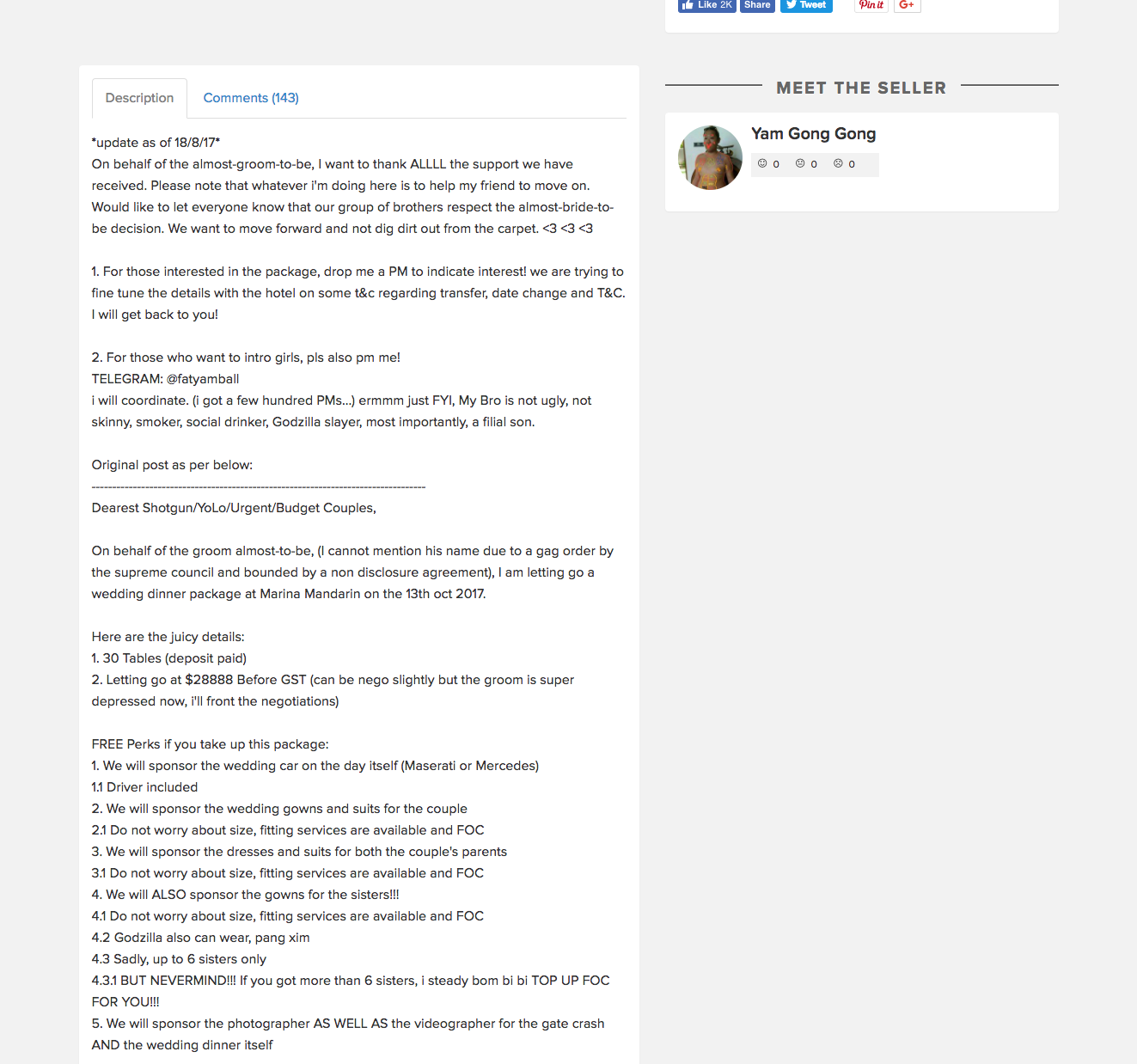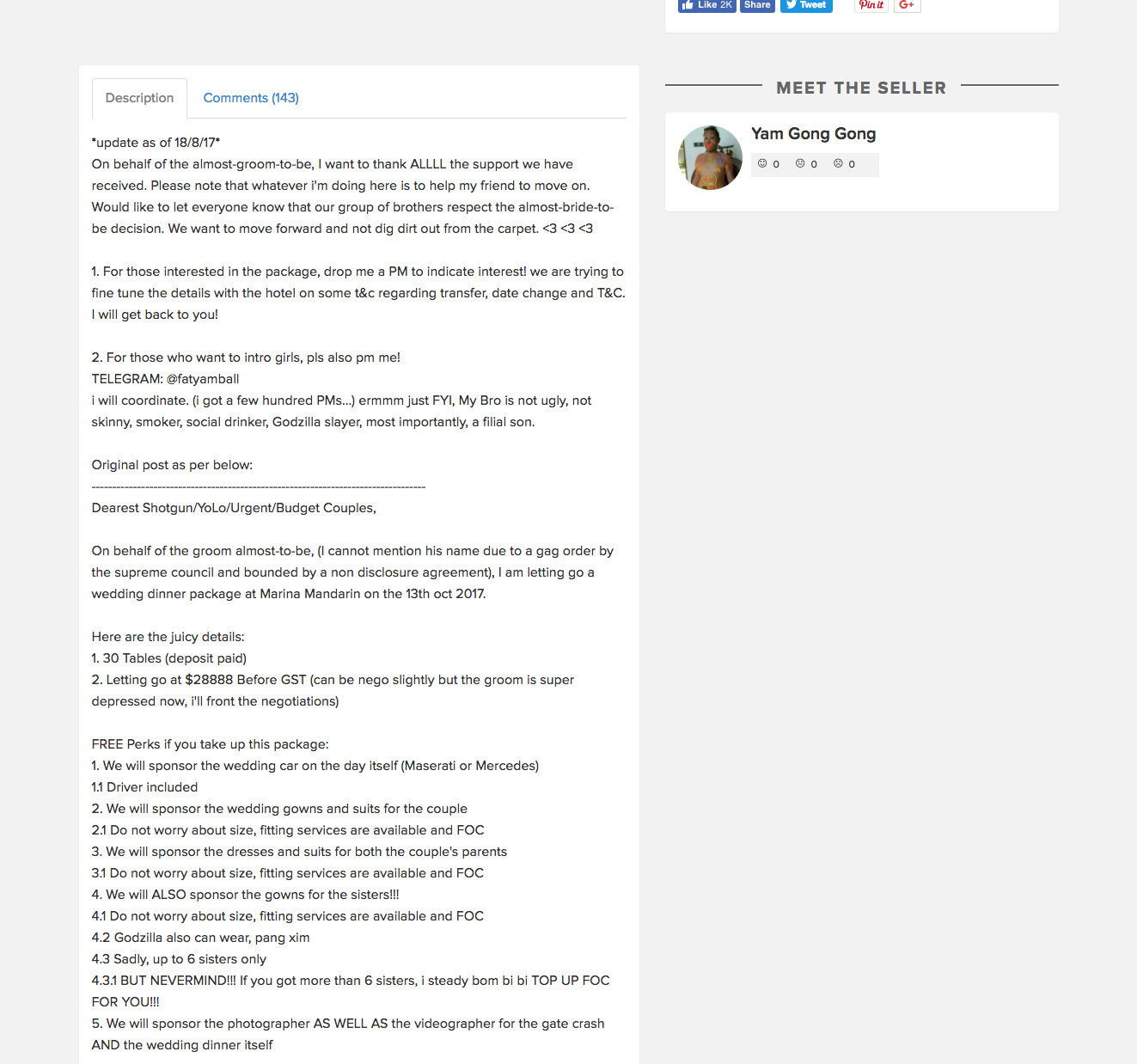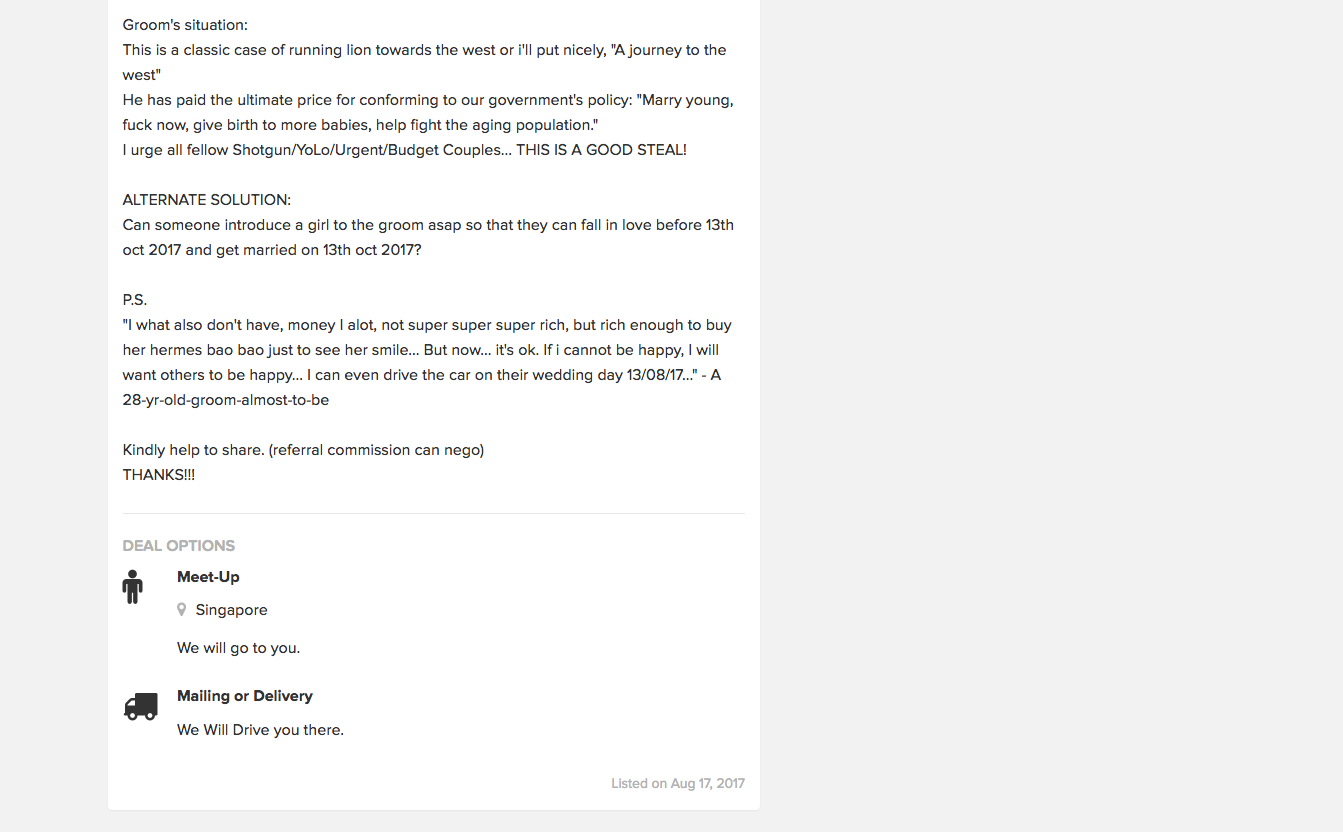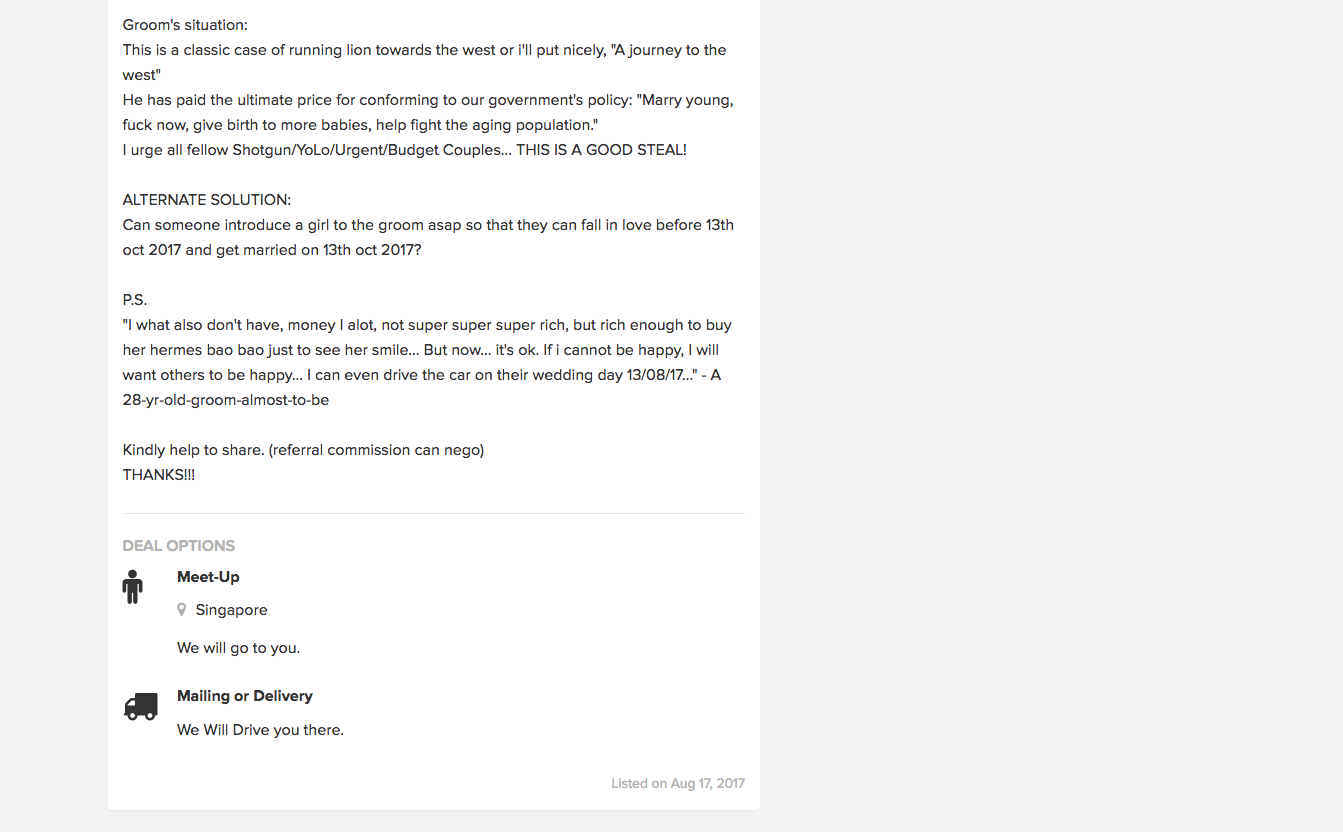 Couples in Singapore or if you know someone who could just be in need of this ready-made wedding package, please spread the news and help this buddy out here. 😛