As we usher in a new year, we welcome a plethora of the latest ideas for all things wedding that range from creative invitations to breathtaking gowns.
If you're one of those couples set to walk down the aisle this 2017, you're in luck. We're giving you a detailed glimpse into what experts and trailblazers in the industry predict to be some of the hottest wedding trends over the next 12 months.
INVITATIONS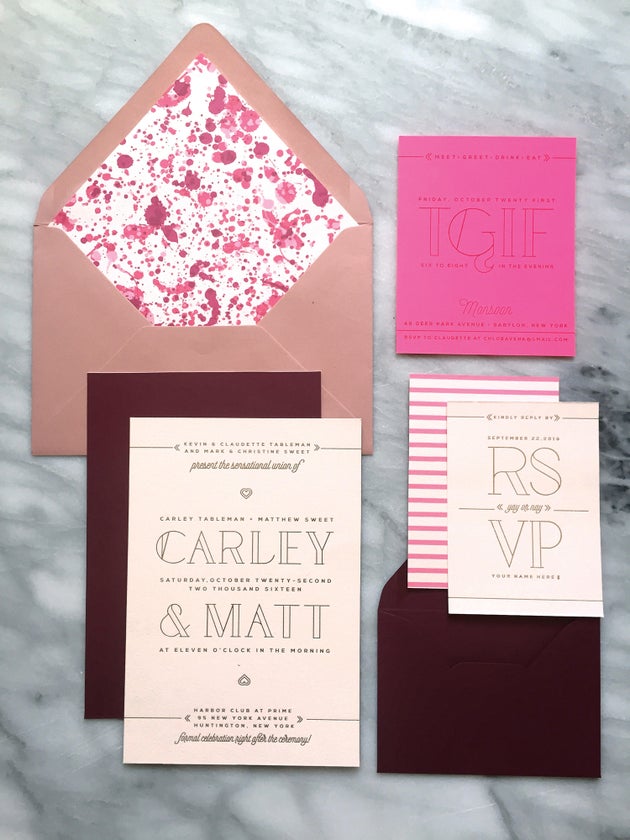 Fashionable Paper Form
Jill Ryder of Shindig Bespoke, a custom design studio based in New York City and Philadelphia, shares "wedding invitation styles often mimic what's happening in fashion and home decor," which means that 2017 is all about mixing patterns such as stripes and florals on the backs of cards or envelope liners, as well as textured paper.
Handcrafted
Also, hand calligraphy still remains to be a strong trend. However, if you feel you're not gifted with the skills, there are several companies that offer these services or let you print out templates that look handwritten.
Watercolor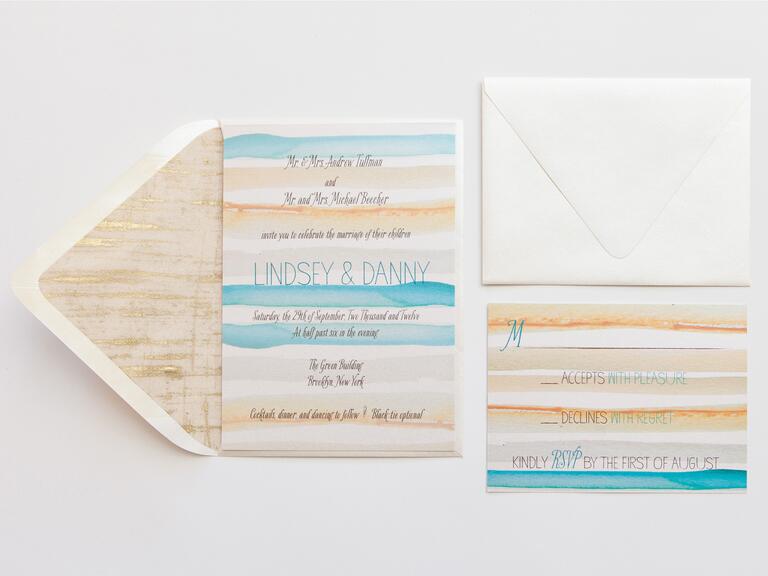 A rising trend in wedding invitations, this gives a more romantic and delicate feel.
Gold , Silver, and Bronze Foil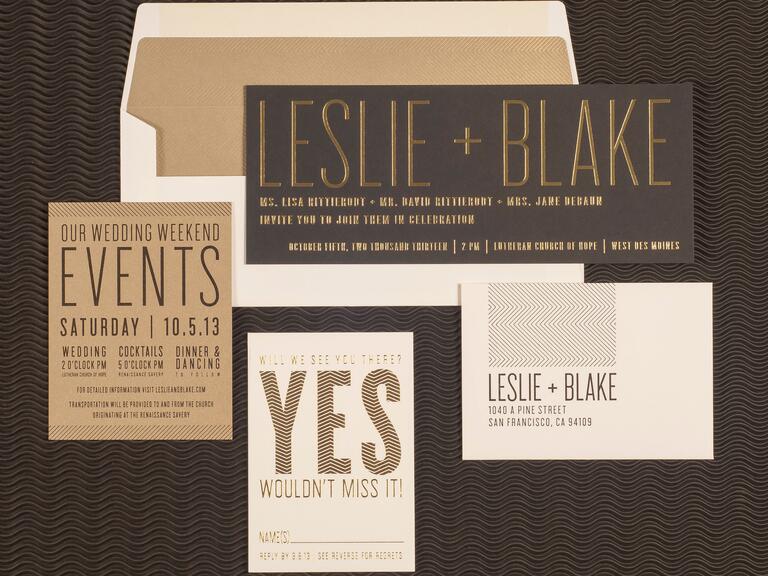 Metallic trends are sure to pop up everywhere in 2017.
Greenery Color Trend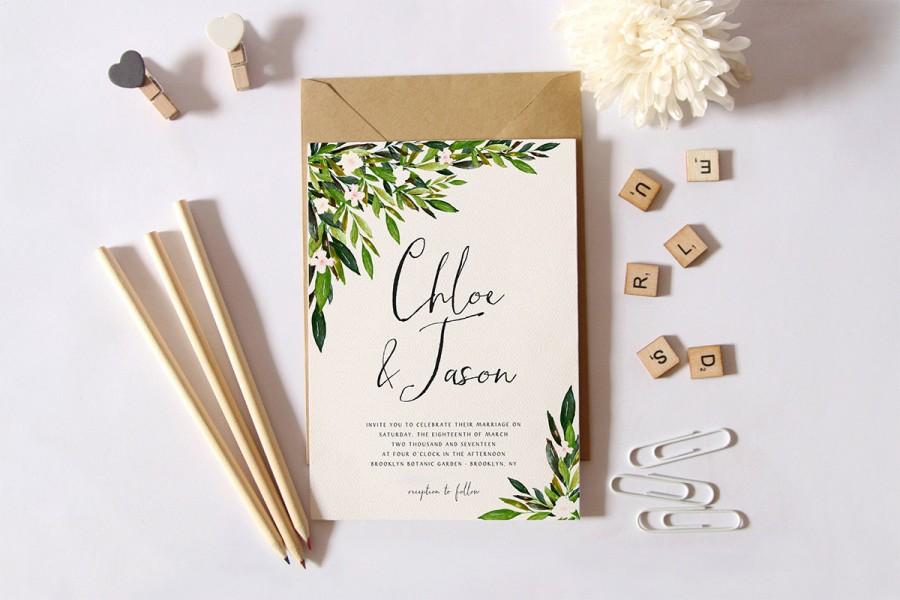 We're definitely not leaving out this suggestion, especially that Pantone has announced Greenery as the color of the year 2017.
FOOD
Customized Menus
Reflect both of your personalities on the food you serve your guests. More and more caterers these days work with couples to create menus reminiscent of important moments, culture, personal favorites – you name it.
Finger Food Pairings
In this article, they suggest pairing two delectable treats at cocktail receptions such as wine and cheese, wine and pasta, cake and craft beer, margaritas and guacamole as well as mimosas and pastries for those holding outdoor parties. Bianca Hall of Chicago's Estera Events explains, "It elevates the guest experience by keeping folks active and engaged." Get more ideas here.
Unlimited Snacks
Fantasy Sound Event Services' Kevin Dennis says, "Late night snacks are becoming more of a 'must do' as opposed to simply an add-on. We're also seeing additional courses added to the dinner beyond simply a salad and entrée." Trust us, happy tummies equal happy guests.
Carnival Bites and Doughnut Walls
More and more couples these days are taking on a fun theme for their food at receptions. Bistro Boys Catering predict these two to be favorites in 2017. Have a blast dishing out funnel cakes, fried chicken, cotton candy, and tons of doughnuts.
Food Truck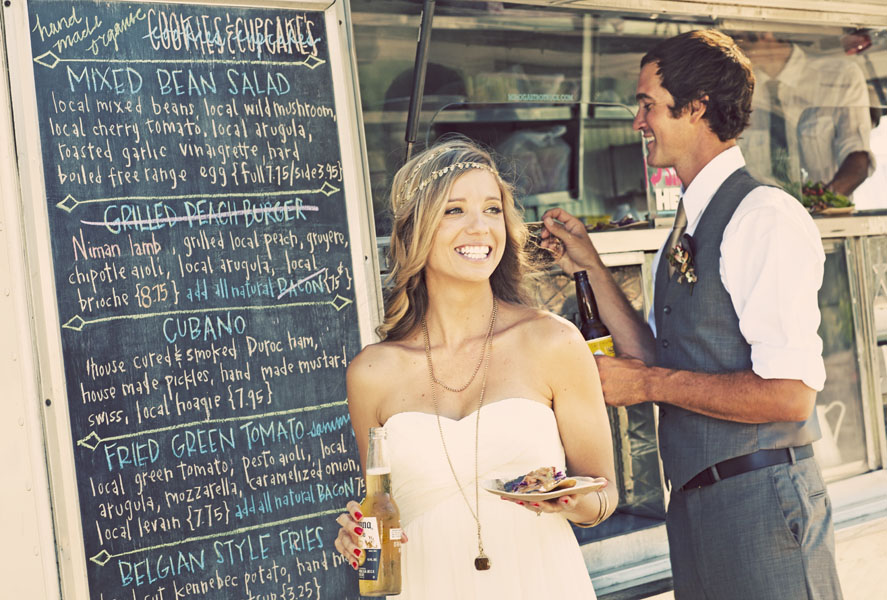 A unique way to serve guests that will surely bring out the kid in them. You can serve pizzas, ice-cream, and Chinese take-out meals. Your call. The possibilities are endless.
THEMES, OVERALL LOOK, AND PREPARATION
Plan Everything Online
With technology taking over in our daily lives, modern-day couples are choosing to take this easier and hassle-free route. Li Zhou of LadyMerry shares, "Couples have gone fully mobile with their wedding plans. Millennials are all about instant gratification, so they want their wedding planning right at their fingertips at any given moment. There's going to be a continued increasing in seeing the whole planning process online."
Vintage and Rustic
Use either as a theme or mix both. Still an immensely popular trend during weddings, a lot of couples are continuously drawn to the intimate vibe that branches, lanterns, and classic, old school decors bring.
Greenery Color Trend Theme
Incorporate this trendy color into your wedding if you're a fan of this relaxing shade.
GOWNS AND DRESSES
The Mismatched Bridesmaid Look
It was popular last year and will continue to be a fad in 2017. Doing so makes it more fun for the bridesmaids as they get to personally choose the style they want based on your theme.
Double Bridal Gowns
This is the perfect gown for brides who prefer comfort especially if they want to party after. "One thing I've seen for the first time this year that I expect to see more of are removable skirts. The bride can have a sheath dress look and a ball gown look for much less than the cost of two dresses," says Ann Oleinik of Ann & Kam Photography & Cinema
WEDDING CAKE
Doughnut Cakes
Hip couples are starting to popularize the trend of replacing traditional wedding cakes with tons of doughnuts. If cupcakes used to be the in thing last year, these decadent treats are slowly taking over.
Tiered Cakes
Even if desserts like cupcakes have replaced the multi-layered cake, other couples still prefer to follow tradition. Sometimes the taller the better, this is a wedding staple that will never go away.
SOUVENIRS AND WEDDING FAVORS
Take It to Social Media
Traditional photo booths are being upgraded by these newest ideas: the slo-mo booth, the animated GIF booth, and the flip-book booth among many others. Plus, guests can easily have the content sent to their smartphones for immediate sharing on social media platforms. How cool is that?
Edible Giveaways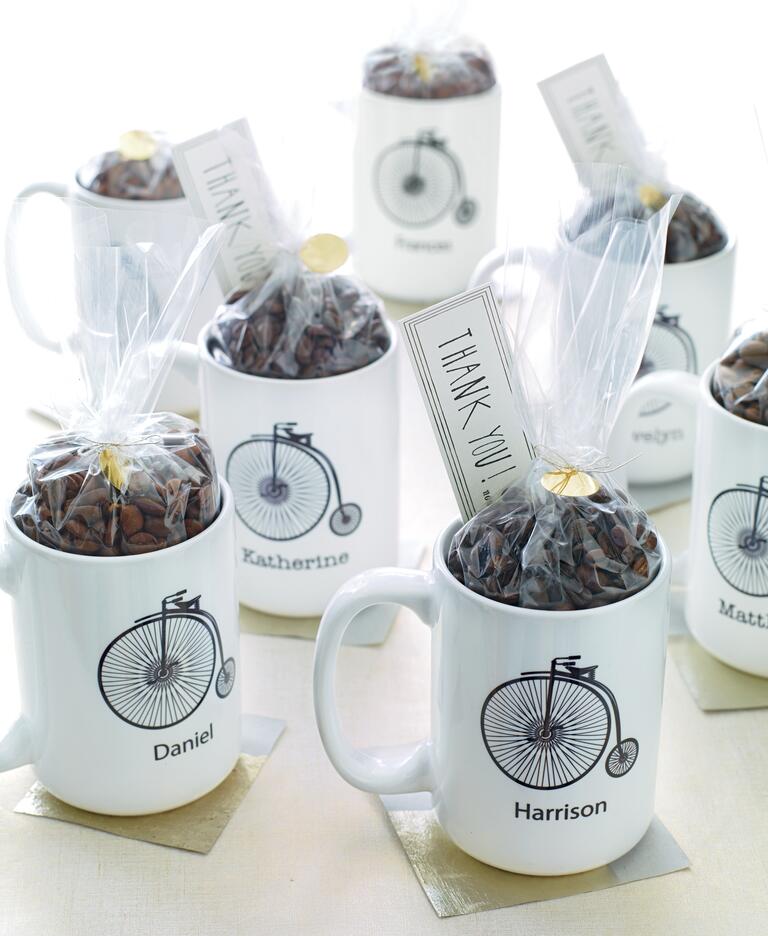 An ongoing trend, these scrumptious wedding favors can range from chocolates to popcorns. Others even opt to give away liquors such as wine. Get more creative ideas here.
Image credits: Pexels, Huffington Post, The Knot, Etsy, Martha Stewart Weddings, Bistro Boys Catering, Intertwined Events, Bridal Guide, Invites Weddings, Dear Pearl Flowers, Tulle and Chantilly, Intimate Weddings, Asia Wedding Network, Brides, Mon Cheri Bridals, Belles and Whistles Wedding, The Knot, The Knot