You've probably heard about this KL Bridal Fair with the theme 'Weddings With A View' happening in one of Kuala Lumpur's new hotels, happening this 3rd November 2018. Looking through the itinerary enlisted, you probably do not need to visit this RED By Sirocco, Kuala Lumpur's Bridal Fair. Here's why:
Reason No. 1 – Attentions on me. Not the view.
'Weddings With A View', now this is exactly the number one problemo here. The ballroom of this hotel features floor-to-ceiling glass wall, allowing access to an expansive, almost 360° view of the vast Kuala Lumpur city skyline. Can you imagine the kind of view you'd get? Your guests will be mesmerized, engrossed even, infused in the cosmopolitan vibe instead of their 'fullest' attention on you. Why would any bridal couple want that?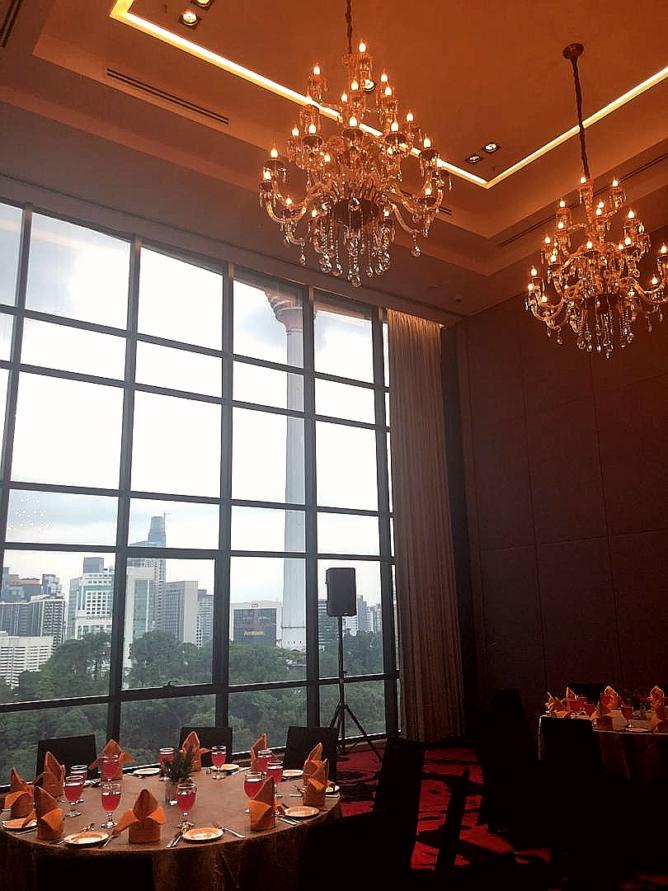 Reason No. 2 – Walk with caution
Just getting started here, bear with me…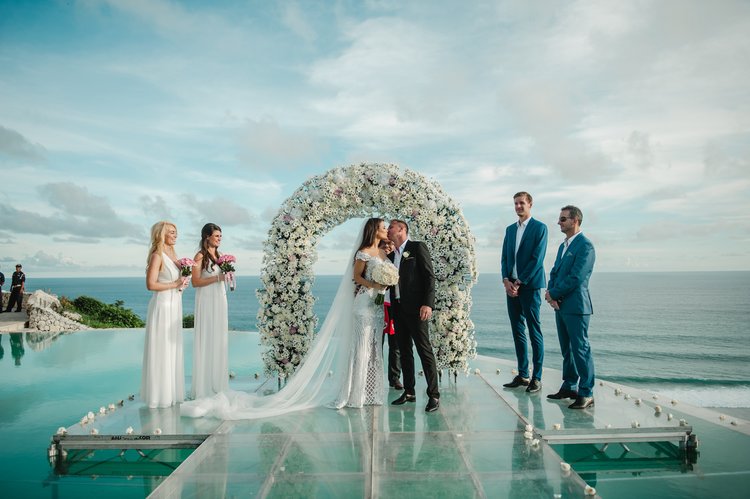 Enlisting help from Tailored Floral, the hotel's team had a ridiculous idea for your wedding ceremony. For your wedding ceremony, they will be installing a transparent, glass panel aisle over (yes, right above) the pool and Tailored Floral would then create a floral infinity ring aisle to add to the already picturesque view of KL Tower. Are they mad? Yes agreed, it will be so pretty with the KL Tower view but isn't it dangerous? Here's an example of a wedding over a pool. The hotel team envisions an R.O.M or 'I Do' ceremony for your wedding day just like this one. If you don't believe me, you have to go check this ridiculous installation out on the 3rd of November. Pure madness.
Reason No.3 – Too indulgent!
The hotel will be hosting an exclusive private wedding dinner for 25 couples on the rooftop venue with decoration designed by Tailored Floral and wedding stationeries by Kartoe (the stationer real crazy rich Asians work with for fancy wedding invitations), by the pool. For RM98 nett per couple, about-to-be-married-couples will feast on a 4-course Western set menu, a sampling of the hotel's wedding menus. Adding on to the 4-course menu, the chef will also present a special dish from the Malay, Chinese and Fusion wedding menus and right after that, desserts, mocktail, and coffee to follow. How can anyone eat that much at once? Oh well,… a pretty floral bouquet and a customised aromatherapy lotion from The Rub Bar makes up a little for the otherwise overly indulgent evening. Oh here's another gimmick, for lucky draw the hotel will offer three (3x) chances to walk away with a Free 1-night stay at the hotel's Superior room and another three luxury floral boxes from Tailored Floral. Haiz…only 6 chances out of 25 couples there, how to win??
If you still think you stand a chance. Here's the link to register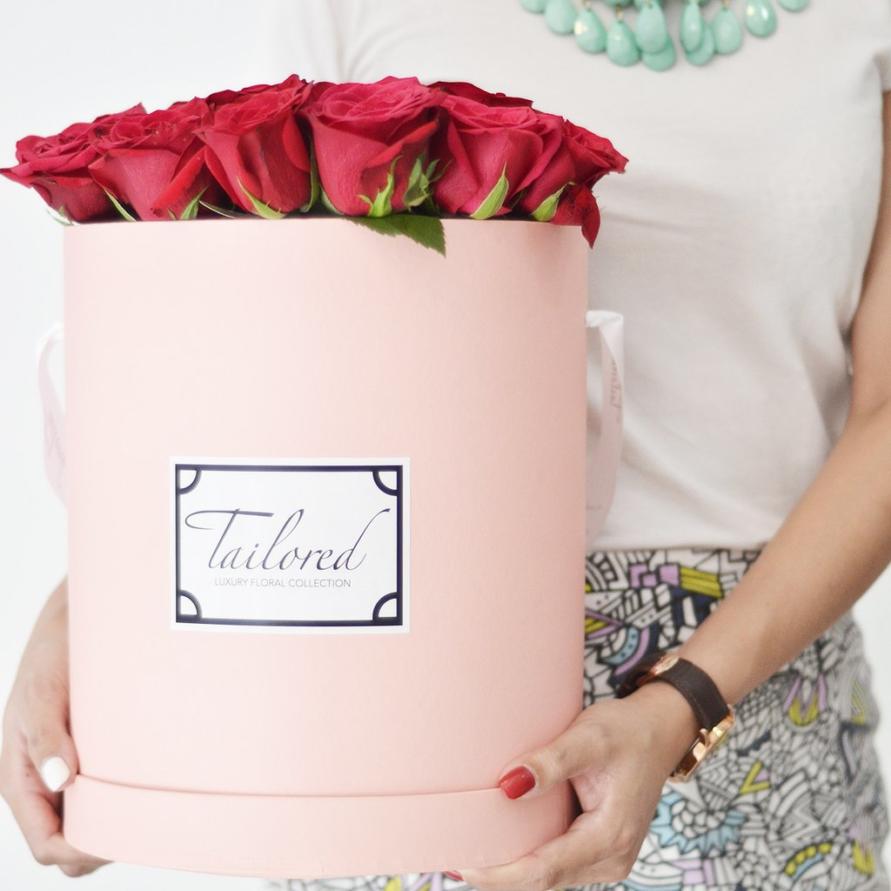 Reason No.4 – Why so fancy?
A bridal trunk show by Armadale Weddings, jointly presented by Aivy Yong Bridal Styling. What is a trunk show? A Trunk Show is a preview of dress collection to an intimate group of customers before they are available. Here, beyond the objective of a trunk show, Aivy Yong Bridal Styling will join hands with Armadale Weddings & JC Studio Films to present a 'live' fashion shoot of chic, classy and elegant bridal look you may find attainable for your wedding day. But who needs attainable when one can be uniquely flamboyant. Plus we could just refer a bridal magazine or blogs for this, no?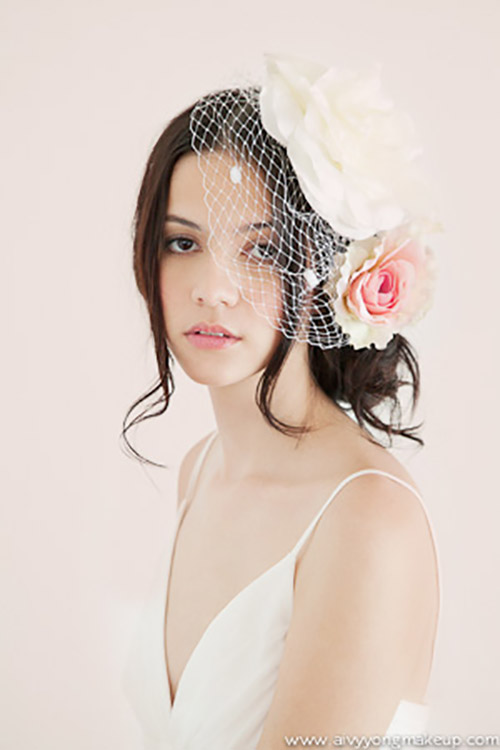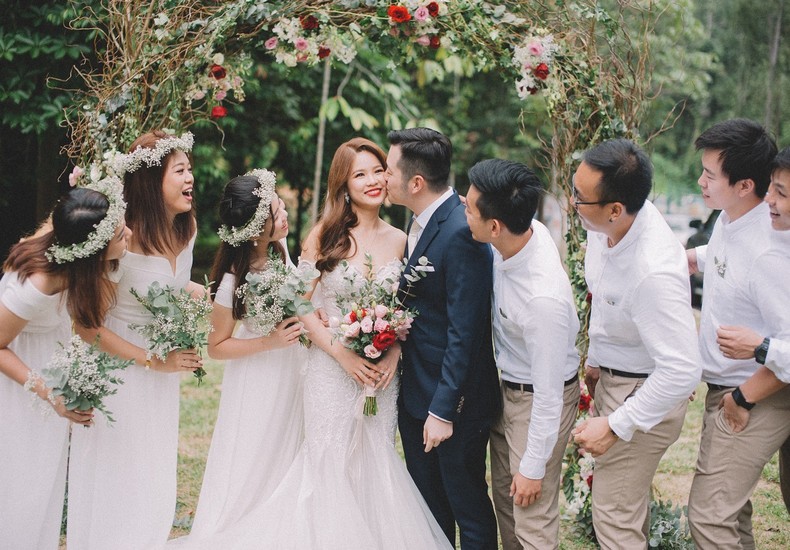 Reason No.5 – Who needs discounts & freebies
There will be that-day-only specials by a panel of wedding vendors the hotel entrusts to work with. Armadale Weddings, JC Studio Films, Aivy Yong Bridal Styling, Benson Yin Photography, Tailored Florals, Fahrenheit 69 (by the way, Fahrenheit 69 offers the cheapest Chiavari chairs for rental in the Kuala Lumpur wedding market) and Kenneth Chan the trendy 'Dai Kam Cheh' (also known as Chinese Wedding Chaperone) will offer exclusive discounts and giveaways for engaged-to-be-married couples. Who needs discounts for weddings? A wedding is a once-in-a-lifetime epic celebration. Splurge, don't be cheap. You know the cliche financial advice, ' maximize your money's value', nope…doesn't work for wedding planning.
Reason No.6 – Tips for an 'auspicious' marriage talk?
Okay honey…there are 1001 things a couple needs to prepare for the big, beautiful wedding celebration. A perfect day, without a glitch, mistakes and errors are utterly forbidden. You're telling me, on top of all those 1001 million things-to-do, a couple needs to heed an advice, or two from Kenneth Chan's 'Do's and Don'ts Of Planning An Auspicious Wedding & Marriage'? I'll let you decide.
Here's an info of the Bridal Fair and a link if you do not agree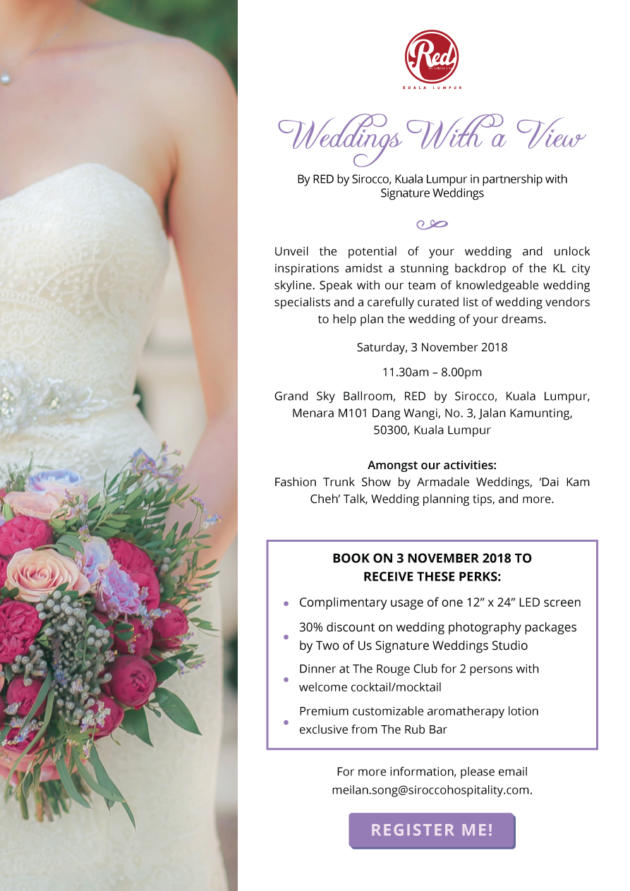 Disclaimer: This is a personal view of the writer, a born-bridezilla and may be biased. Discretion is advised.